President Obama led tributes to comedian, actor and Oscar-winner Robin Williams who has died aged 63.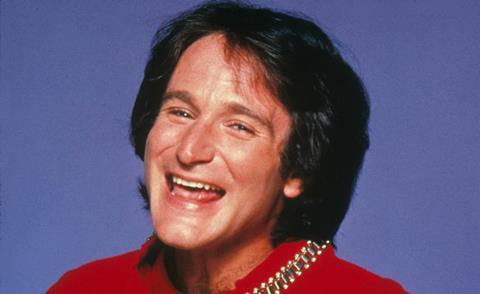 President Obama: "Robin Williams was an airman, a doctor, a genie, a nanny, a president, a professor, a bangarang Peter Pan, and everything in between. But he was one of a kind. He arrived in our lives as an alien – but he ended up touching every element of the human spirit.
"He made us laugh. He made us cry. He gave his immeasurable talent freely and generously to those who needed it most – from our troops stationed abroad to the marginalized on our streets. The Obama family offers our condolences to Robin's family, his friends, and everyone who found their voice and verse thanks to Robin Williams.
Wife Susan Schneider: "This morning, I lost my husband and my best friend, while the world lost one of its most beloved artists and beautiful human beings. I am utterly heartbroken. On behalf of Robin's family, we are asking for privacy during our time of profound grief. As he is remembered, it is our hope the focus will not be on Robin's death, but on the countless moments of joy and laughter he gave to millions."
Pam Dawber, Mork & Mindy co-star: "I am completely and totally devastated. What more can be said?"
Steven Spielberg: "Robin was a lightning storm of comic genius and our laughter was the thunder that sustained him. He was a pal and I can't believe he's gone."
Ron Howard: "We lost Robin…1st witnessed his genius as he created Mork B4 our eyes in 2 hrs on set. A Force. A Sweet Soul. A Brilliant Artist. RIP."
Garry Marshall: "Robin was hands-down a comedy genius and one of the most talented performers I have ever worked with in television or film. To lose him so young at the age of 63 is just a tragedy. I will forever be in awe of his timing, his talent and his pure and golden creativity… He was my friend and it is rare that you ever have a friend that is also a genius."
Bob Iger, CEO, The Walt Disney Company: "We're deeply saddened by the loss of Robin Williams, a wonderfully gifted man who touched our hearts and never failed to make us laugh. An incredible actor and a comedic genius, Robin will always be remembered for bringing some of the world's favorite characters to life, from his zany alien on ABC's Mork & Mindy to the irascible genie in Disney's Aladdin.
"He was a true Disney Legend, a beloved member of our family, and he will be sorely missed. We join Robin's friends and fans everywhere in mourning, and offer our thoughts and condolences to his family during this difficult time."
Sally Field: "I feel stunned and so sad about Robin. I'm sad for the world of comedy. And so very sad for his family. And I'm sad for Robin. He always lit up when he was able to make people laugh, and he made them laugh his whole life long – tirelessly. He was one of a kind. There will not be another. Please God, let him now rest in peace."
Forest Whitaker: "The world has lost a special soul. Robin touched our hearts, he gave us laughter, he gave us joy, he made us think about the impossible. I'm blessed to have been able to walk inside his universe. He forever changed this world with his presence. My thoughts and prayers go out to his family and to all those who hold him dear."
Chevy Chase: "Robin and I were great friends, suffering from the same little-known disease: depression. I never could have expected this ending to his life, and to ours with him. God bless him and God bless us all for his life! I cannot believe this. I am overwhelmed with grief. What a wonderful man/boy and what a tremendous talent in the most important art of any time – comedy! I loved him."
Danny Devito: "So sad to think about this. Hard to speak. Hard to say. Hard to take. All I can think about is what a joy he was to be with. I'm devastated. I'm sending my love to his family and everyone who loved him. My heart is broken by this news."
Steve Martin: "I could not be more stunned by the loss of Robin Williams, mensch, great talent, acting partner, genuine soul."
Ellen DeGeneres: "I can't believe the news about Robin Williams. He gave so much to so many people. I'm heartbroken."
Michael J Fox: "Famously kind, ferociously funny, a genius and a gentle soul. What a loss. #RobinWilliams"
David E. Kelley: "The talent was legendary. But equally inspiring, perhaps more so, was his kindness and humanity. A gentle soul who touched us all. A very special man, and our hearts are broken."
Ben Stiller: "I met Robin when I was 13 at The Improv. I was there with my parents who were performing and it was crowded and I heard this voice behind me saying "Stay close to your mother you'll be safe! Stay close to your mother you'll be safe!" I turned around and it was Robin. For a 13 year old who was a huge "Mork and Mindy" fan it was sort of like the end of the world. I never forgot it.
"So working with him years later I always had this little voice insides of me going "you are acting with Robin Williams! This is the coolest thing ever!" I never got over being a fan. I think most people my age have the same feeling — that he and Steve Martin and Bill Murray sort of represented what it meant to be funny."
"His kindness and generosity is what I think of. How kind he was to anyone who wanted to connect with him. And he could not help but be funny all the time. He would do something as long as it would keep you laughing. He made many, many film crews laugh out loud before the audiences ever saw it. He made such a big impact on the world. So there is the man, and his talent, and I think in his case both were extraordinary."
Eugene Levy: "Only once or twice in a generation does the world get to experience the talent of a true comedic genius. I was fortunate to have not only known Robin but to have worked with him. He was a kind and sweet man. My thoughts are with his family and friends today."
Henry Winkler: "This unknown actor walked on our soundstage and it became crystal clear that I would not be able to look at him during the entire rehearsal and shooting of the episode without bursting out laughing."
Lori Loughlin: I'm deeply saddened by the loss of Robin Williams. It was a dream come true for me to have worked with him. He was a tremendous talent and a wonderful person. My thoughts and prayers are with his family during this difficult time.
Eric Idle: I can't believe my lovely friend is gone. My heart goes out to his wife and his beloved children. He brought us so much joy and laughter.
Diane Lane: Robin's explosive talent will live on through his life's work bringing us joy, hilarity and humanity. My condolences to his family; It was an honor to work with him, and his generosity of spirit will always remain an inspiration.
Minnie Driver: "I never met anyone who loved making people laugh more than Robin. I'd come to watch he and Matt film their beautiful scene on the park bench in Good Will Hunting, and when they broke for lunch we sat around on the grass eating sandwiches; what began as a riff on something or other to make us and the crew laugh suddenly extended to office workers out on their lunchbreak, enjoying the sunshine, and pretty soon he stood up and his big beautiful voice, full of laughter, reached out to the people who were now hurrying down from the street and across the park to catch his impromptu standup.
"There must have been 200 hundred people listening and laughing by the time lunch was over. I just remember how broadly he smiled, patted me on the shoulder and said, "There, now that was GOOD." I loved him, and I will miss him greatly. My thoughts are with his family and friends."
David Steinberg, manager: "Nobody made the world laugh like Robin Williams. My brother, my friend, my soul mate, I will miss you."
HBO: "Robin Williams graced HBO for so many years with his uncommon gifts. He never failed to elevate his art and did so with a full, generous and loving heart. Always humble and gracious, Robin was a prince and holds a special place in all our hearts."
Twentieth Century Fox Television: "Robin Williams was a comedy giant, and although we only knew him personally for a season, he was warm, funny and a true professional. His cast and crew both loved him and loved working with him, and our hearts go out to his family and friends. He was one of a kind.
Mira Sorvino: "I had the extreme good fortune to get to work with Robin in The Final Cut. He was an immensely kind, generous man, who went to great lengths to take care of those in his presence. He had a kind of magic to him, lighting up any room he was in, and astounding all with his breathtaking comedic rants which incorporated current events into a kind of dizzying stream of consciousness that had us holding our sides laughing.
"I treasure the memories I and later my husband shared with him, and am grief stricken that he apparently took his own life. He will always be a light in our hearts. Rest in peace, dear man. Our thoughts and prayers are with his family, we send you love."
Faye Dunaway: "A brilliant man and comedian. The acting community has suffered another tragic loss ! #OscarWinner #legend"
Albert Brooks: "Shocked by the news of Robin Williams passing. Rest in peace my friend"
Sesame Street: "We mourn the loss of our friend Robin Williams, who always made us laugh and smile."
Roseanne Barr: "All hail! a vagenius has vacated this realm. RIP Robin!"
Neil Patrick Harris: "I am stunned and just reeling from the news of Robin Williams' death. He brought so much joy and heart to millions… Just, wow."
Eddie Izzard: "Robin Williams has died and I am very sad. From every comedian here at the Edinburgh Fringe Festival, we salute him & we say goodbye."
Steve Carell: "Robin Williams made the world a little bit better. RIP."
Jared Leto: "Thank you to the beautifully original + brave artist that is #RobinWilliams. You taught us how to stand on the edge, fearless, + shine."
Quincy Jones: "RIP to my dear brother and friend Robin Williams. The world will miss the decades of laughter that you gave all of us."
Jay Leno: "I saw him on stage the very first time he auditioned at the Improv and we have been friends ever since. It's a very sad day."
Chris Columbus: "We have lost one of our most inspired and gifted comic minds, as well as one of this generation's greatest actors. To watch Robin work, was a magical and special privilege. His performances were unlike anything any of us had ever seen, they came from some spiritual and otherworldly place. He truly was one of the few people who deserved the title of 'genius.'"
John Travolta: "I've never known a sweeter, brighter, more considerate person than Robin. Robin's commitment as an artist to lifting our mood and making us happy is compared to none. He loved us all and we loved him back."
John Cusack: "A big tenacious overflowing hyperkinetic eruption of compassion would be (the) best tribute to Williams."
Kevin Spacey: "Robin Williams made the world laugh & think. I will remember & honor that. A great man, artist and friend. I will miss him beyond measure."
The Academy of Motion Picture Arts & Sciences: "Genie, you're free."