The Hungarian Cultural Centre and The London Film School partnered on a special two-day visit by award-winning director Kornél Mundruczó.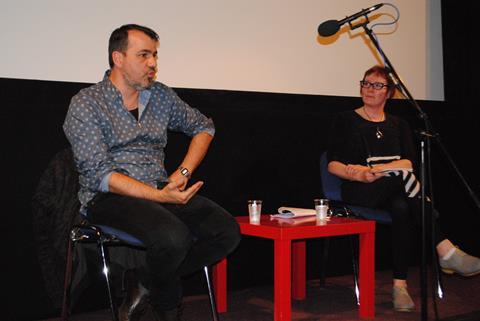 Kornel Mundruczo, graduate of the Hungarian University of Film and Drama, has found widespread critical acclaim for his feature, White God, which won the Un Certain Regard prize at Cannes 2014.
Mundruczo previously won Locarno's Silver Leopard for his debut feature Pleasant Days (2002). Already showing a unique approach to film making, his second feature Johanna (2005), was an operatic retelling of the Joan of Arc story and was presented in Un Certain Regard.
White God tells the story of a young girl and her dog, Hagen, and presents the large canine cast as highly developed and emotionally engaging characters in themselves, without CGI or voiceover.
The director led classes with LFS students and presented a Q&A for White God as well as a public masterclass.
He was joined on the stage by LFS Director Jane Roscoe in talking about the complexities, inspirations and creative process behind his visually stunning and highly inventive fifth feature.
INSPIRATIONS FOR WHITE GOD
Kornel talked about his love of Nobel Prize winning South African Author J.M Coetzee and how especially his book Disgrace was of great importance to him in developing the story of White God both emotionally and politically.
"I immediately felt as an Eastern European, that we have a lot of connection with South Africa somehow. Not one by one, we don't have so straight a conflict… but in a deeper way we are living in the same world as Coetzee. His philosophical thinking about humans and humanism, it's really changed my mind."
Kornel describes a passage in Disgrace in which a couple collect dogs abandoned by South African citizens who have fled the countries oppressive apartheid system and kill these dogs "but in a nicer way." Inspired by what he had read, Kornel visited dog pounds in Hungary where he found that whole facilities were full of similar abandoned dogs.
"That mirror reflection was really my topic, somehow to create this movie… So when I would just stand there and watch these dog's eyes, I was in front of the fences and they were behind the fences… I just thought I would really like to create a movie about this. Let's just do a movie about a Dog in Budapest… I was really looking for a theme, because also I think Eastern Europe has changed a lot. This slow melancholic Eastern European image is just simply not true anymore. So our realities changed. The country has become much faster, much more extreme, because in my eyes of the economic crisis, followed by a moral crisis which we are not really facing, I think all over Europe but Hungary is one extreme example. These moral crises have led to intolerance and racism."
"I wanted to do this movie in a very direct way about this. Of course our society is much more layered than in this tale, I named it as a tale as of course I simplified a great many things in White
God, to create a tale out of it. But the core elements absolutely deeply exist in our society and I think, all over Europe."
WORKING WITH DOGS
The question was raised of how Kornel directed the scenes almost entirely performed by dogs, characters that were given the near impossible task of carrying more than half the film. Kornel said that this "requires lots of patience."
"They don't show or give emotions, so they look like Robots… So how you give them freedom is through trying to find a method where they are brave enough to play with humans."
Kornel expressed his gratitude for many of the dog handlers who found great methods with which to get what he wanted from the dogs' performances. The huge mass of dogs that storm Budapest in the films climax was originally only fifty or so, but when Kornel saw how they ran and slept together, and the power in seeing this, he wanted to increase the amount of dogs to two hundred and fifty. The filming of the Dogs really relied on reaction shots and the different angles from which they were filmed, using the flexibility of cranes and Point of View shots to capture the often unpredictable canines in their movement.
"They were really happy to co-operate with humans, and I'm sure that power is seen within the movie. It was really touching. They really enjoyed working with humans and not be the depressed Dogs behind fences."
MIXING GENRES AND RISK TAKING
One feature of White God that has been commented on extensively was that of its melding of genres, a feature that Kornel had planned from the films very conception. He describes how he wants to react to the rapidly changing state of Europe through his cinematic language, and that film is slowly catching up with Television in how it is adapting to the modern world and the demands of its audiences.
"It was really risky because it was unknown; we had lots of problems through financing because there was so many times where they just didn't understand the script at all. It's a coming of age story or not? It's a family movie or not? It's a thriller or not?"
Kornel believes that when mixing genres a "base" is necessary, a through line which the audience can follow. When trying something new, like subverting genre and attempting to convey the character arc of a normal dog, he says that film makers should take risks "because something will come out of it and if it's touching for the audience then they'll be much more on your side than if you always do the same stuff."