Dir: Stephanie Argerich. France-Switzerland. 2012. 94mins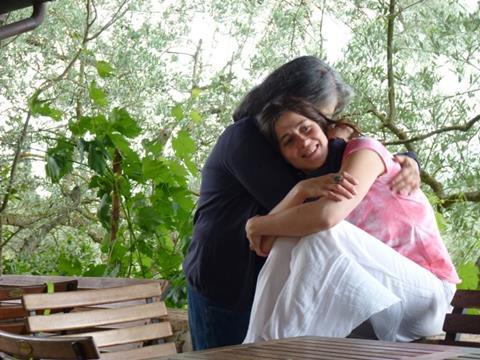 A warm, loving portrait of the relationship between the celebrated pianist Martha Argerich and her youngest daughter, this affectionate documentary invites viewers into the intimacy of their home without any restrictions.
Thanks to the privilege of being her daughter, Stephanie is allowed to look at her mother when she's getting up in the morning or putting on make-up before a concert.
But for music lovers hoping to find some new light shed on the legendarily secretive Argerich all they are bound to find here is a sincere, caring tribute of a devoted daughter to her famous mother, admiring but not as inquisitive or as tight as it should have been. A natural fit for niche broadcasters - indeed the French music channel Mezzo is one of the co-producers - it may also screen again in music-oriented festivals.
Stephanie Argerich, whose father is the no less famous London-based American pianist Stephen Kovacevich, studied photography and trained in video courses. Her mother was an obvious object for her to record through the years, and the footage, combined with archive material documenting her parents' early careers, rounds up a film which shows how close mother and daughter are to each other but also how difficult it is for them to put these thoughts and feelings into so many words.
True, the nature of these relationships transpires through the images, but they never get to be distinctly defined. Despite the impression that she is willing to let the camera pry without any restrictions, the sanctified Argerich privacy she has so jealously preserved through the years is still intact.
But despite that need for privacy through the film one learns about her doting father, her authoritative mother, and – in probably the most moving episode of them all - the story of Stephanie's oldest sister Lyda, now a violist, whose father was Argerich's first husband composer-conductor Robert Chen. That story would deserve a film on its own, but like so many other things here, it just whets the appetite for more details and information that are not provided. The same could be said of the presence of Stephen Kovacevich, a loving parent who has still not taken the trouble to legally establish his paternity of Stephanie.
Thanks to the privilege of being her daughter, Stephanie is allowed to look at her mother when she's getting up in the morning or putting on make-up before a concert; to discuss family matters and notice her edginess before a recital, the kind of glimpses that any other person would have been probably denied.
And indeed, observing her in close-up, it is amazing to discover that even if she is now 70, her smile and the sideways look in her eyes have lost nothing of their adolescent charm, just as if to confirm the daughter's remark that she needs taking care of more than she is capable of taking care of others.
But the closeness between the two has evident drawbacks as well. Questions that need to be asked, whether on a professional or personal level (like Argerich's famous bout with cancer) are never probed into, nor is the influence she did (or maybe did not) have on her daughters as they grew up discussed at any length.
Some additional editing might have helped, but then, in such circumstances, every single cut has personal connotations. Sill it is all very pleasant to watch, but this is neither about being the daughter of two musical giants (as the film is supposed to be) nor a full portrait of the celebrated parents. The real film on them remains to be made.
Production companies: Intermezzo Films, Ideal Audience
International sales: EuroArts, s.laffont@euroarts.com
Producers: Pierre Olivier Bardet, Luc Peter
Cinematography: Stephanie Argerich, Luc Peter
Editor: Vincent Pluss
Main cast: Martha Argerich, Stephanie Argerich, Stephen Kovacevich