Dir: Woody Allen. US. 2013. 98mins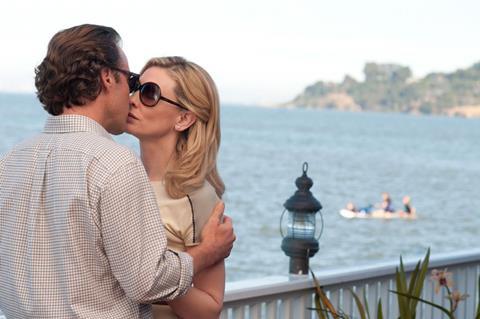 The comedown of a haughty socialite provides the basis for Woody Allen's Blue Jasmine, an examination of existential crisis and self-delusion that is nimble, glancingly funny and yet also marked by sly, unstressed depths. Anchored by a superlative, wound-up turn by Cate Blanchett that will surely generate some awards consideration talk, the film exhibits perceptive dramatic insight with only a leavening pinch of melodramatic inclination, highlighting the gravitational pull of the love one thinks they deserve.
Blanchett's performance is mesmerising, and in some ways a flipside presentation of the same suffocating neediness and loneliness Lesley Manville channeled in Mike Leigh's Another Year.
Blue Jasmine marks the sixth collaboration between Allen and Sony Pictures Classics, and the fifth in a row for the distributor and prolific writer-director. Buoyed to some degree by their overseas settings, 2011's Oscar-winning Midnight in Paris did $150 million worldwide, while last year's To Rome With Love pulled in $73 million cumulatively. If the Stateside setting, unsympathetic title character and slightly heavier dramatic shadings of Blue Jasmine will likely tamp down its earning potential compared to those two offerings, the film should still connect heartily with adult arthouse audiences.
As the wife of New York businessman Hal (Alec Baldwin), Jasmine (Blanchett) enjoys the rarefied life of a one-percenter. When her husband's massive financial fraud unravels and lands him in prison, however, Jasmine finds herself flirting with a nervous breakdown. Still as self-involved as ever, she heads to San Francisco, where her sister Ginger (Sally Hawkins) lives a decidedly more downscale lifestyle.
Ginger's relationship with her first husband, Augie (Andrew Dice Clay), suffered with the financial hit they took as a result of trusting Hal with an important investment, and her new boyfriend, Chili (Bobby Cannavale), quickly develops a disdain for Jasmine in line with Augie's. While Ginger's susceptibility and general sweet-naturedness preclude her from cutting her sister out of her life, she pushes Jasmine — mortified at the thought of work — into taking a job as a receptionist at a dentist's office, under Dr. Flicker (Michael Stuhlbarg). Later, a pair of new relationships blooms; Jasmine snags rakish diplomat Dwight (Peter Sarsgaard), while Ginger hooks up with sound engineer Al (Louis C.K.). Lies, however, make these precarious bonds.
The more conventional and feel-good take on this material would be one of sisterly reconnection and discovery via these various, intertwined stories of romantic bloom and withering, but Allen elides laborious whimsy and instead focuses on notions of reinvention (success is questionable) and romantic settling, via an engaging split structure that alternates between Jasmine's lavish past and brought-low present. The basic discord Allen sketches is familiar (selfishness, disapproval over a family member's significant other), but Blue Jasmine's smiles and laughs flow mostly from a sense of pained social recognition rather than any patter.
A couple scenes blunder, coming across as overly schematic or tonally off, and Stuhlbarg also suffers the misfortune of playing a character who doesn't make much sense. But the basic conflict and inherent similarities of collars, blue versus white, that Allen and editor Alisa Lepselter achieve through intercutting is the movie's secret, and anchoring, ingredient. Javier Aguirresarobe's natural, warm-toned cinematography, which makes nice use of some San Francisco exteriors, highlights an otherwise unfussy technical package.
Blanchett's performance is mesmerising, and in some ways a flipside presentation of the same suffocating neediness and loneliness Lesley Manville channeled in Mike Leigh's Another Year. Jasmine's behavior is dominated by many of the same impulses, but generally lacking in social nicety. She's the conceited teenage girl who stopped growing up when men told her she was pretty. At once refined and unhinged, smug and manic, Blanchett gives a shrewd turn that resonates ever more deeply long after the movie is over.
A variety of fine supporting performances also elevate Blue Jasmine, none more so than the frazzled, put-upon vulnerability of Hawkins, who as Ginger tiptoes around her sister's psychological instability, all in the name of "family."
Production companies: Gravier Productions, Perdido Productions
Domestic distribution: Sony Pictures Classics
Producers: Letty Aronson, Stephen Tenebaum, Edward Walson
Executive producers: Leroy Schecter, Adam B. Stern
Co-producer: Helen Robin
Co-executive producer: Jack Rollins
Screenplay: Woody Allen
Cinematography: Javier Aguirresarobe
Editor: Alisa Lepselter
Production designer: Santo Loquasto
Website: www.SonyClassics.com/BlueJasmine
Main cast: Cate Blanchett, Alec Baldwin, Sally Hawkins, Bobby Cannavale, Michael Stuhlbarg, Andrew Dice Clay, Peter Sarsgaard, Louis C.K., Max Casella, Aldan Ehrenreich, Tammy Blanchard