Dir: Byron Howard & Chris Williams. US. 2008. 96 mins.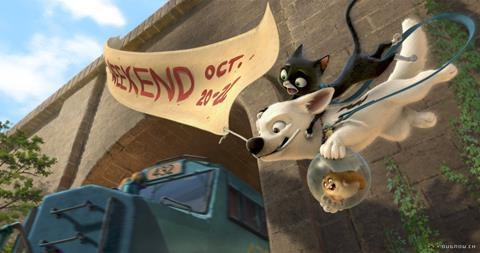 John Travolta lends his voice to the animated family film Bolt as the eponymous star, a dog who goes on a wild cross-country journey to reunite with his young owner. Sharply-drawn supporting characters, a solid narrative hook and slickly constructed action-adventure sequences help make for a vibrant, engaging, feel-good treat that will connect strongly with younger viewers.
Travolta's vocal performance dutifully hits the emotional beats required in each scene
Opening in the US on November 21, Bolt faces holdover animation competition from the Madagascar sequel, and will also have to directly contend for tween audience dollars with Twilight, but a digital 3-D release and generally positive word-of-mouth should help bolster prospects with family audiences, and ancillary will bestrong across the board. The unique combination of broad, easily graspable animal perspective combined with delusions-of-Hollywood-grandeur humour should strengthen international returns.
For super-dog Bolt, every day is filled with adventure, danger and intrigue. The canine best friend of young Penny (voiced by Miley Cyrus), Bolt is the unwitting star of a hit TV show built around a variety of Hollywood-created powers, like heat vision, improbably long leaps and a 'super bark' that can overturn cars. When he's accidentally shipped from his soundstage home all the way to New York, Bolt sets off on a cross-country journey back to Penny.
At first convinced that all his amazing abilities have just been weakened by styrofoam packing, Bolt eventually learns the truth about the phony, Truman Show-like construction of his sheltered world. Still, Bolt pines for the only person he's felt loved by, and so with the help of two unlikely travelling companions - a jaded, abandoned housecat named Mittens (Essman) and a TV-obsessed hamster named Rhino (Walton) - he heads west, finally discovering he doesn't need superpowers in order to be a hero.
Owing to its show-within-a-show conceit, Bolt has ample opportunity for amped-up action, and co-directors Chris Williams and Byron Howard stage some madly kinetic scenes, including a wild opening sequence which pays homage to The Matrix series. The core of the movie, however, lies in the bewildered interactions of its contrasting personalities: Mittens, Rhino and the pigeons they encounter along the way all serve as amusing foils for Bolt.
Visually, the film is appealing. There's a soft, painterly style to many of Bolt's backgrounds which are more than a little evocative of old-style hand-drawn animation.
Travolta's vocal performance dutifully hits the emotional beats required in each scene, but - whether because of some of the aforementioned incongruities or just wandering focus - seems to lack a strong, codifying personality apart from Bolt's quest. It's a case of movie star casting slightly overshadowing the animated character.
But there's no such qualm with Disney star Cyrus. She delivers a tremendously sympathetic turn as Penny, and the heartfelt yearning in her voice immediately summons a strong audience connection to their own childhood pets. Ultimately, though, it's Walt Disney's own in-house story artist and part-time voice actor Walton who really steals the show. Embodying the notion that everyone is the star of their own narrative, he puts a funny spin on the energetic, blinkered Rhino.
Production companies
Walt Disney Animation Studios
Worldwide distribution
Walt Disney Pictures
Producer
Clark Spencer
Screenplay
Dan Fogelman & Chris Williams
Music
John Powell
Art director
Paul Felix
Animation supervisor
Doug Bennett
CG supervisor
Mark Empey
Visual effects supervisor
John Murrah
Main voice cast
John Travolta
Miley Cyrus
Susie Essman
Mark Walton
Malcolm McDowell
Greg Germann
James Lipton
Diedrich Bader
Nick Swardson
J.P. Manoux
Dan Fogelman
Kari Wahlgren