Halle and Ursula voted ahead of Jolie when it comes to film beachwear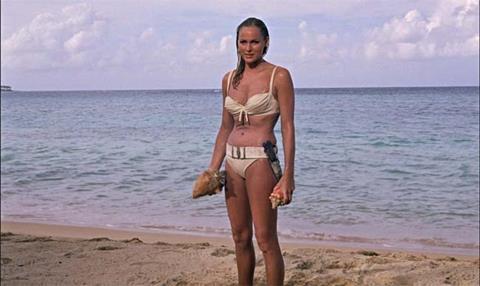 With Dr No celebrating its 50th anniversary next year, the James Bond film classic has now also topped the 'best swimwear scene' in a film poll conducted by beachwear specialists Trixan Body.
Ursula Andress emerging from the water in her white bikini with seawater pouring from her body stands out for nearly a quarter of those polled, while a further 10% of respondents think Halle Berry's homage to the Dr No scene in Die Another Day is their favourite.
Only one man makes the top 10, with Patrick Swayze coming in at number 9 for his surf hunk performance in Point Break…especially as he wears a wetsuit rather than bathers through the film. His appearance in the chart, though, was greeted with mild surprise – and not a little derision – by female members of the Screen International editorial team who had Daniel Craig's rising-from-the-sea-in-a-pair-of-snug-bathers scene in Casino Royale as a must in the chart.
Top 10 beachwear scenes:
1) Dr No: Honey Ryder (Ursula Andress) stepping out of the sea in her white bikini
2) Die Another Day: Jinx (Halle Berry) is noticed by James Bond through some binoculars as she comes out of the sea.
3) Tomb Raider: The Cradle of Life: Lara Croft (Angelina Jolie) rising out of the sea on a jet ski tooting an uzi.
4) Dukes of Hazard: Daisy Duke (Jessica Simpson) obtaining information from a policeman in her pink bikini.
5) Bridget Jones, The Edge of Reason: Bridget Jones (Renee Zellweger) on the beach in Thailand after inadvertently taking magic mushrooms.
6) 10: Jenny Hanley (Bo Derek) running on the beach in slow motion
7) From Here To Eternity: Karen Holmes (Deborah Kerr) kissing First Sergeant Milton Warden (Burt Lancaster) on the beach
8) Return Of The Jedi: Princess Leia (Carrie Fisher) wearing a metallic bikini
9) Point Break: Bodhi (Patrick Swayze) in many surfing scenes
10)Austin Powers, The Spy Who Shagged Me: Felicity Shagwell (Heather Graham) taking off her wetsuit to reveal her bikini
The research surveyed 1,000 UK adults, was conducted by Your Say Pays and took place in April 2011. In terms of taste there was a real generation gap, with on opposite ends of the spectrum the 18-24 year olds and those 65 and above. Some 20% of 18-24 year olds picked action movie Tomb Raider as the film with the most iconic swimwear scene, whereas the over 65s opted for the more traditional swimwear scene, picking Ursula Andress seductively stepping out the sea.
Where the respondents reside in the country seems to have a huge impact, with people from Glasgow clashing with Londoners. Glaswegians opted for Daisy Duke in Dukes of Hazzard whereas London residents chose Die Another Day. It's also interesting to note that Fastimes at Ridgemont High, a film that continually tops the votes in bikini movies for the infamous red two-piece, doesn't seem to have had an effect on many, with respondents instead choosing scenes such as Borat in his Mankini in Borat and Virginie Ledoyen in The Beach.
Alicky Brown, Head Buyer at Trixan Body stated: "Many of the swimsuits from movies have become iconic pieces in their own right. Ursula Andress and Halle Berry symbolise the confident, curvaceous beach look with a striking white bikini that remains a staple of women's summer high fashion." Indeed….
www.trixanbody.co.uk