The seventh film to come out of Film London's microbudget scheme Microwave is a comedy drama directed by London Film School graduate Jules Bishop and produced by Olivier Kaempfer for Parkville Pictures.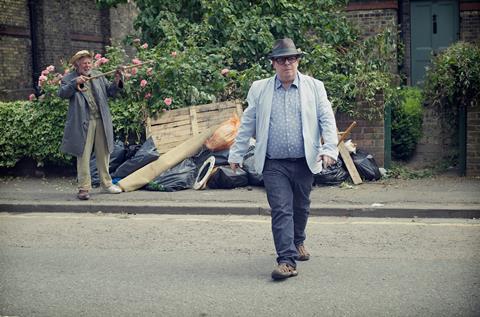 Synopsis: A young burglar (played by rising star Theo Barklem-Biggs, who will soon be seen in the upcoming UK film adaptation of TV series The Inbetweeners) strikes up an unlikely friendship with his eccentric victim, an old ex alcoholic taxidermist (played by Phil Davis), whilst trying to make amends with his family.
Director: Jules Bishop
Writer: Bishop originally wrote an ensemble piece after he graduated from the London Film School, before taking some of the characters from that script and creating Borrowed Time.
Producer: This is the first feature to come out of Olivier Kaempfer's London based production company Parkville Pictures. Kaempfer was mentored by UK producer Pippa Cross throughout the Microwave process.
Cast: Phil Davis, Perry Benson, Juliet Oldfield and newcomers Theo Barklem-Biggs, Ted Costello and former Thai boxing champion Warren Brown.
Budget: $196,000 (£120,000)
Financing: Half the budget has come from Film London and BBC Films through the Microwave scheme, with the other half coming from private finance raised by Parkville Pictures Development, a separate arm of Kaempfer's Parkville Pictures.
Locations: East London
Shooting dates: May 16 to June 4 (18 day shoot)
Release plan: The film will be completed in October with plans for an early 2012 festival and a spring release in the UK.
Next up: Bishop has written the script for his next project, Cafe Finito, a quirky comedy about a man trying to set up a fine dining restaurant in a post apocalyptic world, which he will also direct. Kaempfer will produce for Parkville Pictures, with a planned 2012 shoot.
On how the project came together: Kaempfer: "We first started working on it two years ago. This project seemed to lend itself to a low budget shoot and it felt like a good first feature because it has a clear narrative and is a comedy. It was a really good starting point for us."
Bishop: "I had written a lot of depressing stuff up to that point, so I decided it was time to try and write myself out of a hole!"
On the themes: Bishop: "Its roots are in British social realism, but we are really turning it on its head. I wanted to kick against that and play up the humour, so even though there are heartfelt moments and some tragic drama, it is always punctuated with laughs and splashes of vibrant colour. One of the themes is the generation gap. We didn't want to write off any generation, so we see the world through the eyes of a very young child, a teenager and an old man…which leads to the formation of a weird surrogate family as they fight to overcome their various adversities."
On the cast: Bishop: "I've been spoilt with the cast. Film London helped get people to read the script, but no one turned us down once they had read the script. There was a bit of a buzz about it, and people felt that. Phil and the others wouldn't have done it if they hadn't been impressed."
On the financing: Kaempfer: "We raised the private finance through a separate arm of Parkville Pictures. In the current state of the industry it suits us well, because there is less and less public money out there. Even at this budget level through Microwave, you still need a proper financing structure otherwise you are just relying on finding a suitcase full of money somewhere. And we will now take this structure and use it for our next films."
On getting onto the Microwave scheme: Bishop: "I was the rank outsider and looking at the competition I didn't think I'd have a chance, as I hadn't directed anything since my graduation film, which was devoid of any humour and I was wanting to make a comedy! So I had to show them that I could make the material funny. And they really helped me to realise my ambitions through the development process."