French-Algerian filmmaker and producer Rachid Bouchareb, who is being honoured with a career achievement award at the Abu Dhabi Film Festival, talked extensively about his career at a special 'in conversation' event.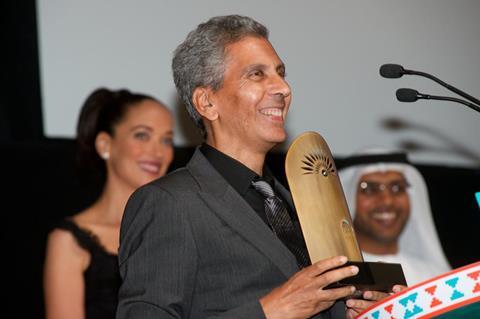 Born to Algerian parents who moved to Paris just after the Second World War, twice Oscar-nominated filmmaker Rachid Bouchareb recounted how he was originally destined to work in manufacturing like his father.
"I was sitting at work one day when I decided to call the offices of a local broadcaster. I got through to a receptionist who I asked 'how do people get into cinema'. She had more important things to do than talk to me but she gave me some names of schools nonetheless," said Bouchareb, who would go onto make his first feature Bâton Rouge in 1985 with the support of the late producer Humbert Balsan.
The director, whose best known credits include Oscar-nominated Days of Glory and Outside the Law as well as the more recent Two Men in Town starring Forest Whitaker and Harvey Keitel, revealed his love of cinema had unusual origins.
Referring to his childhood in the run-down Parisian suburb of Bobigny, Bouchareb recounted how he and his friends used to sneak into the local cinema for free.
"It was a game for us to see if we could get in… we'd jump over a wall and get in through the toilet," said the filmmaker. "We saw a lot of films without paying but it meant I never saw the beginning."
Although Bouchareb has long since left the neighbourhood for a more upmarket address close to the Eiffel Tower, most his filmography has been shaped by his experiences as the son of immigrants in France, he revealed.
"Immigration has always been the most important subject for me," he said.
The ADFF talk touched on how Days of Glory, following a group of North African soldiers fighting to liberate France at the end of World War Two, had been instrumental in changing French laws to giving foreign veterans full pension benefits. Under a 1959, foreign soldiers had had their pensions frozen, eventually making them worth a third those of their French counterparts.
"I'd heard these stories from family and friends about these soldiers who had participated in the liberation of France, and then been forgotten. It was an injustice. It took a long time to get off the ground… in part because I had to wait for enough actors of Maghreb origin to come through the system to construct the cast," he explained, referring to the ensemble cast lead by Jamel Debbouze, Roschy Zem, Sami Bouajila and Samy Naceri and
"Making the film was only half the battle," he continued, recounting how he taken the pensions fight to Cannes, with the support of Thierry Frémaux, and then wrangled a special screening for then President Jacques Chirac in the presence of the cast.
"Jamel was amazing that night. He was sitting to the president's right. He always comes up with the right joke," recalled Bouchareb. "After the screening we pressed the president on the issue and he said then and there that he would change the law. We didn't really quite believe it but then a few weeks later we got an official letter from the veterans department."
Producer's hat
Talking about his work as a producer alongside Jean Bréhat under the Paris-based 3B Productions banner, Bouchareb said they had set-up the company out of necessity in the beginning.
"After my first film I realised pretty rapidly that it was going to be difficult to get my projects off the ground through more traditional routes and that it was also unlikely that I, a young second generation North African, was going to get a directing gig at one of the French broadcasters any time soon. It seemed to make most sense to go into production. It was almost an obligation," said Bouchareb.
"Jean and I decided to do over a single weekend. We discussed it over a few drinks on the Saturday night and decided to actually go for it on the Monday morning."
Created in 1991, the company also has long-standing ties with filmmaker French filmmaker Bruno Dumont and Lebanese Ziad Doueiri.
Algeria ties
Bouchareb revealed that he has forged increasingly strong links with his parents' native Algeria in recent years.
The country's cultural agency AARC (Agence Algerienne pour le Rayonnement Culturel) backed Two Men in Town and the director said he was also due to spend time in Algeria in November to work with a group of upcoming filmmakers on their projects.
Another project on his wish-list, he added, was a feature-length animation production involving young Algerian animators.
The director had a small taste of working with animation through the short film L'ami y' a bon, about a group of Senegalese soldiers who fought for France during World War Two, only to be repatriated without pay after the conflict ended.
Career achievement award
Asked about how he felt about receiving a career achievement award at Abu Dhabi, Bouchareb, who is due to shoot a new feature early next year, replied: "It's great but you know I am only half through my career."