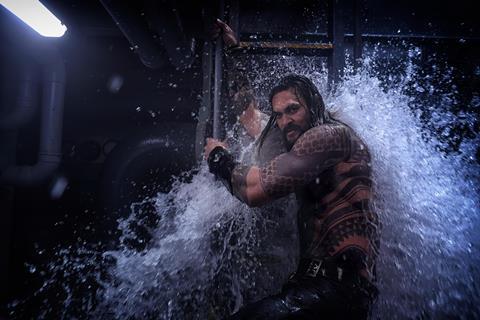 JANUARY 7 UPDATE: The $1bn goal is getting closer for DC Entertainment's Aquaman as the global smash added $86.9m over the weekend for $943.3m worldwide, and $58m from 79 markets for a $683.2m international running total.
However the underwater saga relinquished its international and global crowns to Paramount's action adventure Bumblebee, which ruled international box office thanks to an $82.1m session from 63 markets, powered by a $59.1m number one launch in China that elevated the international running total to $191.3m and $289.1m worldwide.
Mary Poppins Returns crossed $250m worldwide and Ralph Breaks The Internet crossed $400m globally for Disney, while Bohemian Rhapsody stands at $550m internationally and has become Fox International's sixth highest grossing title of all time.
PARAMOUNT PICTURES INTERNATIONAL
UPDATED: Bumblebee opened in third place in India on $1.2m, second place in Colombia on $1.1m, and It arrived in Poland on $514,000, Norway on $423,000 for number one, Denmark $262,000 for number four, and Finland $240,000 for number two.
France's second weekend was the holdover highlight as $2.6m boosted the tally to $7.6m, followed by the UK on $2.2m for $11.6m, Brazil on $1.2m for $4.9m, and South Korea on $1.2m for $11.2m. In the third weekends, Germany delivered $1.4m for $6.6m, Mexico $1.1m for $10m, and Australia $796,000 for $6.4m. Japan is the final release on March 22.
WARNER BROS PICTURES INTERNATIONAL
UPDATED: Aquaman continued to rank number one across Europe and Latin America for the fourth consecutive weekend, and has become Warner Bros' biggest release in Asia. China remains the lead market as a further $4.1m in the fifth weekend resulted in third place behind the opening of Bumblebee and boosted the tally to $282.8m.
The tentpole arrived in Italy in second place on $7.2m over six days for the second best debut by a DC title. In its third session, France produced $5.1m for number one and $21.8m, South Korea $4.5m for number two and a $35.3m running total, and Germany $3.7m for $17.8m.
Australia generated $4.5m for number two and $19m tally, and Colombia $1.9m for number one and $6.7m after the same amount of time. In fourth weekend holds, Aquaman grossed $3.4m in Brazil for number two and $28.4m, $2.4m in the UK for $23.2m, and $2m in a number one hold in Mexico for $26.6m.
Fantastic Beasts: The Crimes Of Grindelwald has reached $485m following a $6.2m session in 57 markets, and stands at $643.1m worldwide. Japan was the highlight, inching closer to scoreboard leader China's $57.3m tally as $1.9m in the seventh weekend propelled the running total to $54.7m. Germany delivered $1.3m in the fourth for $42.6m, and the UK stands at $43m.
Creed II grossed $6.1m from 35 for $37.7m and opened on January 1 in second place in Mexico, where after six days it has reached $3.3m and overtaken the original's lifetime total. The boxing drama sequel has amassed $12.3m in the UK and $6.2m in Australia and debuts this week in France, Russia, and Japan. A Star Is Born added $3.5m from 42 for $196.2m, and $398.3m worldwide. Japan has delivered $8.9m after three sessions and the UK remains the lead market on $38.3m.
Der Junge Muss An Die Frische Luft, a UFA Fiction / Warner Bros. Film Productions co-production distributed by Warner Bros, grossed $4.4m in Germany this weekend to move up to number one and stand at $13.3m after two weekends. Clint Eastwood's The Mule launched in seven, among them Argentina on $284,000 in a career-besr debut for Eastwood as director.
WALT DISNEY STUDIOS MOTION PICTURES INTERNATIONAL
UPDATED: Mary Poppins Returns has crossed $250m worldwide after a $38m session enabled the family tentpole to float up to $257.9m. A $22.9m session from 47 territories resulted in a $119.1m international running total.
The film starring Emily Blunt has crossed $100m in Europe and finished 2018 as the tenth highest release in the UK, where it held on to number one in the third weekend on $5.7m and stands at $43.5m. Poppins debuted in Australia on January 1 and has taken $5m, while Russia has delivered an estimated $2.2m after four days.
After the UK, Italy places second on the leaderboard on an estimated $14m. Latest estimates put France on $9.5m, Germany on $8.3m, Spain on $7.7m, then Australia, followed by Mexico on $3.4m, and Belgium on $2.1m.
Ralph Breaks The Internet broke the $400m global barrier as $29.7m boosted the animation's tally to $404.8m, while $25.5m from 32 territories resulted in $217.9m at the international box office. China remains the lead market on an estimated $39m, followed by Japan on an estimated $24.5m, then the UK on a confirmed $20.1m.
The family release opened in Italy on $8.1m over six days in a new mark for any Disney Animation or Pixar release. A four-day $5.5m number one debut in South Korea delivered the third highest Disney Animation, and has already reached 93% of the 2012 original's final gross.
A $4.8m number one debut in Brazil was good enough for the highest launch by a Disney Animation title, and the highest industry animated debut during the summer season. Argentina produced the third highest debut by a Disney Animation title in admissions and scored $1.5m. Ralph Breaks The Internet ranks as the second highest grossing Disney Animation Studios release in Thailand and Hong Kong.
FOX INTERNATIONAL
UPDATED: Golden Globe best dramatic feature winner Bohemian Rhapsody starring Golden Globe winner Rami Malek grossed $15.9m to reach $549.4m from 59 markets and ranks as Fox International's sixth highest grossing title. Japan generated $2.9m in its ninth session for $74.8m, and South Korea $1.7m in the tenth for $73.9m to rank as the fourth highest Hollywood release of all time.
In Holland the Queen / Freddie Mercury drama stands at $16.4m after ten and ranks as the eighth highest grossing title of all time in the market. A $62.8m running total in the UK after 11 sessions means Bohemian Rhapsody ranks as Fox's fifth highest grossing release of all time. It is Fox's third highest release in Australia on $31.9m after ten.
Meanwhile Yorgos Lanthimos' Restoration farce The Favourite starring Golden Globe best comedy or musical actress Olivia Colman alongside Emma Stone and Rachel Weisz delivered a $4.9m number two debut in the UK. A $6.1m weekend boosted the international tally to $7.5m. Dragon Ball Super: Broly added $3.3m from five markets for $32.3m, led by a $1.7m Brazilian debut and a $1.5m hold in the fourth session in Japan for $29.6m.
SONY PICTURES RELEASING INTERNATIONAL
UPDATED: Spider-Man: Into The Spider-Verse brought in $10.6m from 61 markets as the tally surged to $140.4m. Spider-Verse closed out 2018 as the highest-grossing Hollywood animated film of the year in China where it added $2.1m for $59.5m. It opens this week in Brazil. Comedy adventure Holmes And Watson grossed $1.6m from 14 markets for an early $7.1m and opens in Russia on January 24.
UNIVERSAL PICTURES INTERNATIONAL
UPDATED: The Grinch is days away from crossing $500m worldwide after $13.4m elevated the tally to $498.3m. An $12.2m session in 61 territories in play boosted the international running total to $228.7m from 69 overall.
How To Train Your Dragon: The Hidden World – the first DreamWorks Animation title to open through Universal after Comcast acquired the animation powerhouse for $3.8bn back in 2016 – grossed $5.2m from the first two territories.. The $4.7m debut in Australia posted the second best debut for a DreamWorks Animation title after Shrek 2. New Zealand generated $523,000 in second place.
Mortal Engines added $4.4m from 49 for $53.7m from 62 overall, and stands at $69.4m worldwide. The fantasy adventure opened in Mexico in fifth place on $1.9m. The Steve Carell drama Welcome To Marwen, based on the documentary Marwencol, stands at $800,000 and debuted in France on $496,000, the UK on $308,000, and Switzerland on $27,000.
LIONSGATE INTERNATIONAL
Golden Globe dramatic feature winner Green Book stands at an extremely early $1m with Seeden the lead market on $753,000, followed by the Middle East on $221,000. It opens in South Korea this week, and rolls out in earnest later this month and into February and March with debuts in France on January 23, followed by Australia, Brazil and Rusia (January 24), the UK (January 30), and Germany and Italy (January 31). The drama opens in Spain on February 1, Mexico on February 8, and Japan the final market on March 1.