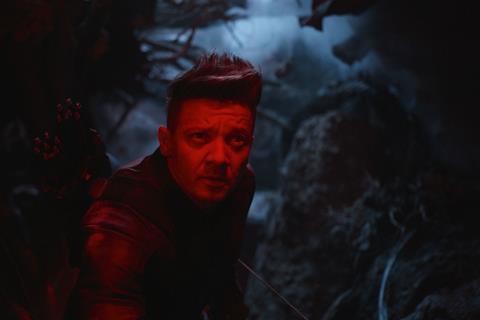 Avengers: Endgame has taken only six days to rank as the tenth biggest global release of all time and could cross $1bn internationally on Tuesday (30)

Disney executives said the tentpole scored a record Russia opening day gross of $7.8m (Rbl 500m) on Monday (29), tracking 59% ahead of that of Avengers: Infinity War, which opened on a Thursday last year in the first week of May.
Marvel Cinematic Universe films have now crossed $20bn worldwide. Endgame added $118.9m worldwide on Monday to reach $1.343bn, $82.2m internationally for $948.7bn – it could cross $1bn on Tuesday – and $36.7m in North America for $393.9m. Endgame has pushed combined grosses for The Walt Disney Studios releases past $1bn in North America ($1.011bn), $2bn in international ($2.278bn), and $3bn in worldwide ($3.289bn).
Avengers: Endgame has now passed The Fate Of The Furious ($1.236bn), Incredibles 2 ($1.243bn), Beauty And The Beast ($1.264bn), Frozen ($1.277bn), Jurassic World: Fallen Kingdom ($1.31bn), Star Wars: The Last Jedi ($1.333bn), and Harry Potter And The Deathly Hallows ($1.342bn) in the global release roster.
On Monday it overtook Wolf Warrior 2 ($868m), Frozen ($876m), Jurassic World: Fallen Kingdom ($892m), The Avengers ($896m) and Avengers: Age Of Ultron ($946m) to become the ninth biggest international release in history.
By territory China added $18.6m on Monday to stand at $349.1m, the UK $4.7m for $60.7m, South Korea $3.7m for $50.7m, Mexico $3.9m for $35.8m, Australia $2.3m for $33.5m, and India $5.2m for $32m.
Endgame has reached $30.2m in Brazil, $28.8m in Germany, $26.9m in France, $20.7m in Italy, $20m in the Philippines, $17.6m in Indonesia, $17m in Japan, $15.5m in Thailand, $14.4m in Spain, $14.2m in Taiwan, $14m in Hong Kong, and $11.1m in Malaysia.