MARCH 27 UPDATE: Disney's live-action fantasy continued to rule box office in its second session as it roared past $300m.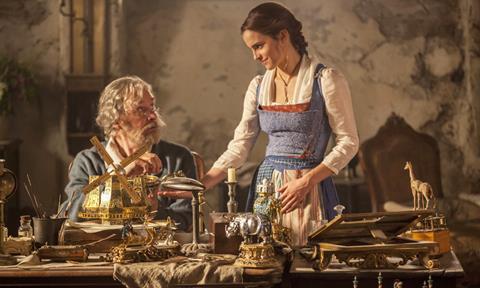 Beauty And The Beast added a confirmed $90.4m following a 48.3% drop to reach $319m for the fourth biggest 10-day running total of any film and the fourth biggest second weekend in history.
The romantic tale starring Emma Watson and Dan Stevens also grossed an estimated $5.1m on Imax screens to reach $20.2m.
Lionsgate's action adventure Power Rangers opened in second place on a commendable $40.3m in 3,693 venues. The film reportedly cost $100m to make.
Columbia Pictures and Skydance's recent SXSW world premiere and sci-fi thriller Life starring Jake Gyllenhaal, Ryan Reynolds and Rebecca Ferguson did not fare so well.
The film opened in fourth place on $12.5m from 3,146 – not a strong debut considering the reported $58m production cost, and executives will look for a productive international run in the weeks ahead.
Warner Bros' comedic remake of the cult TV show CHiPS opened at number seven on $7.7m from 2,464, a disappointing debut although the film is said to have cost $25m to produce, excluding marketing costs. Dax Shepard directed and stars alongside Michael Pena.
Fox's Logan in fifth place crossed $200m in its fourth weekend, while Universal/Blumhouse Productions' Get Out at number six is a week or so away from crossing $150m after five sessions.
Sports drama Slamma Jamma opened at number 11 on $1.7m through River Rain in 502 theatres. Fox Searchlight launched Woody Harrelson starrer Wilson in 19th place on $336,227 from 310.
Beauty And The Beast drove top 12 box office to $195.1m, down 23% against last weekend's record March debut and down 20.5% from the comparable session in 2016 when Warner Bros launched Batman v Superman: Dawn Of Justice on $166m.
This week's wide releases are Paramount's sci-fi Ghost In The Shell starring Scarlett Johansson, and Fox's animated comedy The Boss Baby featuring the voice of Alec Baldwin.
Confirmed top 10 North America March 24-26, 2017
Film (Dist) / Conf wkd gross / Conf total to date
1 (1) Beauty And The Beast (Buena Vista) Walt Disney Studios Motion Pictures International $90.4m $319m
2 (-) Power Rangers (Lionsgate) Lionsgate international $40.3m –
3 (2) Kong: Skull Island (Warner Bros) Warner Bros Pictures International $14.7m $133.8m
4 (-) Life (Sony / Columbia) Sony Pictures Releasing International $12.5m –
5 (3) Logan (Fox) Fox International $10.3m $201.6m
6 (4) Get Out (Universal) Universal Pictures International $8.9m $147.7m
7 (-) CHIPS (Warner Bros) Warner Bros Pictures International $7.7m –
8 (5) The Shack (Lionsgate-Summit) Lionsgate International $3.9m $49.1m
9 (6) The Lego Batman Movie (Warner Bros) Warner Bros Pictures International $2.1m $170.9m
10 (7) The Belko Experiment (BH Tilt) $1.9m $7.6m