CHINA BOX OFFICE: Disney animation Big Hero 6 topped the China box office in its first full week of release, grossing $29.88m, while Jupiter Ascending opened in third with $23.06m.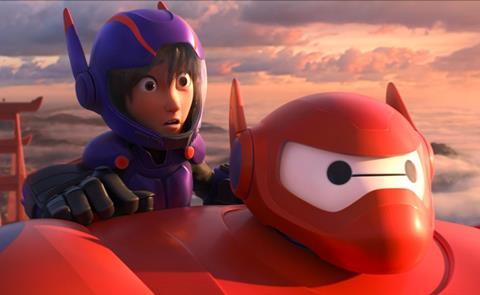 Big Hero 6, a high-tech adventure set in the fictional East-West fusion city of San Fransokyo, pulled in more than 5 million admissions in the week March 2-8 and has grossed $43.49m after nine days on release.
It was followed by Wong Jing's Chinese New Year hit From Vegas To Macau, which grossed a further $27.4m from 4.5 million admissions for a cume of $139.65m after 18 days.
Third was the Wachowski's space opera Jupiter Ascending with its gross of $23.06m from 3.8 million admissions in three days.
Two other Chinese New Year releases were also holding on in their third week of release – Jean-Jacques Annaud's wilderness drama Wolf Totem grossed $20.66m for a cume of $99.71m, while Jackie Chan starrer Dragon Blade took $13.3m for a cume of $113.36m.
StudioCanal and Heyday Films' Paddington, distributed by Huaxia with Stellar Megamedia handling promotion, came sixth with a respectable $7.48m in its opening four days. The UK's Prince William attended the film's premiere last week at the Great Festival of Creativity in Shanghai.
Paddington was followed by another big Chinese New Year release, Zhong Kui: Snow Girl And The Dark Crystal, which pulled in a further $5.42m for a cume of $63.62m.
Two openers took the next two positions in the chart: Wang Ning's The Right Mistake came in eighth with $3.65m over four days, while Rain Li's US-China co-production Beijing, New York grossed $1.93m over three days.
Rounding out the chart was Media Asia's aviation drama Triumph In The Skies, also released for Chinese New Year, which grossed a further $1.63m for a cume of $24.59m.