SCREEN SUBSCRIBERS: Can the traditional end-of-year release of local comedy titles help boost the Italian box office of 2015?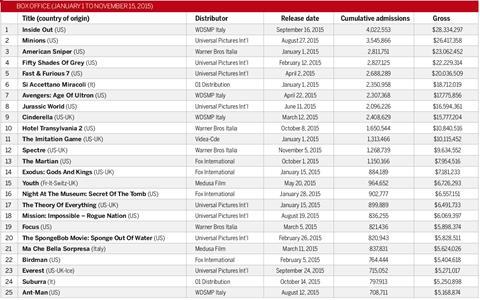 It has been a solid year for Italian cinemas, buoyed by a much stronger crop of US films than in 2014. The top five films of 2015 to date have each brought in more than 2014's top earner Maleficent, while the top 10 films of the year to date have together pulled in $199.7m, significantly beating 2014's $135.6m.
Still, the numbers are nowhere near 2013, when the top 10 films grossed $239.3m and breakout local title Sole A Catinelle raked in a record-breaking $69.9m.
Animated films including Inside Out, Minions, Hotel Transylvania 2 and SpongeBob, as well as Cinderella, have all fared well, confirming the enduring appeal of family entertainment over illegal downloads.
Last year, three low-budget Italian comedies made the top 10 but in 2015 only one local film, Alessandro Siani's Si Accettano Miracoli, has broken into the top ranks so far. The religious comedy opened in January with a very strong $8.5m and has gone on to gross $18.7m, beating 2014's A Boss In The Living Room (Un Boss In Salotto), which had taken $16.6m by the end of its run.
Si Accettano Miracoli is the only big local hit to date, with Paolo Sorrentino's English-language Cannes title Youth, starring Michael Caine and Harvey Keitel, grossing $6.7m.
Alessandro Genovesi's Ma Che Bella Sorpresa, inspired by 2009 Brazilian comedy The Invisible Woman, has taken $5.6m, while Stefano Sollima's crime drama Suburra, the theatrical spin-off from Netflix's first original Italian-content drama series, took $5.6m. It had a strong opening weekend, taking $1.5m in its first four days.
Several Italian films for which distributors have high hopes have only just been released, including Paolo Costella's comedy Matrimonio Al Sud, which has taken $ 1.3m in its first weekend, and Massimiliano Bruno's Gli Ultimi Saranno Ultimi which has grossed $1.1m in its first week.
Warner Bros Italia's Spectre is on course to become one of the highest grossing films of the year in Italy, taking $9.6m from just two weeks on release, helped by two stunning scenes shot in Italy.
Two UK films about geniuses — The Imitation Game and The Theory Of Everything — also fared well, although The Imitation Game soundly beat its rival, taking $10.1m as opposed to $6.5m. The two have consistently jostled for position at the European box office this year.
Working Title Films' Everest has also made it into the top 30, taking $5.3m, while the other international film to make a mark is French comedy and European box-office hit Serial (Bad) Weddings (titled Non Sposati Le Mie Figlie in Italy).