SCREEN SUBSCRIBERS: Even before the release of Star Wars: Episode VII - The Force Awakens, the UK box office is enjoying a strong year, propelled by powerful performances from James Bond and Christian Grey. But a crowded marketplace is stifling local and foreign-language releases.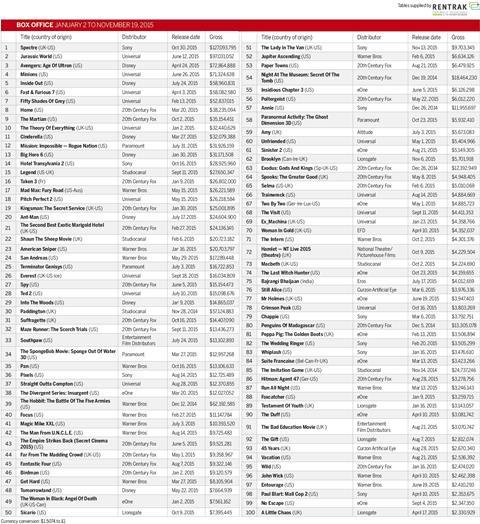 When UK admissions came in for 2014 at 157.5 million, a full 8 million down on 2013 and 15 million down on 2012, the numbers suggested a continuing pattern of decline. Plenty within the industry dismissed the number as a blip.
Thankfully, the reassuring voices proved entirely prescient, with the better-than-expected Jurassic World, Fast & Furious 7 and Fifty Shades Of Grey all helping to brighten a picture illuminated by Minions and Pixar's biggest ever non-sequel, Inside Out.
Box office for the UK and Ireland passed $1.5bn (£1bn) on October 27 this year, beating the previous record set in 2012 (when the milestone was reached on Nov 10), and achieving a pace far ahead of 2014 (which took until November 23 to get there). Latest UK admissions show 2015 running 8% ahead of the 2014 pace, and the territory looks set to crack 170 million admissions for only the sixth time this century.
The only concern, believes Tom Linay, head of film at cinema advertising market leader DCM, is that "the mid-level films did not deliver quite as consistently as the big ones". Only DreamWorks Animation's Home landed in the $37.5m-$52.6m (£25m-£35m) range.
"Maybe people who talked about seeing Ted 2 or Magic Mike XXL ended up going to see Jurassic World instead," Linay suggests.
Box-office numbers point to a softening of UK audience excitement about 3D. Among titles grossing at least $1.5m (£1m), only 23 were released in the format (down from 34 in 2014), and among these, only three - Paranormal Activity: The Ghost Dimension, Everest and The Walk - achieved more than 50% of their gross in 3D (down from six titles in 2014). In the case of the latter two films, Imax was key to those 3D numbers. Imax contributed more than 10% of the total gross for 2D titles Chappie, The Transporter Refuelled and Crimson Peak, and for 3D titles The Walk, Everest, Jupiter Ascending and Seventh Son.
As a rule of thumb, a title in the UK should earn roughly one tenth of the US gross, except with the dollar sign switched to a pound sign. Plenty of films conformed to that rule, including Jurassic World, Avengers: Age Of Ultron and Fast & Furious 7. It is no surprise to see Spectre breaking the pattern - $176m in the US, and $127m (£84.3m) in the UK - since James Bond traditionally over-performs in what is essentially its home country. Fifty Shades Of Grey - $166m in the US and $52.8m (£34.8m) in the UK - was another case where UK audiences demonstrated a greater appetite than evinced by US cinema-goers. Sam Taylor-Johnson's film also set a new bar for an 18-certificate title, smashing the record set just a year earlier by The Wolf Of Wall Street ($29.3m/£22.7m).
Despite a huge marketing summer campaign around rising US comedy star Amy Schumer, UK audiences did not take to Trainwreck in big numbers, at least relative to the US: just $4.9m (£3.3m) in the UK, compared to $110m in its home territory. But then Judd Apatow's comedy did not play particularly well in any international territory, except Australia where it grossed $10m.
The UK proved the top international territory on several major films, including animation big hitters Inside Out, Home and Hotel Transylvania 2, as well as Pitch Perfect 2, Fifty Shades Of Grey and Straight Outta Compton. Among US indie titles, Lionsgate UK performed well with Sicario, far and away the strongest international territory, and so far delivering 21% of the total international gross.
Entertainment's Southpaw was an even more marked success, contributing 32% of the present international gross.
UK films at the local box office
This year UK-US productions scored major successes, notably Sony/Eon's Spectre and Universal/Working Title's The Theory Of Everything, but no non-studio UK film has come close to the $45m (£30m) success of 2014's Paddington. Top of the pile is Studiocanal's Legend ($27.6m/£18.3m), although lead producer Working Title is owned by Universal (and, of course, Studiocanal itself is French-owned). Next comes Marv Films'
Kingsman: The Secret Service, which is a Fox presentation. Close behind is Blueprint's The Second Best Exotic Marigold Hotel, distributed by Fox in the UK and other territories, and Fox Searchlight in the US.
John Madden's retirees comedy sequel proved far from the only strong performer benefitting from a notable older audience skew. The Lady In The Van, starring Maggie Smith, stands at $9.7m (£6.4m) after 17 days.
Suffragette, appealing to a broader age range but certainly buoyed by robust attendance from seniors, is at $14.4m (£9.7m). Woman In Gold starring Helen Mirren, Mr Holmes with Ian McKellen, Testament Of Youth and 45 Years are all among the top 100 for the year to date at UK cinemas. So are Far From The Madding Crowd, Brooklyn and Suite Francaise, which were all likewise solid with this audience.
Most of these titles feature some combination of period setting, literary source material and older cast members, and represent collectively a strong performance in the year for prestige middlebrow fare.
At the edgier end of the UK indie scale, films chasing younger audiences fared much less favourably, with well-reviewed titles including Catch Me Daddy, The Goob and Hyena failing to find much theatrical traction. Kill Your Friends, adapted from the John Niven book about an amoral record company executive, is another example, grossing just $303,000 (£201,000).
The Falling, starring Game Of Thrones' Maisie Williams, was decent in limited play, reaching $624,000 (£414,000). The Lobster broke out of the indie niche with a nifty $1.9m (£1.3m). Amy, with $5.6m (£3.8m), delivered the second-biggest ever gross for a UK documentary after the UK-US concert feature One Direction: This Is Us.
As ever, there is no formula for success. Studiocanal scored massively with Legend, its biopic about the Kray twins, but was disappointed by Lance Armstrong story The Program ($559,000/£371,000).
Following I Give It A Year in 2013 and Cuban Fury in 2014, the distributor offered another romantic comedy, Man Up, achieving a lacklustre $1.8m (£1.2m). It has become harder than ever to populate a film in the genre with UK actors that carry the affection of the audience.
"The problem we have as producers is, now Benedict Cumberbatch has a Marvel franchise, plus what he's doing on stage, and Tom Hiddleston is the same, it's whether they'd want to do [a UK romantic comedy]," says Danny Perkins, the head of Studiocanal UK. "They can get paid doing superhero films, and they can do the interesting roles [in dramas]. So it's whether anyone actually wants to be Hugh Grant."
From the perspective of sales agent HanWay Films, whose 2015 titles include Slow West, Brooklyn and A Royal Night Out (all sold to Lionsgate for the UK), plus Carol (Studiocanal) and High-Rise, Swallows And Amazons and The Limehouse Golem on the way to cinemas in 2016, the UK remains competitive for homegrown films.
"We couldn't put those films into production without a UK distributor on board," says HanWay international sales director Chiara Gelardin. "It's the most important partnership to get in place." Most of HanWay's 2015 releases have also benefitted from the participation of a local broadcaster, a factor Gelardin calls "incredibly important", both for the finance plan and as "a vote of confidence" and "an element of branding".
Established producers - See-Saw in the case of Slow West, for example - are similarly crucial for UK distributor confidence.
"They want something they feel they can market, be it cast or subject matter. Something that knows what its audience is," says Gelardin.
International films at the UK box office
In both 2007 and 2008, five non-Bollywood foreign-language films earned more than $1.5m (£1m) at the UK box office. By 2013 and 2014, the number reaching that benchmark had slid to just one each year. In 2015, the year will end with no non-Hindi foreign-language film managing seven figures: the top title is Argentinian dark comedy Wild Tales, with $1.1m (£728,000).
The continued slide in fortunes for foreign-language titles can be witnessed not only at the top end. In 2013, nine films grossed $452,000 (£300,000) or more. In 2014, there were six.
This year, there are only three: Wild Tales, Force Majeure and Timbuktu. Céline Sciamma's Girlhood, well reviewed and a buzz Cannes title in 2014, brought in $350,000 (£232,000). Similarly acclaimed, neither White God nor The Tribe cracked $150,000 (£100,000).
The squeeze may be part of a bigger phenomenon. "More than ever, the market's really congested," says Studiocanal's Perkins, who has Dheepan and The Assassin coming up. "You need something that really is compelling and can stand out among all of the noise."
Festival buzz remains crucial, says Louisa Dent, managing director of Curzon Artificial Eye, which released this year's top three titles to date. "That's where it starts. You can take it from there and build on that without spending millions in p&a." But it is not necessarily about winning a prize, especially for UK audiences.
"Both Wild Tales and Force Majeure created a buzz in Cannes, neither won prizes, one was in competition, one wasn't, but both had hooks you could work on and go from that," says Dent. "One was 'The avalanche film'; and the other one was 'My God, have you seen that first scene?'. That really did create a buzz."
Titles underperforming compared to box office from other major European territories include Brazilian comedy drama The Second Mother, which managed $123,600 (£82,000) in the UK - half the Spanish result, a quarter of the numbers achieved in Germany and Italy, and way behind France's 161,000 admissions. The UK also delivered the lowest gross among the European big five for Christian Petzold's Phoenix.
In London, new cinemas in 2015 are creating more opportunities for foreign-language titles, with Curzon's seven-screen Bloomsbury opening on the site of the old two-screen Renoir in March, followed by the seven-screen Picturehouse Central flagship in place of an old Cineworld in June, and then the brand new five-screen Picturehouse Crouch End in November. Having said that, the big rooms in these cinemas are not often to be found playing foreign-language fare, and both Picturehouse Central and Curzon Bloomsbury played Spectre.
New Wave's Taxi Tehran regularly sold out showings at Curzon Bloomsbury, and that single venue contributed $40,600 (£27,000) of the film's $191,000 (£127,000 ) UK gross at press time - but it presumably could have done more had it broken out of the 28-seater room in which it played. As it was, it still managed to beat Spectre (in the big room at Bloomsbury) on a couple of days midweek.
As for Hindi films, 2015 offered two notable big hitters, with Bajrangi Bhaijaan ($3.9m/£2.6m) and Prem Ratan Dhan Payo ($2.3m/£1.5m so far). The former delivered the biggest UK gross since Dhoom 3, which reached $4m (£2.7m) in December 2013.
Where are all the women?
Female directors, writers and stars are hugely under-represented in the UK top 100. Louise Tutt reports
Of the top 100 releases at the UK box office in 2015 to November 19, just five were directed solely by women. These were Sam Taylor-Johnson's Fifty Shades Of Grey, Elizabeth Banks' Pitch Perfect 2, in which she also co-starred, Sarah Gavron's Suffragette, Nancy Meyers' The Intern and Ava DuVernay's Selma. Lana Wachowski co-wrote and directed Jupiter Ascending.
Only seven films were written solely by women - Fifty Shades Of Grey (Kelly Marcel and EL James), Pitch Perfect 2 (Kay Cannon), Suffragette (Abi Morgan) and The Intern (Meyers), plus Trainwreck, written by Amy Schumer and directed by Judd Apatow, and Testament Of Youth, written by Juliette Towhidi and directed by James Kent. A further 10 were co-written by a woman or had a woman on the writing team.
The statistics make grim reading but are an improvement on 2014 when not a single film in the UK top 40 was directed by a woman and only two in the top 100 had a female director. Both titles were aimed at children: Nativity 3: Dude, Where's My Donkey?, written and directed by Debbie Isitt, and animation The Pirate Fairy, directed by Peggy Holmes.
In 2015 to November 19, 28 of the top 100 films have had a lead female protagonist. There are a handful of December releases likely to break into the top 100 films of the year and slightly enhance these figures. The Hunger Games: Mockingjay - Part 2 is co-written by novelist Suzanne Collins and stars Jennifer Lawrence; The Dressmaker is directed and co-written by Jocelyn Moorhouse and stars Kate Winslet; and By The Sea is written and directed by Angelina Jolie who also stars in the film.
Female stars headline the Phyllis Nagy-scripted Carol (Cate Blanchett and Rooney Mara), Christmas With The Coopers (Diane Keaton), Grandma (Lily Tomlin, Julia Garner, Marcia Gay Harden, Judy Greer and Laverne Cox) and Sisters (Tina Fey and Amy Poehler), which is written by Paula Pell.
Of the top five female directors of 2015, Johnson has decided to pass on Fifty Shades Darker, as has writer Marcel; Banks has signed to direct, produce and star in Pitch Perfect 3, and a TV comedy called The Greater Good; Gavron is on the awards trail with Suffragette; Meyers is writing a slew of new projects, including an update of Private Benjamin set to star Rebel Wilson; and DuVernay is working with Oprah Winfrey to create a TV series called Queen Sugar, and is developing an untitled feature project about Hurricane Katrina.