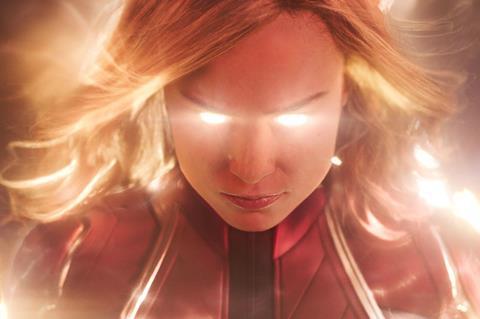 MARCH 25 UPDATE: In an important session that keeps alive hopes of crossing the cherished $1bn global threshold, Captain Marvel performed slightly higher than expected to deliver an estimated $87.1m and reach $912.4m after three weekends through Disney, and used a $52.4m international haul to stand at $590.9m.
Jordan Peele's new horror film Us opened in its first 47 territories via Universal Pictures International on a combined $16.7m led by a $1.9m number two debut in the UK, while Fox International's Bohemian Rhapsody debuted in China in fourth place on $6.4m.
WALT DISNEY STUDIOS MOTION PICTURES INTERNATIONAL
In China, Captain Marvel has grossed $146.1m after 17 days and ranks as the fourth highest Marvel Cinematic Universe (MCU) film behind Avengers: Infinity War, Avengers: Age Of Ultron, and Captain America: Civil War. In Indonesia it is the second highest industry release of all time on $18.6m behind Avengers: Infinity War.
While the Brie Larson tentpole has generated $336m in the Asia-Pacific region, it has delivered $156m in Europe, and $97m in Latin America, where it remains number one across the entire region.
Behind China, South Korea is the second highest individual territory on $40.1m, marginally ahead of the UK on $38.8m following a $4.5m sessions. Next is Brazil on $30.6m, Mexico on $29.3m, Australia on $22.4m, and France on $20.2m.
Next comes Indonesia, then Russia on $18.4m, Germany on $17.7m, India on $13.7m, Taiwan on $11.4m, Philippines on $11m, Japan aon $10.9m, Spain on $10.8m, Thailand on $10.6m, and Italy on $10.4m.
ASIA UPDATE
Taiwanese terminal illness melodrama More Than Blue delivered a further $29.6m as the running total reached $135.7m in China through Singapore-based mm2's in the company's first wide release there. Jasper Liu and Ivy Chen star in the Taiwanese remake of a 2009 South Korean film, which became the biggest local film at the Taiwanese box office in 2018 and the third biggest Chinese-language film in Hong Kong last year.
Chinese drama Song Of Youth opened in China on $12.3m, while Park Noo-ri's South Korean crime drama Money opened via Showbox in South Korea on $10.9m.
FOX INTERNATIONAL
UPDATED: Bohemian Rhapsody opened in China in fourth place on $6.5m and grossed $7.7m overall from 39 markets to reach $673.4m. Japan has delivered an exceptional $112.9m after 20 weekends, and Germany $36.5m after 21.
Alita: Battle Angel grossed $1.7m from 43 for $316.2m. The cyborg action adventure stands at $131.2m in China after five weekends, and opened top in Saudi Arabia on $192,965.
WARNER BROS PICTURES INTERNATIONAL
UPDATED: The LEGO Movie: The Second Part surged to $76.1m following a $6m session and opened in China on $2.3m and Australia in second place on $1.4m, more than double the debut of The LEGO Ninjago Movie. The UK remains the lead market on $23.4m, followed by Germany on $4.2m, then Poland on $3.5m. The Mule added $12m for $62.9m. Japan and Spain have generated $5.6m and $4.2m after three weekends, respectively. The top market is France on $14.7m. A Star Is Born stands at $218.6m.
UNIVERSAL PICTURES INTERNATIONAL
UPDATED: Jordan Peele's new horror film Us opened in its first 47 territories on a combined $16.9m led by a $3.6m number two debut in the UK, which tracks some 10% ahead of Split by the same stage and delivered the fourth highest Friday debut of the year-to-date. The weekend debut is tracking 32% ahead of Peele's first film Get Out and141% ahead of The First Purge. France generated $1.9m for number two, Germany $1.4m for number two, Spain $1.2m for number three, Indonesia $863,000 for number two, and Brazil $698,000 for number three.
DreamWorks Animation's How To Train Your Dragon: The Hidden World grossed $7.1m from 61 territories in play for a $343.5m international running total. India was the highlight, delivering a number one $1.4m opening weekend for the second highest opening weekend for Dreamworks Animation behind Kung Fu Panda 3, and the fifth biggest animation opening weekend of all time. Fighting With My Family brought in $1.8m and opened in Australia on $1.3m at number three. BlacKkKlansman stands at $42.4m, and Happy Death Day 2U $36.2m.
LIONSGATE AND AMBLIN PARTNERS
UPDATED: Green Book brought in a combined $8.4m from 67 Lionsgate, Amblin Partners and other distributors to reach $210.6m. The drama starring Viggo Mortensen and best supporting actor Oscar winner Mahershala Ali added $5.3m from 12 Amblin Partners markets to reach $125.5m, and grossed $3.1m in China for $68.3m. It brought in $3.1m from 55 Lionsgate markets for $84.9m.
eOne territories generated $1.6m for a $51.3m running total, led by Germany on $12.6m, the UK on $12.5m, Australia on $9.3m, Spain on $9.1m, Benelux on $6.4m, and New Zealand on $1.6m.
Lionsgate's romance Five Feet Apart grossed $5.9m from 37 for an early $6.1m overall, opening strongly in Italy on $1.5m. Brazil and Mexico led the pack in Latin America on $1.4m (including previews) in second place, and $860,000 in third, respectively.
PARAMOUNT PICTURES INTERNATIONAL
Family animation Wonder Park grossed $5m from 24 markets to stand at an early $10.2m, fired up by five debuts led by Russia's $1.7m in second place, and a $558,000 hold in Brazil that pushed the tally to $2.4m after two weekends.
Bumblebee opened in Japan at number three on $2.4m as the international running climbed to $335.3m. Comedy What Men Want added $1.7m from 16 markets for $13.6m. The UK generated $722,000 for $2.5m after two sessions, while Netherlands has delivered $1m after two. Comedy Instant Family stands at $52.4m.
SONY PICTURES INTERNATIONAL PRODUCTIONS
UPDATED: Pedro Almodóvar's Dolor Y Gloria (Pain & Glory), a likely Cannes selection starring Antonio Banderas and Penélope Cruz, opened top in Spain on $1.4m. The Spanish drama centres on an aging filmmaker as he reflects on the meaningful relationships and pivotal moments of his life.
Horror release Escape Room added $3.7m from 33 markets for a $92.2m running total. German dark comedy Die Goldfische (Goldfish) starring Tom Schilling opened in third place in Germany on $1.3m. The film follows a paraplegic who recruits a group of disabled people to smuggle cash across the Swiss border. The weekend grossed $1.4m overall from Germany, Austria, and Switzerland.