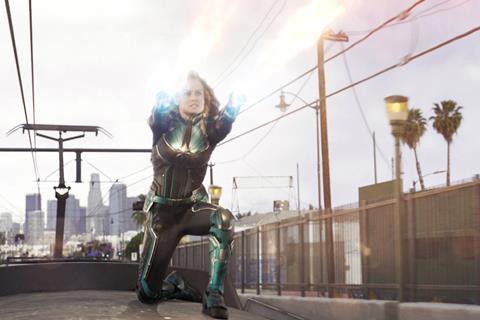 MARCH 9 UPDATE: 'Captain Marvel' has raced to an estimated $188.4m worldwide after three days, including $127m from international markets where it ranks number one in all western markets.
The 21st tentpole release from the Marvel Studios cash cow generated the second highest Marvel Cinematic Universe (MCU) opening day in China on $34.3m behind Avengers: Infinity War, the fourth highest MCU opening day in the UK on $5.3m, and the seventh highest MCU opening day in Mexico on $4.1m.
North American box office stands at $61.4m after opening day and including $20.7m from Thursday night previews. That means Captain Marvel delivered the seventh highest MCU opening day and is on course for a $145m-$155m three-day weekend.
By territory, South Korea has generated $9.3m, Indonesia $6.4m, Brazil and Russia each on $5.4m, Australia $4.5m, France $4.3m, Thailand $3.7m, and Germany $3.4m
MARCH 8 ORIGINAL REPORT: After two days in release, Captain Marvel is already blazing a trail at the global box office, soaring to an estimated $98.7m including early estimates from China, according to Disney distribution executives.
The 21st and latest entry in the Marvel Studios canon starring Brie Larson took $44m internationally excluding China, where early estimates indicate a March 8 launch of approximately $34m, which would be the second highest Marvel Cinematic Universe (MCU) opening day behind Avengers: Infinity War.
Early numbers put the tentpole on $5.9m in South Korea, $2.9m in France, and $1.5m in Italy since the Wednesday launch in those territories.
In the locales where Captain Marvel opened on Thursday, the blockbuster-elect stands at $4.8m in Indonesia, $3m in Brazil, $2.5m in Australia, $2.1m in Russia, $1.9m in Thailand, $1.8m in Taiwan, $1.7m in both Malaysia and Philippines, and $1.5m in both Germany and Hong Kong. Remaining territories have delivered $112m.
It opens on Friday in the UK, China, Mexico and Spain, among others and will be active everywhere this weekend except Japan, where it is scheduled to debut on March 15.
Meanwhile North America has generated $20.7m in Thursday previews, scoring the fifth highest preview grosses for an MCU release behind the second and third Avengers films, Black Panther, and Captain America: Civil War. Captain Marvel opens officially in North America on Friday in 4,310 theatres.
Overall, the film is ranking as the number one western release in all markets as well as the highest March debut in many and highest first stand-alone character MCU opening day in most. Highlights include the second highest opening day in industry history in Brazil, behind only Avengers: Infinity War, as well as one of the highest ever opening days in Indonesia.
Compared to the same bucket of territories at today's exchange rates, Disney sources said Captain Marvel was currently pacing ahead of comparable first-instalment MCU films such as Black Panther, Doctor Strange and Ant-Man in most territories. The studio will release a more comprehensive round-up on Sunday.