Yang Qing's dark comedy claimed top spot while London Has Fallen outscored its North American debut in second.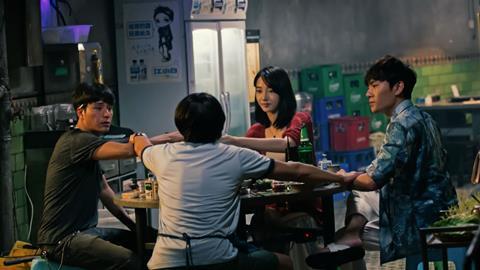 Chongqing Hot Pot spiced up the Chinese box office in a fairly quiet week from Apr 4-10.
The second film by director Yang Qing, which opened in second place two weeks ago, claimed the top spot with $26.67m and brought its total to $48.53m after ten days.
Produced by Chen Kuo-Fu, the dark comedy is about three friends who accidentally tunnel into a bank vault from their underground restaurant.
Action sequel London Has Fallen opened in second place with $24.71m from its first three days, but topped the daily chart from Friday through the weekend. Its three-day gross in China was bigger than both its $21.64m debut in North America last month and the local result for its predecessor Olympus Has Fallen, which took $5.8m when it opened in China in 2013.
Sammo Hung's The Bodyguard, which previously debuted top, dropped to the third in its second week with $19.69m. The action drama took $45.79m after 10 days.
Zootopia still held strong in its fifth week and placed fourth with $13.20m. Its haul of $233.37m after 38 days (based on RMB1,504m in its original currency) made it Disney's biggest title in China, surpassing Avengers: Age of Ultron to become the seventh biggest film ever in China and the third among Hollywood titles (behind Furious 7 and Transformers: Age of Extinction).
Batman v Superman: Dawn of Justice fell to the fifth place with $8.46m for $94.48m after 17 days. It was followed by local youth drama Who Sleeps My Bro, with $7.33m for $18.03m after 10 days; The Revenant, with $1.48m for $58.16m after 24 days; and The Boy, with $1.19m for $2.24m after ten days.
Re-entering the weekly top 10 chart from their extended run were Kung Fu Panda 3, which earned $0.19m for $155.05m after 73 days, and Stephen Chow's The Mermaid, which made $0.17m for $525.69m after 63 days.
A wide variety of films are due to open this week, including Disney's The Jungle Book, Nima Nourizadeh's American Ultra, Xu Wei's Lost In White, Luo Dong's New York New York (all open on Apr 15) and Nobuhiro Doi's Flying Colors (Apr 14).