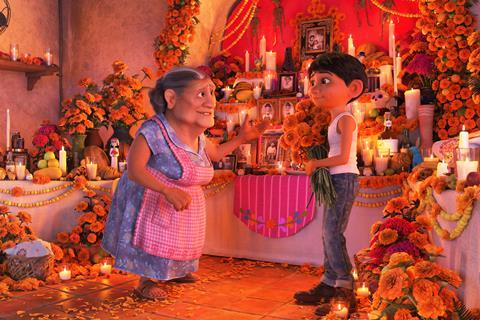 WALT DISNEY STUDIOS MOTION PICTURES INTERNATIONAL
UPDATED: Pixar tentpole Coco retained the international crown thanks to a $69.6m session in 33 markets, powered by a Chinese engine that has established the film as Pixar's biggest release in China after 10 days on $75.7m.
The international running total vaulted to $172.3m, and $282.4m worldwide including the number one North American hold. However it is the film's performance in China that took the plaudits, as an estimated $44.2m following the $17.8m opening weekend delivered the second biggest weekend for an animation behind Zootopia.
Coco ranks as the third biggest release in the market for Pixar/Disney behind Zootopia and Big Hero 6, and studio brass said if the $44.2m gross were ranked against industry animation opening weekends it would stand at number three in China behind Despicable Me 3 and Kung Fu Panda 3.
Pixar's latest has produced $55.6m in Mexico, where it has performed exceptionally well to rank as the biggest film of all time. In a string of number one debuts, Coco opened in France on $5.2m or $6.5m including previews, Spain on $2.9m, Germany on $2m, and Belgium on $1.1m.
Marvel Studios' Thor: Ragnarok grossed $6.6m for $526.1m internationally, and $817.7m worldwide. China is the lead market on $112m, followed by the UK on $39.8m, South Korea on $34.9m, Brazil on $29.9m, and Australia on $25.2m. The worldwide tally puts the third Thor film at number seven in the pantheon of Marvel Cinematic Universe releases, while internationally it ranks sixth.
WARNER BROS PICTURES INTERNATIONAL
Justice League has reached $370.1m thanks to a $35.7m session in 66 markets and stands at $567.4m worldwide. The superhero adaptation is on the cusp of $100m in China and ranks as DC Entertainment's biggest film after $8.6m in the third weekend raised the haul to $98.5m.
In third sessions, Brazil generated $4.1m for $31.2m; Mexico $2m for $21.7m, the UK $1.9m for 20.2m, France $1.7m for $12.1m, and Australia $1.5m for $12.5m. After two weekends Japan has generated $6.6m. Justice League has amassed $12.9m in South Korea.
Full Metal Alchemist opened top in Japan on $3.6m, roughly on par with Rurouni Kenshin, some 62% ahead of Museum, and around 75% ahead of Jojo's Bizarre Adventure. The film is a Full Metal Alchemist Film Partners production led by Warner Bros Japan.
FOX INTERNATIONAL
UPDATED: A $23.7m weekend haul for Murder On The Orient Express in 72 markets elevated the running total to $153.4m. Strong debuts in Italy, South Korea and Indonesia led the way on $3.8m, $3.4m and $1.8m, respectively.
The murder mystery opened in Brazil on $1.5m, and produced $954,000 in Hong Kong and $603,000 in Singapore. Spain, Germany and the UK led holdover business on $1.6m for $5.1m after two sessions, $1.1m for $9.5m after four, and $1.1m for $28.8m after five, respectively. Australia delivered $1m for $9.9m after four.
The Mountain Between Us generated $1.5m from 26 markets for $27.5m and the drama debuted in the U.A.E. on $393,000. France has generated $2.1m after four, while Holland has produced $2m after six. The Mountain Between Us opens in Germany this week.
PARAMOUNT PICTURES INTERNATIONAL
UPDATED: Daddy's Home 2 added $15.9m in 49 markets including 25 debutants after an overall 32% drop against last weekend to reach $34m. Will Ferrell and Mel Gibson will need to deliver sustained laughs through the holiday period if the comedy sequel is to get close to the 2015 original's $92.4m final international score.
Mexico helped the cause, scoring the second biggest Hollywood comedy debut of all time on $5m behind Pixels, according to Paramount Pictures International executives, and came in 108% ahead of the Mexican debut of Daddy's Home, which finished on $7.1m. Argentina delivered $450,000, some 53% above the original, while $169,000 in Ecuador scored the highest debut ever for a comedy.
In second weekends, UK produced $2.6m for $10.5m, Australia $1.5m for $5.3m, Russia $743,000 for $2.6m, and Brazil $330,000 for $1.6m.
LIONSGATE INTERNATIONAL
UPDATED: Julia Roberts mother-son drama Wonder crossed $100m worldwide as $8.8m from 46 markets boosted the tally to $101m, of which $13.4m comes from international markets. Australia was the frontrunner with a $2.5m number one debut including previews, while the UK produced $1.7m, and Spain $854,000.
Jigsaw grossed $2.3m from 71 for $60.1m and arrived in Brazil on $908,000. The UK is the main market on $6.7m, followed by Venezuela on $5.7m, Russia on $5.1m, Germany on $5.1m, and France on $4m.
STXinternational
UPDATED: A Bad Moms Christmas added $3.9m to reach $38.2m from international markets and $102.9m worldwide. The three main debuts were Benelux on $752,000, the Netherlands on $546,000, and a disappointing $444,000 from France that was almost half that of the 2016 original. The UK added $460,000 for $9.7m after five sessions, German-speaking Europe generated $822,000 for $9.6m after four, and Australia and New Zealand $259,000 for $8.1m after five.
The Foreigner stands at $103.5m following a $1.2m session after the Jackie Chan crime dra opened in Russia at number four on $765,000. The worldwide tally has reached $137.7m.
UNIVERSAL PICTURES INTERNATIONAL
UPDATED: Happy Death Day grossed $2.3m in 39 territories for $53.2m internationally and $109m worldwide. The weekend brought a number three debut in Argentina on $418,000, with France and Germany the most notable holdovers on $601,000 for $3.6m and $423,000 for $2.9m, respectively.
Spanish comedy Perfectos Desconocidos, which Universal distributes in Spain, ranked second on a solid $2.2m. Darkest Hour starring Oscar frontrunner Gary Oldman opened in limited release in China on $2.1m in fifth place and will roll out internationally in the New Year, including the UK on January 12.
Michael Fassbender thriller and Jo Nesbo Nordic Noir adaptation The Snowman grossed $1.6m in 19 for $34.9m and arrived in France at number six on $757,000.
Girls Trip, featuring New York Critics Circle best supporting actress winner Tiffany Haddish, stands at $23m and debuted in German-speaking Europe on $676,000. The comedy's worldwide tally stands at $138.1m. Horror Marrowbone added $245,000 in its sixth session in Spain for $7.7m and is produced by J.A. Bayona.