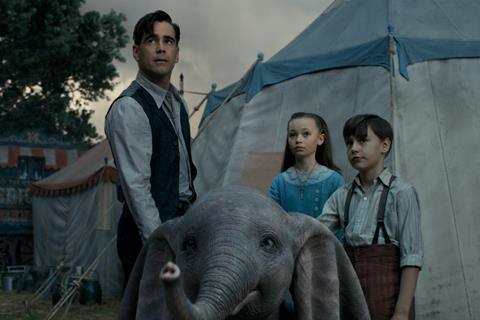 Disney's Dumbo directed by Tim Burton launches this weekend in the UK and every key international market day-and-date with North America.
The live-action adaptation of the classic children's property stars Colin Farrell, Michael Keaton, Eva Green, Danny DeVito, and Alan Arkin and ventures into France, South Korea, Indonesia, Philippines, Belgium, Netherlands and Switzerland on Wednesday (27).
The following day it opens in Australia, Germany, Italy, Russia, Brazil, Thailand, Malaysia, Argentina, Portugal, Singapore, Hong Kong, Colombia, Denmark, New Zealand, Austria, and Chile, among others.
The UK debut takes place on Friday, when Dumbo will also open in a host of other key markets including China, Mexico, Japan, Spain, Taiwan, Poland, Sweden, South Africa, Norway, and Vietnam.
Disney distribution brass are projecting a three-day North American debut in the $50m range starting on Friday. International forecasts are more complicated, however the prospects are promising given the $1bn global success of a fairly robust comp in the form of Burton's 2010 children's fantasy Alice In Wonderland. That film earned $64.4m in the UK ($74.61m when adjusted for inflation), $133.7m in Japan ($155m), $45.9m ($53.18m) in France, and $42.1m ($48.82m) in Russia.
The filmmaker's most recent feature, Miss Peregrine's Home for Peculiar Children in 2016, skews slightly older and darker, yet it too offers encouraging guidance, having finished on $209.2m internationally. That film's individual territory highlights were a $10.1m debut in China en route to $17m, and a $4.5m launch in the UK that ended on $15.4m. France was the top-grossing market when all was said and done on $20.1m, while South Korea generated $18.7m, Russia $15.3m, and Japan $10.1m.
In Dumbo, DeVito plays a cash-strapped circus owner who enlists a former circus star (Farrell) and his children to care for a ridiculed newborn elephant with oversized ears. When they discover the animal can fly, the news attracts the attention of an entrepreneur (Keaton), who brings Dumbo to his entertainment venture Dreamland, where dark secrets reside.