CHINA BOX OFFICE: Daniel Lee's Dragon Blade, starring Jackie Chan, John Cusack and Adrien Brody, topped the China box office over the Chinese New Year holiday weekend, grossing $54.84m in its opening four days.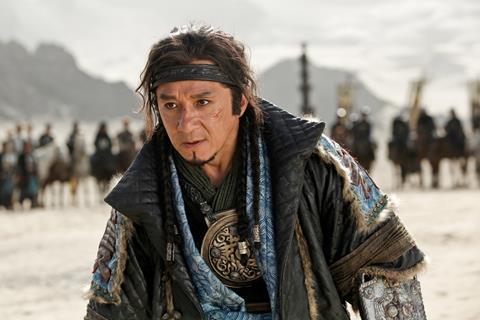 The $65m action epic grossed $18m on its opening day (Feb 19), the first day of the Chinese New Year holiday period, and pulled in 8.14 million admissions over the four-day weekend. Backed by companies including Sparkle Roll Media, Huayi Brothers and Alibaba, the film imagines Roman generals crossing the border into China where they encounter a local soldier, played by Chan.
Although Dragon Blade topped the chart, all four of the big-ticket local releases had respectable openings. According to local press reports, box office revenues on the first day of the holiday increased by 43.6% to hit $57m from around nine million admissions.
Wong Jing's From Vegas To Macau 2, starring Chow Yun-fat, came in second $43.1m from 6.49 million admissions over the four days. The film is a sequel to Wong's gambling caper From Vegas To Macau, which grossed $85m over the Chinese New Year holiday last year.
In third place was Peter Pau and Zhao Tianyu's fantasy epic Zhong Kui: Snow Girl And The Dark Crystal, starring Chen Kun and Li Bingbing, which took $31.2m from 4.68 million admissions.
Jean-Jacques Annaud's Wolf Totem, based on Jiang Rong's best-selling novel, came in fourth with $24.81m from 3.73 million admissions. Including pre-sales, the film has grossed a respectable $32.33m to date, although not a star-driven vehicle.
Films adapted from TV series took the next three places in the chart. Where Are We Going Dad? 2, a sequel to a film based on a reality series that was a surprise hit last Chinese New Year, came in fifth with $20.65m. In sixth position was Media Asia's Triumph In The Skies, adapted from a popular TVB drama, which grossed $12.68m.
In seventh position with $8.95m was Emperor's Holidays, which is based on the same reality series as Where Are We Going Dad? 2.
Xu Jinglei's Somewhere Only We Know, which had opened the previous week, managed to avoid total annihilation in the face of the Chinese New Year openers, grossing $6.31m in the week February 16-22. The Prague-set romantic drama, starring Xu and Kris Wu, has grossed $44.27m after 13 days.
Also holding on in the top ten was Lionsgate's The Hunger Games: Mockingjay – Part 1, which grossed $4.03m for a cume of $35.97m. Local animation Boonie Bears: Mystical Winter rounded out the chart with $3.82m for a cume of $44m.