Top 10 distributors, films and British films of 2014 revealed.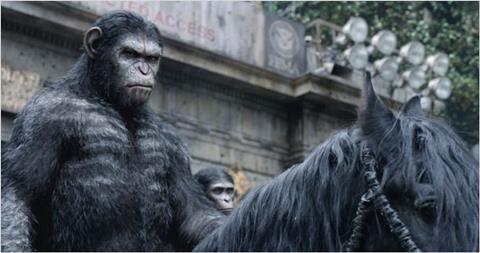 Scroll down for top 10 films/distributors
With three films in the top ten of the year, 20th Century Fox led the distributor market share at the UK box office in 2014, based on Rentrak figures from Jan 3, 2014 to Jan 1, 2015.
From its 45 releases (second only in the top ten behind StudioCanal's 46), Fox grossed a total of $368.8m (£242.3m) for a market share of 21.37%, up on 2013's share of 13.38% when it charted fourth.
Fox's lead performer was Dawn of the Planet of the Apes with $49.8m (£32.7m) to provide 13.51% of the distributor's overall gross.
Last year's champion Warner Bros fell one place to second, taking a total of $259.2m (£170.3m), down 11.4% on 2013, and a market share of 15.02%. The distributor's best performer was also the year's best highest grosser, The Lego Movie with $52.2m (£34.3m).
UK box office down 2.9%
Without one film hitting £40m (compared to two in 2013), the UK box office was down 2.9% on 2013 with an overall gross of $1.726bn (£1.134bn), marking the fifth consecutive year that the UK box office has crossed the £1.1bn barrier.
However, the 2.9% reduction in box office is the most significant since Rentrak began tracking in 1991.
The most bankable week of the year was the w/c Feb 14 with $61.7m (£40.5m) when The Lego Movie landed, while the lowest week of the year was the w/c July 4 with $17.5m (£11.5m) when the World Cup entered its Quarter Final phase.
As with 2013, August was the busiest month at the box office with $204.4m (£134.2m) banked, while the quietest month - also like 2013 - was September with $81.4m (£53.4m).
Confirmed figures for December are yet to be confirmed but as of the end of November, UK admissions for 2014 stood at 140.4 million according to the latest figures from CAA.
The year is going to end down on 2013's 165.5 million despite a strong December as a result of robust performances from The Hobbit: The Battle of the Five Armies and Paddington, seeing admissions likely to end over 18 million for the month which would be the strongest December for 11 years.
eOne top UK indie
For the third year running, Entertainment One UK (eOne UK) ended the year as the UK's leading independent distributor despite a 14.01% drop from 2013 seeing it gross $138.3m (£90.8m) for a market share of 8.01%.
As with last year, eOne's top performer was one of their first releases of 2014, 12 Years A Slave, which provided 22.05% of eOne's overall gross with $30.5m (£20.03m).
Bolstered by a strong combo of The Imitation Game and Paddington late in the year, StudioCanal posted a yearly rise of 131.08% for an overall gross of $116.6m (£76.6m) and a marker share of 6.76%. Paddington took $42.5m (£28m) in 2014 and has since gone on to crack £30m and is the distributor's best-ever UK performer.
Also rising year-on-year was Lionsgate with an overall gross of $92.1m (£60.5m), a rise of 9.51% on 2013, and a market share of 5.34%. As with the previous two years, the latest Hunger Games was their best performer with its $45.9m (£30.1m) providing almost 50% of their yearly gross.
Posting the biggest yearly increase of the top ten distributors was Entertainment Film Distributors as the $50.8m (£33.4m) performance of The Inbetweeners 2 saw Entertainment to a yearly gross of $88.5m (£58.2m) and a market share of 5.13%.
Universal / Disney / Paramount / Sony
Climbing one place to third, Universal enjoyed a 11.41% market share with an overall gross of $196.8m (£129.4m), down 26.63% on 2013. The distributor's best performer was The Wolf of Wall Street which became the UK's highest ever grossing 18-rated performer of all time with $34.5m (£22.7m).
Despite providing one of the year's highest performers with Guardians of the Galaxy's $43.4m (£28.5m) haul, Disney fell two places to fourth after a yearly drop of 41.30% saw it gross an overall $159.8m (£105.1m) for a market share of 9.27%.
Dropping one place to seventh was Sony with an overall gross of $106m (£69.8m) and a market share of 6.15%, with The Amazing Spider-Man 2 its best performer at $36.6m (£24.1m). In 2012, Skyfall propelled Sony to the top of the distributor market share, and there's every chance SPECTRE could do the same in 2015.
Releasing the fewest amount of films of the top ten with 14 releases, Paramount fell one place to eighth as Transformers: Age of Extinction helped it to $92.9m (£61.6m) overall and a market share of 5.39%.
Top ten market share*
20th Century Fox $368.8m (£242.3m) 21.37%
Warner Bros $259.2m (£170.3m) 15.02%
Universal $196.8m (£129.4m) 11.41%
Disney $159.8m (£105.1m) 9.27%
eOne UK $138.3m (£90.8m) 8.01%
StudioCanal $116.6m (£76.6m) 6.76%
Sony $106m (£69.8m) 6.15%
Paramount $92.9m (£61.6m) 5.39%
Lionsgate $92.1m (£60.5m) 5.34%
Entertainment Film Distributors $88.5m (£58.2m) 5.13%
Top 10 films in UK & Ireland in 2014*
The Lego Movie $52.2m (£34.3m) Warner Bros
The Hobbit: The Battle of the Five Armies $51.1m (£33.5m) Warner Bros **
The Inbetweeners 2 $50.8m (£33.4m) Entertainment Film Distributors
Dawn of the Planet of the Apes $49.8m (£32.7m) Fox
The Hunger Games: Mockingjay Part 1 $45.9m (£30.1m) Lionsgate **
Guardians of the Galaxy $43.4m (£28.5m) Disney
Paddington $42.5m (£28m) StudioCanal **
X-Men: Days of Future Past $41.2m (£27.1m) Fox
How to Train Your Dragon 2 $38.1m (£25m) Fox
The Amazing Spider-Man 2 $36.6m (£24.1m) Sony
* Rentrak figures from Jan 3, 2014 - Jan 1, 2015
** Still on release, gross as of Jan 1, 2015
Top 10 British Films in UK & Ireland in 2014*
The Inbetweeners 2 $50.6m (£33.3m) Entertainment Film Distributors
Paddington $42.4m (£27.9m) ** StudioCanal
Mrs. Brown's Boys D'Movie $22.4m (£14.7m) Universal
The Imitation Game $21.4m (£14.1m) StudioCanal **
Non-Stop $14.3m (£9.4m) StudioCanal
Nativity 3: Dude, Where's My Donkey? $11.3m (£7.4m) eOne **
Mr. Turner $9.7m (£6.4m) eOne
The Railway Man $8.1m (£5.3m) Lionsgate
Gravity $7.9m (£5.2m) (released in 2013; lifetime $49.7m (£32.7m)) Warner Bros
Exodus: Gods and Kings $7.1m (£4.7m) Fox **
* Rentrak figures from Jan 3, 2014 - Jan 1, 2015
** Still on release, gross as of Jan 1, 2015