Adam Sandler enjoyed his best-ever UK opening as Grown Ups deposed The Expendables at the top of the UK box office.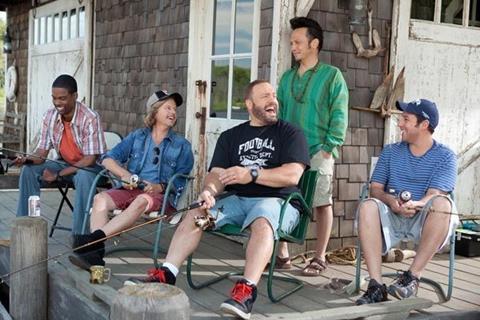 Sony's comedy Grown Ups took $3.1M (£2M) from 401 screens at a print average of $7,724 (£5,005). It surpassed the $2.8M (£1.8M) taken by Click in 2006 to record Adam Sandler's best-ever UK opening.
Universal's Scott Pilgrim Vs. The World had to settle for second place after grossing $2.5M (£1.6M) from 408 screens for an average of $6,069 (£3,933). Although it performed better per screen than in the US, it was still some way off local hero Edgar Wright's previous best UK opening for Hot Fuzz which amassed £5.9M when it opened in 2007.
Toy Story 3 held firm at number 3 for a second consecutive week only dropping 29% from the previous weekend. Disney's comedy took a further $2.3M (£1.5M) as it passed the $100M mark in the UK in its sixth weekend.
The Expendables survived a massive 67% drop to still take $2M (£1.3M) for a relatively healthy $10.5M (£6.8M) for Lionsgate.
Other new entries in the top 10 included Fox's Diary Of A Wimpy Kid which recorded $1M (£671,000) from 372 screens and the re-release of uberhit Avatar managed to chart ninth after taking $963,000 (£624,000).
Momentum's The Girl Who Played With Fire just missed out on the top 10, charting 12th after taking $625,000 (£405,000) for an impressive screen average of $4,959 (£3,213). It managed to out-gross The Girl With The Dragon Tattoo's opening weekend but did open in twelve more screens than its predecessor.
Next week sees the release of Lionsgate UK's The Switch, Optimum's The Last Exorcism, Paramount's Dinner For Schmucks and Warner Bros' Jonah Hex, which will aim to improve on its disappointing US opening weekend.