Warner Bros' fantasy sequel adds $8.7m (£5.35m) to stay top of UK chart; Paramount's Anchorman 2: The Legend Continue bows with $7.4m (£4.54m), including previews.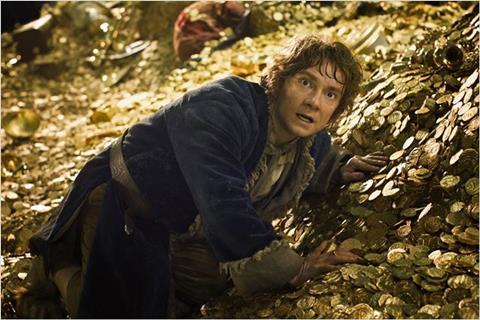 Despite stiff competition from Ron Burgundy and the Channel 4 News Team, The Hobbit: The Desolation of Smaug has retained the top spot at the UK box office.
Warner Bros' fantasy sequel journeyed to a further $8.7m (£5.35m) to hit the £20m mark after just ten days in play and stands at $32.8m (£20.03m).
At the end of its second weekend, The Hobbit: An Unexpected Journey stood at $39m (£23.8m) but it's worth noting that it had one extra day on Smaug. Week-on-week drops are comparable with Journey dropping 37% and Smaug 42%.
Also for Warner Bros, critically acclaimed sci-fi Gravity has amassed $43.4m (£26.5m) after adding $528,000 (£323,000) this weekend.
PARAMOUNT
Given the global publicity blitz and its five-day opening, Paramount might be disappointed that the return of Burgundy didn't garner the top spot but can still be pleased with Anchorman 2: The Legend Continues' healthy UK start.
The comedy sequel laughed its way to $7.4m (£4.54m) from its 459 sites at a site average of almost £10,000 to see it chart second. Without previews though, Anchorman 2's Fri-Sun tally of $4.8m (£2.94m) would have seen it chart third behind Frozen.
Anchorman 2 has already out-grossed its predecessor's $2.5m (£1.5m) UK result and could prove savvy counter-programming by Paramount over the festive period with no direct competition opening on Boxing Day.
Also for Paramount, Nebraska has grossed $705,000 (£431,000) to date.
DISNEY
There's no stopping Frozen at the moment as it fell a remarkable 8% in its third weekend for $6.4m (£3.9m) in third.
Disney's animation is now up to a strong $26.4m (£16.14m) in the UK and has every chance of hitting at least £30m before the festive period is over.
Also for Disney, Saving Mr. Banks is up to $5.5m (£3.34m) after four weeks in play following a $337,000 (£206,000) weekend.
FOX
Released in 452 sites through Fox, Walking with Dinosaurs posted a $1.6m (£975,796) debut to chart fourth.
Comparisons are tricky, but the start is solid given it saw off fellow family competition The Harry Hill Movie and Moshi Monsters: The Movie. Christmas should be fruitful.
Also for Fox, Turbo and Philomena stand at $18.6m (£11.4m) and $17.3m (£10.6m), respectively, while the none-more-festive Die Hard was re-released in 86 sites for a $99,000 (£60,280) haul.
LIONSGATE
The Hunger Games: Catching Fire has become the fifth film in the UK this year to cross the £30m mark.
Lionsgate's well-received sequel is up to an estimated $49.4m (£30.2m) after five weeks in play. It should shortly overtake Monsters University's $50.1m (£30.6m) UK haul to become the fourth biggest hit of the year to date.
UNIVERSAL
Charting eighth on debut, Moshi Monsters: The Movie recorded a $546,000 (£334,000) UK bow at an average of $1,342 (£821) through Universal.
EONE
Now in its fourth week, eOne's Free Birds flew to a further $103,000 (£63,116) for $3.1m (£1.9m) to date.
UPCOMING RELEASES
Boxing Day sees saturation releases for Universal's 47 Ronin and Fox's The Secret Life of Walter Mitty.
Universal's All is Lost receives a wide release, while Vertigo's How to Make Money Selling Drugs is among the films receiving a limited release.