NOV 23 UPDATE: The Hunger Games: Mockingjay – Part 2 dominated global box office at the weekend, powered by a confirmed $144.5m international haul from 87 markets.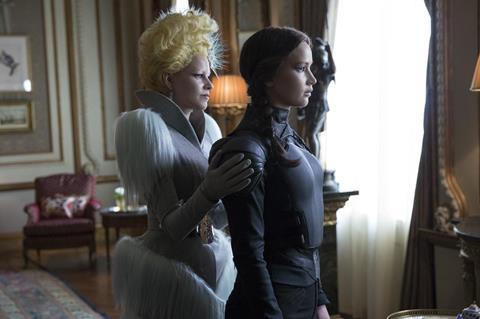 LIONSGATE INTERNATIONAL
UPDATED: The 32,500-screen debut outside North America marks Lionsgate's widest ever release as the action-thriller opened top in 81 markets to deliver the fifth biggest international debut of the year-to-date.
The UK led the way for The Hunger Games: Mockingjay – Part 2 on $17.1m from 1,560 screens, followed by China on $15.8m from 13,000, Germany on $15m from 661, Mexico on $8.9m from 3,472 and France on $7.3m from 833.
Elsewhere, Australia generated $7m from 623, Brazil on $6.8m from 1,245, Russia on $6.7m from 2,400, Venezuela with yet another impressive result on $5.6m from 97 and Italy on $4.5m from 615.
Sources said the debuts improved on those of Mockingjay – Part 1 in Germany, Mexico and most of Latin America.
Overall, the four films in The Hunger Games franchise have produced $2.6bn worldwide to date. ​The film grossed $8.5m on 384 global Imax screens.
Mockingjay - Part 2 is scheduled to open in Spain this week as Lionsgate chiefs steered clear of this weekend's local champion Spanish Affairs 2.
The Last Witch Hunter added $2.5m for $63m.
SONY PICTURES RELEASING INTERNATIONAL
UPDATED: Spectre brought in a further $65.7m including MGM licensees from a total of 92 total markets as the running total soared past $500m.
The 007 thriller from Sony, MGM and EON Productions stands at $523.2m internationally and $677.4m worldwide including $154.1m from North America.
Spectre opened top in India on $4.8m including previews for the biggest ever Bond franchise debut and added $12.5m in its second weekend in China to reach $77.5m and exceed the lifetime total of Skyfall by 32%.
A further $5.9m for $130.5m in the UK ensured it retained pole position in the international arena and has grossed 85% of the North American running total.
James Bond added $8m in Germany for $50.7m after three sessions, $6.4m for $23.1m in France after two, $3.9m for $14.8m in Australia after two, and $1.4m in both South Korea and Italy for $11.3m after two and $12.1m after three, respectively.
The Netherlands has produced $12.6m after four and Brazil $6.7m after three.
In the fourth weekend of several key MGM markets, Denmark has delivered $11.8m, Finland $7.1m to rank as the third biggest film ever behind Titanic and Skyfall, Norway $8.2m and Sweden $10.7m.
After three weekends, Poland has generated $7.6m after three, the UAE $4.8m and the Middle East $9.7m to become the biggest Bond release of all time.
Spectre arrives in Japan on December 4. The worldwide Imax total climbed by $4.3m to $45.3m.
Hotel Transylvania 2 earned $6.1m from 74 and climbed to $263.9m. The animation has produced $29.4m in the UK and $1.5 in Germany after six weekends and opens this week in South Korea and Australia.
ASIA UPDATE
Our Times grossed $12m for a $27m running total, while South Korea's The Priests added $3.8m for $31m. Inside Men delivered $10.2m for an early $10.4m.
FRANCE UPDATE
The Transported Refueler elevated itself to $42m following a $9.8m weekend haul via EuropaCorp.
UNIVERSAL PICTURES INTERNATIONAL
Everest crossed $200m worldwide on Friday. The international running total stands at $157.4m with China on $16m. North America has generated $43.2m for a $200.6m global haul.
Ocho Apellidos Catalanes (Spanish Affairs 2) opened top in Spain on $7.4m and 70% market share. The result was Universal's eighth number one debut in Spain this year. The first film opened on £4m and finished on $77.5m to become the biggest film of all time in the market.
Universal distributes The Hunger Games: Mockingjay – Part 2 in Italy where it arrived on $4.5m
Steve Jobs added $1.2m in 16 territories for an early $5.1m running total. The UK generated a further $605,000 for $2.6m, while Germany has produced $1m – both after two sessions.
Australian film The Dressmaker grossed $960,000 for $10.7m after four weekends in Australia and New Zealand and stands at $9.7m in the former and is officially a blockbuster on A$13.6m. New Zealand has delivered $940,000.
Legendary's Crimson Peak has reached $42.4m from 38 and $5.7m in Mexico after four weekends.
By The Sea, the relationship drama directed by Angelina Jolie and starring Jolie and Brad Pitt, grossed $240,000 from 12 territories for an early $620,000. It debuts in 10 territories including Australia this week.
FOX INTERNATIONAL
Fox International Productions and Fox Star Studios' Prem Ratan Dhan Payo grossed $4.2m from eight markets at the weekend, mostly from a $3.3m haul in India, to raise the tally to $43.4m. India stands at $37.9m.
The Martian earned $1.9m from 34 markets this weekend for $273.9m and opens in China this week. The UK has generated $35.6m after eight sessions, Australia $19.1m after eight, France $18.8m after five, Germany $16.2m after seven and Spain $11.9m after six.
The Peanuts Movie grossed $1.3m from 11 for an early $9.8m. The animation has generated $4.9m in China after three sessions.
DreamWorks' Bridge Of Spies stands at $20.4m from 16 and arrives in 30 markets this week. Australia has delivered $4.9m after five weekends.
WARNER BROS PICTURES INTERNATIONAL
Pan added $1.7m from 32 markets to bring the running total to $88.8m. The fantasy adventure brought in $820,000 in Italy for $2.5m after two weekends and stands at $13.3m in the UK, $7.2m in Mexico and $6.8m in Brazil.
PARAMOUNT PICTURES INTERNATIONAL
Paranormal Activity: The Ghost Dimension grossed $1.1m from 40 markets to reach $58.5m, while Scouts Guide To The Zombie Apocalypse added $1.4m from 24 for $9.2m. Chile will be the final market to open on December 3.