Universal Pictures International executives anticipate another mighty session as the behemoth heads into its third weekend, already well past $1bn worldwide.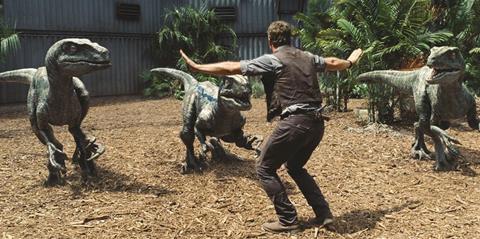 Jurassic World stood at $662.3m as of Friday morning and should have little trouble holding on to pole position despite some activity from stablemate Ted 2 and Inside Out.
By Monday Minions had generated $12.5m from several Asia markets and ventures into a handful of locales this weekend including the UK and Brazil.
Ted 2, which Universal co-financed with MRC, opens day-and-date with North America in around 27 territories including Australia, South Korea, Germany, Italy, Russia and Taiwan. The comedy sequel heads into further key markets over the next three weeks.
Unfriended opens in France, The Boy Next Door in Argentina and Pitch Perfect 2 in Chile.
Walt Disney Studios Motion Pictures International's Inside Out stands at an early $53.5m and arrive in Belgium, Hungary, India, New Zealand and Trinidad, among others.
Avengers: Age Of Ultron has reached $918.7m and Cinderella $339.5m.
San Andreas stands at $289.6m via Warner Bros Pictures International and arrives in Spain this weekend.
Mad Max: Fury Road has reached $205.4m, while Entourage has grossed an early $10.5m and ventures into France.
Spy will cross $100m when it infiltrates Spain through Fox International this weekend. It stands at $99.7m.
Fox International Productions' Dragon Ball Z: Resurrection continues to roll out across Latin America, specifically Argentina, Colombia, Venezuela, Uruguay and Bolivia.
Poltergeist stands at $32.3m and ventures into France and Mexico. Miss Tanakpur Haazir Ho opens in India.