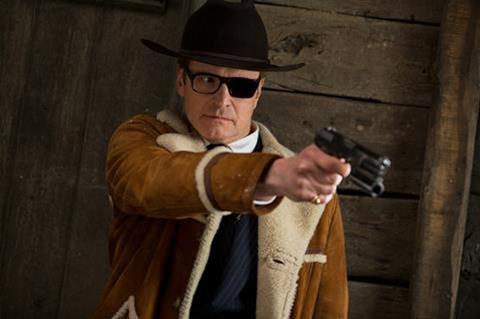 Fox's Kingsman: The Golden Circle dethroned Warner Bros horror smash It last weekend. Now, Matthew Vaughn's action sequel seeks to retain its position at the top of the international box office as it prepares to debut in 14 territories.
Kingsman: The Golden Circle starring Taron Egerton, Colin Firth, Channing Tatum, Julianne Moore, Mark Strong and Jeff Bridges is set to open in several territories in Latin America this weekend including Brazil and Mexico, as well as smaller territories in Europe. Matthew Vaughn's sequel has grossed $68.6m and enters a total of 14 territories this week.
Executives will be looking to exceed the results of 2015 predecessor Kingsman: The Secret Service, which grossed $286.1m internationally and $414.4m worldwide. The first Kingsman generated $3.6m in Brazil and $3.8m in Mexico. Fox also has War For The Planet Of The Apes which heads into the weekend on $327.7m. The film continues to do well in China, where it debuted on a record $61.9m for the studio three weeks ago.
Simon Curtis' Goodbye Christopher Robin, the biographical drama about Winnie The Pooh creator A.A. Milne, debuts in the UK this weekend. Domhnall Gleeson, Margot Robbie and Vicki Pepperdine star.
Warner Bros' horror smash It lost its position at the top of the international box office last weekend but is doing well and has amassed $226.8m and more than $499m worldwide. The film debuts in Germany.
Warner Bros has enjoyed a strong summer and early autumn with solid performances by Dunkirk on $331.1m, Wonder Woman, which has amassed $408.5m, and the successful run of horror sequel Annabelle: Creation, which has reached $195m. The studio looks to build on that success with the latest instalment in the LEGO film franchise The LEGO Ninjago Movie has reached $12.1m as it arrives in Brazil, Mexico, South Korea, and Japan. The LEGO Batman Movie, released in February, grossed $136.2m internationally and finished on $6.4m in Brazil, $8.4m in Mexico, and $1m in both South Korea and Japan.
Sony and Marvel's Spider-Man: Homecoming has reached $542.4m internationally and has no new openings, while Sony's animated offering The Emoji Movie debuts in Italy this week. Baby Driver enters the weekend on $117.1m with no new debuts.
Universal Pictures International's American Made has grossed $60.8m and opens in four territories, including India. Period drama Victoria And Abdul starring Judi Dench and Ali Fazal has reached $14.9m, after opening in Spain and Sweden last week. The film arrives in nine territories, including Germany and South Africa. Comedy Girls Trip arrives in the Philippines and Sweden and stands at $19.9m, while The Beguiled has grossed $15.3m ahead of its opening in four Latin America territories.
Animated film Tadeo Jones 2 stands at $15.5m through Paramount Pictures International, while Darren Aronofsky's polarising arthouse horror film mother! has reached $14.3m in its early stages of release.
Walt Disney Studios Motion Pictures International's Pirates Of The Caribbean: Dead Men Tell No Tales is completely opened and stands at $621.7m, while Pixar animation Cars 3 has amassed $210.6m internationally ahead of its debut in Germany.