Puss In Boots ahead of other newcomers New Year's Eve and A Very Harold & Kumar 3D Christmas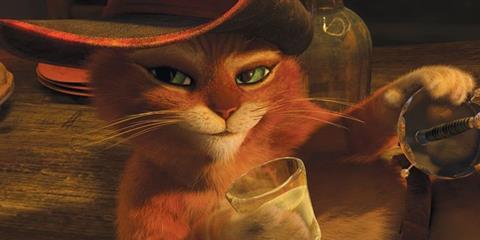 Paramount's animation Puss In Boots stole the show in the UK this weekend, taking $3.1m (£2m) from a week-high 510 screens and a week-high screen average of $6,059 (£3,874).

Considering the strong international numbers the prospects for a lucrative new franchise are good. Chris Miller's first outing since Shrek The Third, Puss in Boots charts the events leading up to the sword fighting cat's meeting with Shrek and his friends. While the family-comedy didn't get near the first week take of the first Shrek ($7.3m/£4.7m) it shouldn't be too long before we see another instalment.

Sony's impressive slow-burner Arthur Christmas continued to impress in its fifth week, securing another $2.2 (£1.4m) from 480 screens for a $4,659 (£2,979) screen average and a cumulative of $20.9 (£13.4m). The Aardman animation only dropped 25% week-on-week and decreased in screen numbers by 4%. It is now the 25th biggest film of the year.

Warner Bros' rom-com New Year's Eve performed moderately, despite its all-star cast, drawing $2m (£1.3m) on debut from 431 screens at an average of $4,665 (£2,983). The take is more than $3.1 (£2m) down on director Gary Marshall's previous effort Valentine's Day.

Hugo and Happy Feet Two came in fourth and fifth, taking $1.1m (£732,902) and $1.1m (£724,126) respectively, while Warner Bros' newcomer A Very Harold & Kumar 3D Christmas disappointed on $287,478 (£183,798) from 131 screens.

While the Harold & Kumar franchise has not caught on in the UK, Harold & Kumar: Escape From Guantanamo Bay did manage $124,570 (£80,000) more than 3D Christmas in 2008.

Universal's ninth-placed thriller The Thing saw the biggest drop among second-week films, falling 63% and recorded the week's worst top-ten screen average of only $889 (£569). Fox's Another Earth placed tenth on $142,255 (£90,950) from 116 locations at an average of $1,226 (£784).

This week sees saturation releases for Fox's Alvin And The Chipmunks: Chipwrecked and Warner Bros' Sherlock Holmes: A Game of Shadows.