Danny Boyle horror staged over a two-month run.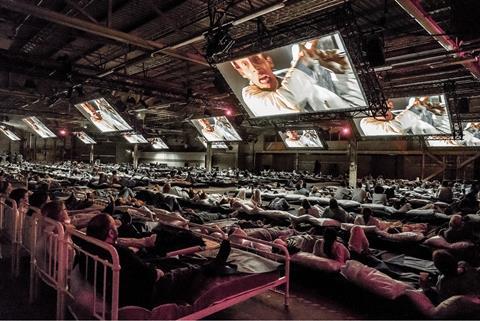 Secret Cinema has reported box office takings of $1.92m (£1.33m) for its latest production, Danny Boyle's 28 Days Later, which ended its two month-long run in London on May 29.
The event cinema experience, in which actors ran the audience through a horror maze of zombies before screening the 2002 cult feature in a warehouse packed with 'hospital beds', ran for 48 shows and hosted more than 22,000 audience members.
The production was staged in the former Harmsworth Quays printworks, which served as St. Thomas' Hospital Rage Treatment Unit and a post-apocalyptic London, re-creating key sets and moments from the lead character's journey through the abandoned city in the vast building complex.
Over the past year, Canada Water has been home to three Secret Cinema productions, and has hosted more than 140,000 audience members with productions built around The Empire Strikes Back - which reported box office of $9.3m (£6.45m) from 100 nights - and Stanley Kubrick's Dr Stranglelove, which reported box office takings of $1.8m (£1.24m).
28 Days Later
The epic production included a 1.5-mile parkour run through the building, including a cast of more than 35 actors and stunt performers.
The audience members, dressed as hospital patients, then took part in a zombie rave before the screening. The soundtrack for the experience was specially commissioned from composer Danny Nolan.
In a Secret Cinema first, audiences watched the film lying down in a vast ward of "hospital beds", with the film projected onto 12 specially commissioned screens hanging from the ceiling. Now that the production has ended, the beds and cushions from the screening room will be donated to Crisis.
The production put 28 Days Later back into the top 10 charts of the UK box office in April and May.
Online experience
Ahead of the production, a dedicated NSH website, with patient chatrooms and Rage Testing allowed patients to register for their vaccination appointment at St. Thomas' while RBC News a news station broadcasting from St. Thomas' Hospital, provided daily coverage of the epidemic.
Some 20,000 patients registered on the NSH page in the space of two months, attempting to keep Rage from spreading.
Continuing its tradition of supporting charitable and social causes, including the Refugee Council with the Star Wars production and War Child with Dr. Strangelove, more than 200 junior doctors and nurses were invited to join the show in support of the #JustHealth campaign.
Founder Fabien Riggall said: "Over the past year, we brought over 140,000 audience members to the Canada Water area and transformed an empty factory complex into three entirely different worlds for Star Wars, Dr. Strangelove and 28 Days Later - a proud achievement for the company and a great motivation to continue exploring new forms of entertainment."
Secret Cinema's next production will be built around Dirty Dancing and opens in a secret outdoor London location on July 15.