Chinese blockbuster Aftershock is Imax's first venture into foreign-language releases — and it has proved so productive the company is forging ahead with further deals. Jeremy Kay reports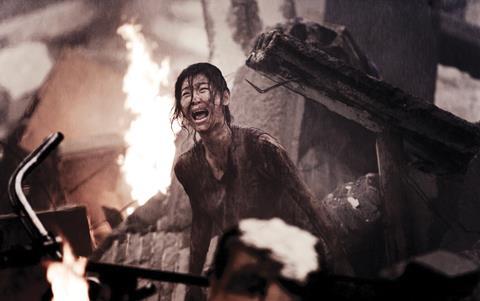 Of all the core revenue streams developed by Imax Corporation, it is the collaboration with the Hollywood studios and the resulting box-office successes which has drawn the most attention. It took the company well over a decade to reach the position it now enjoys at the cutting-edge of event cinema. So it is little surprise to learn that before it made the deal to convert the Chinese-language Aftershock into an Imax-ready version, the company weighed up carefully the pros and cons of a partnership with Huayi Brothers.
Imax Corporation CEO Rich Gelfond has long been fascinated by China, making numerous trips and driving the company's efforts to grow the number of local Imax screens.
Gelfond, along with chairman and president of Imax Filmed Entertainment Greg Foster (pictured) and the executive team, had been looking to expand the business in fast-growing territories such as China. The rapid global expansion of Imax's theatre network has become a notable trend in 2010 and China has played its part. Back in July, Imax signed an eight-theatre deal with entertainment developer and exhibitor Guangzhou Junyi Film & Television Group.

Huayi Brothers pact
The opportunity to collaborate with Huayi Brothers, whose credits include The Forbidden Kingdom and Warriors Of Heaven And Earth, was too good to pass up. The resulting three-film deal struck in June 2009 marked the first time Imax Corporation agreed to digitally remaster a non-English language film.
The partners could not have wished for a better maiden project. Director Feng Xiaogang's account of the 1976 Tangshan earthquake, which left a quarter of a million people dead, opened on July 20 in China. By August 18 it had raced to $78.5m (rmb532m) to become the biggest Chinese-language film in Chinese film history, and has now passed $100m in the territory. Of that amount, more than $2.2m has come from 14 Imax locations in China. It is also now China's submission for the foreign-language Oscar.
"It's been a big success in China," says Foster. "We had a great co-operation with Huayi Brothers and director Feng. But it's about delivering results, which it has been doing. After you've spent time in China, it's impossible not to see the impact of the economy and the impact of our business in that market. Two or three years ago, few people had any idea of what it could mean but now our level of awareness is significantly enhanced.
"Avatar [from 14 screens] took more than $24m, a 'eureka moment' for movie-goers and Imax in China. We have also had great success with Alice In Wonderland, Toy Story 3,Shrek Forever After and Inception. Huayi Brothers saw this happening and thought it would be a great way to… further make the movie an event."
"After you have spent time in China, it's not impossible to see the impact of the economy and the impact of our business in that market"

Greg Foster, Imax
In the run-up to the release of Aftershock, knowing it was partnering on a film of significance, Imax Corporation set up a film-specific website which included footage of Gelfond talking about his experiences in China. In another first, the company paid for a media buy, a practice it usually leaves to the Hollywood studios. Finally, Imax arranged a press conference at a theatre in Beijing in late June to unveil the trailer to more than 220 journalists.
"We'll experiment playing [Aftershock] in other parts of the region," says Foster. "We're working that out now. It was so successful and well received that we have announced our second Chinese-language film, with John Woo."
That deal for Flying Tigers, unveiled in August, is unrelated to the pact with Huayi Brothers but demonstrates Imax's heightened profile in China.
Foster says Imax generally requires a territory to have at least 10 screens before it would consider a non-English language venture. Anthony Vogels, who was brought in as vice-president of international film development after 15 years serving in the Pacific Rim region for UIP, keeps a close eye on this and played an instrumental role in the deal with Woo.
Foster estimates Imax could eventually expand its Chinese network to 300 screens. And the company could be in business with more producers in the country. "Given our profile right now in China, you can expect two or three a year from us going forward," he says.