APRIL 10 UPDATE: Michael Caine heist comedy Going In Style off to encouraging start on $12.5m.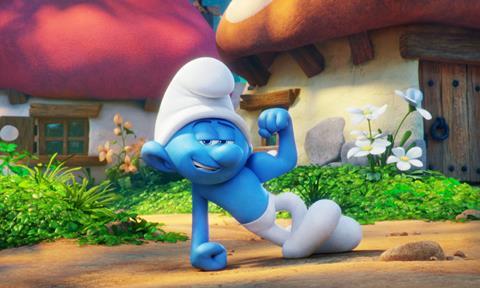 DreamWorks Animation's The Boss Baby soared to $89.4m in its second session through Fox thanks to a confirmed $26.4m haul that saw off two new releases.
Smurfs: The Lost Village failed to make an impression, arriving in third place on $13.2m in 3,610 theatres for the lowest opening weekend of the six–year franchise.
This compares to the $35.6m debut by The Smurfs the in July 2011, and $17.5m by The Smurfs 2 in July 2013. When adjusted for inflation, these two debuts amount to $38.6m and $18.3m, respectively.
New Line, MGM, Village Roadshow and Warner Bros' heist comedy Going In Style with Michael Caine, Morgan Freeman and Alan Arkin fared much better, opening through Warner Bros in fourth place on $11.9m from 3,061 sites.
This was a fair debut, given that the film reportedly cost $25m to make excluding marketing costs, and that the older target demographic does not typically rush out to see a film in its opening weekend. However, below-par reviews may count against it in the weeks ahead.
By way of comparison, The Best Exotic Marigold Hotel earned $6.8m in its first wide weekend in late May 2012 en route to a $46.4m final total, albeit on what was reportedly a $10m budget. Its May 2015 sequel opened on $8.5m and grossed $33.1m by the end of its run.
Pure Flix's faith-based drama The Case For Christ arrived at number 10 on $3.9m in 1,174 venues and should continue to play solidly among the faith-based crowd. No budget costs were available.
Beauty And The Beast held firm at number two on $25m for $432.3m after four weekends and has been the key driver in pushing The Walt Disney Studios past $1bn worldwide for the year-to-date.
In its second weekend Paramount's Ghost In The Shell continued its disappointing trajectory as it dropped 61% and two places to number five on $7.3m for $31.5m.
CHiPs dropped 64% and five places to number 14 in its third weekend, as the Warner Bros action-comedy added $1.4m for $17.1m.
Power Rangers from Lionsgate ranks six on $75.1m after three sessions. Fox's superhero spin-off Logan ranks eighth on $218m after six, while Universal's Blumhouse horror Get Out ranks ninth on $162.9m after seven.
FUNimation Films opened the Japanese fantasy Your Name. at number 13 on $1.6m from 3030 sits, while Fox Searchlight debuted the drama Gifted at number 16 on $446,380 in 56 sites. Fledgling distributor Neon opened Anne Hathaway monster film Colossal at number 29 on $129,226 from four venues. STX launched Lone Scherfig's Toronto 2016 premiere Their Finest at number 33 on $76,197 from four.
Box office for the top 12 combined for $111.3m, which dropped 32.3% against last weekend yet climbed 14.4% against the comparable session in 2016.
This week's wide releases are: Universal's The Fate Of The Furious with Vin Diesel, Dwayne Johnson, Michelle Rodriguez, Tyrese Gibson, and Charlize Theron; and the animation Spark through Open Road Films.
Confirmed top 10 North America April 7-9, 2017
Film (Dist) / Conf wkd gross / Conf total to date
1 (1) The Boss Baby (Fox) Fox International $26.4m $89.4m
2 (2) Beauty And The Beast (Buena Vista) Walt Disney Studios Motion Pictures International $23.7m $430.9m
3 (-) Smurfs: The Lost Village (Sony) Sony Pictures Releasing International $13.2m –
4 (-) Going In Style (Warner Bros) Warner Bros Pictures International $11.9m –
5 (3) Ghost In The Shell (Paramount) Paramount Pictures International $7.3m $31.5m
6 (4) Power Rangers (Lionsgate) Lionsgate international $6.2m $75.1m
7 (5) Kong: Skull Island (Warner Bros) Warner Bros Pictures International $5.6m $156.3m
8 (6) Logan (Fox) Fox International $4m $218m
9 (7) Get Out (Universal) Universal Pictures International $4.1m $162.9m
10 (-) The Case For Christ (Pure Flix) Pure Flix International $3.9m –