APRIL 24 UPDATE: Universal behemoth soars to $319.4m in China; will cross $1bn global mark this week.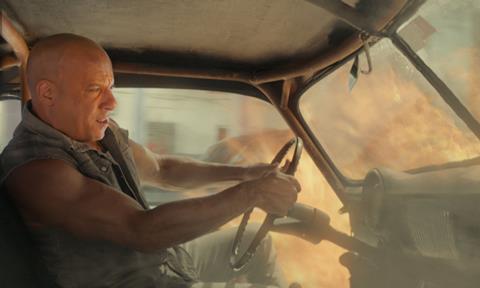 UNIVERSAL PICTURES INTERNATIONAL
UPDATED: The Fate Of The Furious continued its record-breaking run around the world as it added $158.1m from 65 territories to reach $745m.
The eighth entry in the action franchise has already overtaken the international lifetime totals of the first six films and combines with $163.3m in North America for $908.3m worldwide. It remains on course to cross $1bn worldwide this week.
Poland delivered a $2.7m number one debut for the biggest in the franchise, while $1.7m from Romania delivered the biggest opening weekend of all time.
In China The Fate Of The Furious brought in a further $54.8m for 66% market share in its second weekend to reach $319.4m (2.2bn RMB).
The film overtook Transformers: Age Of Extinction (2bn RMB) to rank as the second highest grossing US release of all time behind Fast & Furious 7 (2.4bn RMB).
The global powerhouse ranks number one everywhere and has grossed $29.8m in Mexico, followed by $28.9m in the UK. Brazil is holding strong on $26.2m, Germany on $23.5m, Russia on $23.4m, France on $19.2m, South Korea on $19m, and India on $17.4m.
Australia has generated $16.8m, Taiwan $16.2m, Argentina $14.2m, Italy $12m, and Spain $10m. Japan will be the last territory to open on April 28.
Vin Diesel, Dwayne Johnson, Tyrese Gibson, Michelle Rodriguez, Jason Statham, Ludacris and Charlize Theron star and F. Gary Gray directed.
The film earned $10.1m on IMAX for a $50.2m global sum, and added $3m internationally for $35.7m. China produced $4.5m for $23.2m and the seventh best IMAX result for a Hollywood title after 10 days of release.
Writer-director Jordan Peele's Get Out from Universal and Blumhouse is in the early stages of international release with 34 territories yet to open. The horror added $2.1m in 24 territories for $18.7m internationally and $189m globally. The UK is the top holdover at number six in its sixth week on $332,000 for $11.9m.
Illumination and Universal Pictures' Sing has grossed $914,000 in 12 territories for $356.4m internationally and $626.7m worldwide. Japan delivered $868,000 in its sixth weekend for $40.9m. The animated musical has opened in all its markets.
M. Night Shyamalan's Split, also from Universal and Blumhouse, generated $262,000 in 19 territories over the weekend for $136.7m. It stands at $274.7m worldwide. The final territory, Japan, debuts on May 12.
FOX INTERNATIONAL
UPDATED: The Boss Baby added $31.7m from 78 markets, including $5.4m from three debuts, for $222.8m internationally. The animation held strong in the UK on $2.6m for $27.7m, which is now bigger than the lifetime run of Despicable Me.
Brazil added $1.8m for $11.3m, down only 4% from the previous weekend. Meanwhile, Germany dropped only 8% after generating $1.7m for $11.4m, and Mexico added $1.3m for $20.3m.
The DreamWorks Animation release is now bigger than Sing and The Croods through the same period of release at current exchange rates. It will launch in South Korea on May 3.
Logan brought in an additional $659,000 from 20 markets and stands at $383m with Japan still to come. Hidden Figures added $434,000 from 10 markets for $59.6m.
SONY PICTURES RELEASING INTERNATIONAL
Smurfs: The Lost Village added $22.1m in 60 markets, pushing the international total to $100.9m. The weekend was led by China, where the family film debuted on $11.2m. Sci-fi horror Life grossed $3.2m in 52 markets for $44m.
WALT DISNEY STUDIOS MOTION PICTURES INTERNATIONAL
UPDATED: Disney's live-action smash Beauty And The Beast enjoyed a strong three-day opening weekend in its final international market of release, Japan, debuting at number one on $12.6m. The Emma Watson and Dan Stevens starrer added $23.7m in 50 territories for $630m internationally.

The film stands at $1.1bn worldwide, making it the 17th highest grossing movie of all time, having passed Pirates Of The Caribbean: On Stranger Tides, Toy Story 3 and The Dark Knight Rises.

In Europe, the $259m haul has now surpassed the total run of Fantastic Beasts And Where To Find Them, making Beauty the second highest grossing film of the past 12 months in Europe, trailing only Rogue One: A Star Wars Story.
The UK has drawn level with China as the top market on $85.8m. Brazil has generated $40.4m, followed by South Korea on $36.8m, Australia on $33.8m, Germany on $32.1m, Mexico on $29.8m, Italy on $22.4m, Spain on $22m.
France has delivered $21.1m, Russia $14.6m, Philippines $13.5m, Japan $12.6m and Argentina $12.2m.
Disneynature's family-friendly documentary Born In China opened on $4.8m over the weekend for the largest start for a Disneynature release since 2012's Chimpanzee. The film narrated by John Krasinski has earned $9.4m during its release in China last summer.

Moana added $700,000 in Japan for $43.3m, propelling the international total to $390.9m and a worldwide sum of $639.7m.
Japan delivered a $1.1m IMAX debut for the fourth best opening weekend ever in the large screen format.
This week Disney launches Marvel's Guardian's Of The Galaxy Volume 2 on 171 IMAX screens in 35 markets.
PARAMOUNT PICTURES INTERNATIONAL
Ghost In The Shell grossed $3.2m in 48 markets to reach $122.1m through Paramount Pictures International.
China is the top market, adding $218,000 in its third weekend for $29m. Germany stands at $6.1m after four weekends, while Japan has generated $7.8m after three, and France $7.4m after four.
WARNER BROS PICTURES INTERNATIONAL
UPDATED: Unforgettable, starring Rosario Dawson and Katherine Heigl, debuted in 16 markets day-and-date with North America on $1.55m. Russia opened on $463,000 for fifth place, while The UK launched on $340,000. Italy will be the thriller's next market on April 27.
Heist comedy Going In Style grossed $4.8m in 47 markets for $19.2m, opening in Australia on $959,000 and in Mexico on $900,000. Top holdovers are Germany on $748,000 for $2.2m and Spain on $861,000 for . Highlights include the UK on $3m and Russia on $1.4m.
Legendary's Kong: Skull Island produced $1.3m in 52 markets for $395.1m. China is the top market by a large margin on $167.5m, followed by the UK and Japan on 19.4m and $17m, respectively. Mexico stands on $14m, South Korea $12.1m, France $11.8m and Russia $10.5m.