MAY 5 UPDATE: Marvel's Avengers: Age Of Ultron grossed $19.1m on Monday as the international running total climbed to $459.5m.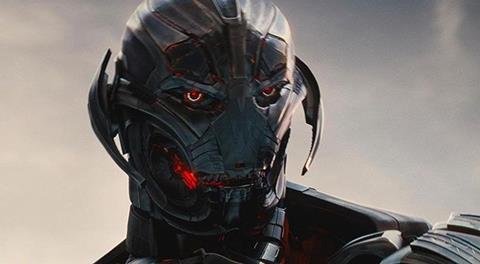 WALT DISNEY STUDIOS MOTION PICTURES INTERNATIONAL
UPDATED: Monday's box office follows the $168.8m international weekend haul from 88 territories. Ultron's worldwide running total as of May 5 reached $664m.
MAY 4 UPDATE:Ultron propelled Disney past the $1bn international mark on April 30 – its second fastest time ever – and has delivered number one debuts everywhere so far.
Combined with the second highest three-day North American debut on $191.3m, the tentpole is in rude health after 12 days in release worldwide. Imax generated a record $25m global haul excluding China, which receives the film on May 12. The $7.2m international portion from 221 screens raised the running total to $22m.
Ultron has already delivered the biggest opening weekends of all time in Brazil, Hong Kong and the Philippines – all of which stayed top in their second weekends – and now Mexico on $25.5m and Ecuador join the club.
Active in approximately 71% of the international marketplace, the superhero saga drove a mighty session that slipped 37% from last weekend's opening salvo as the lead market of South Korea surged to $55.8m, the UK $48.9m heading into bank holiday Monday and Brazil $29m.
Russia generated $26.6m, France $23.3m, Australia $22.5m, Germany $21.1m, Italy $15.2m, Taiwan and India $14.1m apiece, Hong Kong $13.7m, Philippines $11.7m, Malaysia $10.9m, Argentina $8.6m.
Estimates put Thailand on $7.4m fpr the second biggest debut ever, Singapore $7.3m and Spain $6.2m.
Cinderella crossed $300m as $7m elevated the tally to $300.6m internationally and $494.3m worldwide. China is the lead market on $71.1m, followed by the UK on $28.6m and Italy and Australia on $16.5m each.
UNIVERSAL PICTURES INTERNATIONAL
UPDATED: Fast & Furious 7 overtook Harry Potter And The Deathly Hallows: Part 2 to become the fourth biggest global release in history on $1.422bn worldwide.
The film brought in a further $50.7m from 65 territories (and $5m from Imax in China and Japan) to reach $1.091bn internationally. It soared to $375m after 22 days in China following a $28.1m session that ensured it just stayed topahead of Silent Separation, which grossed $28m for a $37m running total.
Besides China, the action release is the biggest film of all time in Argentina, Colombia, Ecuador, Indonesia, Malaysia, South Africa, United Arab Emirates, Uruguay, Trinidad and Vietnam, among others.
The UK has produced $54.3m, Mexico $50.5m, Brazil $43m, Germany $37.4m, Russia $32.2m, Australia $32.2m, France $31m and Venezuela $30.3m.
Taiwan has generated $25.3m, India $24.8m, South Korea $24.1m, Argentina $24.4m, Middle East $20.4m, Italy $20.1m and Japan $17.8m.
Unfriended stands at $4.1m and the horror release opened in second place in the UK on $2.1m from 436 venues and in second place in Australia on $994,000 from 184. Ouija stands at $51m, Ex Machina $8.7m, Shaun The Sheep $1.9m and Half Brothers (Halbe Brueder) $2.3m from German-speaking Europe.
Fifty Shades Of Grey has reached $403.5m, The Water Diviner $14.3m from Universal territories and The Boy Next Door $14.7m.
FOX INTERNATIONAL
UPDATED: DreamWorks Animation's Home earned $17.7m from 62 markets to elevate the tally to $170.9m, adding $1.6m in France for $5.5m after three weekends. The UK has delivered $32.7m after seven.
Speaking of the UK, Far From The Madding Crowd starring Carey Mulligan and Matthias Schoenaerts opened on $2.1m from 561 and stands at $2.6m overall. The Second Best Exotic Marigold Hotel has reached $49.8m internationally.
Kingsman: The Secret Service stands at $276.3m and The Longest Ride $11.9m. The drama arrived at number three in Germany on $1.7m. Fox International Production's Dragon Ball Z: Resurrection F added $2.7m in its third session in Japan and climbed to $21.7m.
SONY PICTURES RELEASING INTERNATIONAL
UPDATED: Paul Blart: Mall Cop 2 grossed $4.6m from 46 territories to push the tally to $24.7m. The comedy arrived in Argentina on $306,680 from 57.
WARNER BROS PICTURES INTERNATIONAL
UPDATED: Focus starring Will Smith and Margo Robbie crossed $100m as an estimated $1.1m weekend haul from 28 markets boosted the running total to $100.5m.
Run All Night starring Liam Neeson added $3.4m from 49 for $38.1m and the thriller debuted in Brazil on $667,000 from 316 screens. The Italian debut produced $564,000 from 248 while Argentina generated $371,000 from 138.