Sony's Resident Evil: Afterlife crossed the $100m mark over the Sept 17 – 19 weekend after grossing $39.6m from 6,235 screens in 47 territories for $103.6m.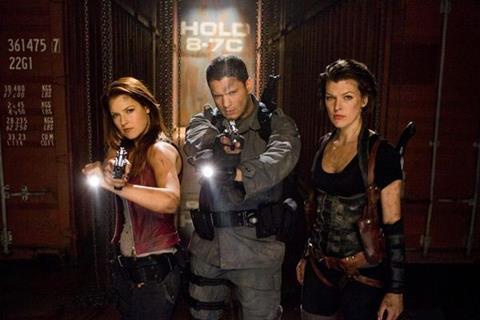 Resident Evil opens in Hong Kong, French-speaking Switzerland, Denmark and the Netherlands this weekend.
Toho's action-adventure Umizaru 3: The Last Message entered the chart in second place thanks to an $11.2m haul at the Japanese box office. The third instalment in the manga adaptation played on 467 screens for an average of $23,893.
Umizaru follows a crack squad of Japanese coast guard officers as they carry out a rescue mission on a burning oil rig.
The second film in the franchise, Umizaru 2: Test Of Trust, took $8.5m on its opening weekend in May 2006 and went on to gross more than $100m worldwide. Toho will be hoping for a similarly lucrative run from the latest in the series.
The original idea has now been adapted into two TV specials, one TV series and three feature films.
Eros' Dabangg continued to perform well in India and Asian territories in its second week after taking $8.9m from 1,088 screens at a per-print average of $8,149. The romance-thriller has now taken $33.4m.
The week's biggest improvers were Sony's comedy The Other Guys and Focus Features' The American, each in their third week. The Other Guys improved its performance by 112%, largely off the back of a $3.1m opening in the UK. The comedy hits Australia on Sept 30 and France, Germany and Spain in October.
Anton Corbijn's Italy-set crime-drama The American, starring George Clooney, moved up 18 places after opening in seven territories. The feature topped the chart in Spain on $1.6m and took $4.9m for $10.4m cumulative.
China Film's Cultural Revolution-set romance Under the Hawthorn Tree debuted in ninth place overseas. Acclaimed director Zhang Yimou's latest took $5.2m on 545 screens for a $9,454 average in China. The feature opens the Pusan International Film Festival on Oct 7.
The only other new top 20 entry was Sony's Eat Pray Love, which took $3.7m after opening in five territories. The Julia Roberts-Javier Bardem starrer rolls out throughout September and October.