Dir/scr: Ektoras Lygizos. Greece. 2012. 80mins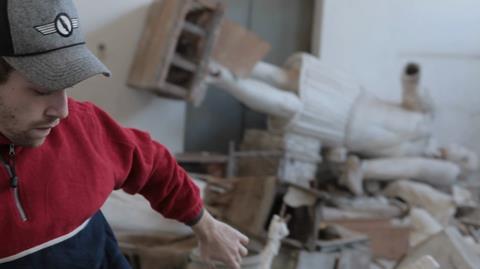 A film that has "festival hit' written all over it, Ektoras Lygizos' debut takes the Lanthimos-Tsangari school of symbolic Greek cinema to its Bressonian extreme. Shot with a handheld camera that is never more than a few steps away from the one single character of the film, this obsessive picture, somehow reminiscent in its approach of Lodge Kerrigan's Keane, is most likely to delight film critics, though can expect precious little outside the art house circuit.
Lyzigos' insists on cutting-off his hero from any kind of social context or give his actions any dramatic motivations, forcefully driving his naked metaphors onto an audience.
In Boy Eating The Bird's Food (To agori troi fagito tou pouliou) main character Yorgos (Yannis Papadopooulos) is a young man living on his own in a practically empty flat, and is the one and only concern of this piece. Everything that happens to him and everything he does may not be sustained by the needs of a realistic scenario, but carries meaningful messages that are impossible to ignore.
The protagonist, a counter-tenor, sings a Bach chorale, though he doesn't understand the German text and fails to pass the test. On his way out he grabs food from a garbage can and when he comes home he discovers there is no water because he hasn't paid the bills. Later he masturbates, his erection in full view of the camera, ejaculates and taste the fruit of his labours (a scene that may gain the same notoriety as the fellatio scene in The Brown Bunny).
Roaming through Athens, he follows a young girl all the way into the lower corridors of an underground station, but when she playfully plays with him zigzagging her way to the platform, he turns around and runs back home.
Thrown out of his flat, he collects his things from the staircase, most importantly the canary he cherishes and whose food he shares every once in a while. He finds his neighbour lifeless on the floor but nevertheless goes to sleep in the neighbour's room; calls his mother but cuts the conversation in the middle; he finds the girl and accompanies her home where he is finally fed, but fails to make love to her; enters a church and sings the aforementioned Bach chorale asking for mercy; is offered some food by an older lady which he consumes in a noisy public place, screaming there with all his might but no avail and then goes back with a ladder to retrieve his and feed its occupant who starts chirping merrily. The end.
As detailed as this list of the film's basic elements seems to be, it is only a partial account of the proceedings in Lygizos' film, and needless to say, every stage represents another aspect related to Greece, not only the economy crisis but the prevailing state of mind as well. Rejected by Germany, impoverished without understanding why, subjected to self-inflicted punishments for no evident reason, hungry, unemployed, ruined, unable to pay debts, emasculated (a counter-tenor voice is the present day version of what used to be called a castrato), desperate, deprived of everything but the soul still capable of singing.
Lyzigos' insists on cutting-off his hero from any kind of social context or give his actions any dramatic motivations, forcefully driving his naked metaphors onto an audience whose attention is never allowed to wander anywhere outside the frame. And in that frame there is room only for one person, who is not submitted to the imperatives of a plot but strictly to the filmmaker's dictates. Haunted by a camera that sticks to him like glue in an almost constant close-up and depriving him of any intimacy, Papadopoulos, who plays the lead, has hardly the time or space to breathe decently. In all likelihood, this is part of the metaphor as well.
Production company/sales: Stefi Productions, g.karnavas@stefi.gr
Producer: Giorgios Karnavas
Cinematography: Dimitris Kassimatis
Editor: Gregory Rentis
Production designer: Clio Boboti, Stavros Liokalos
Main cast: Yannis Papadopoulos, Lila Baklesi, Kleopatra Perrraki, Vangelis Kommatosa, Kharalambos Gloyos