Dir: Drake Doremus. US. 2012. 97mins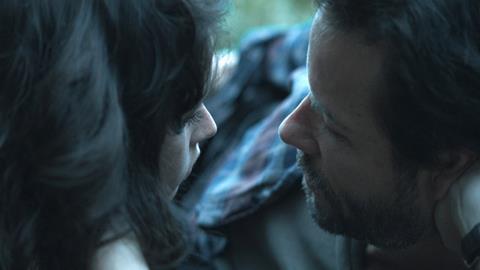 Much like his last film, the Sundance Grand Jury-winning Like Crazy, director Drake Doremus' Breathe In is a movie swept up by the romantic longing of its main characters, a unhappy middle-aged musician and the beautiful, talented exchange student living with him. This delicate, melancholy love story steps right for much of its first two-thirds, but even when melodramatic contrivances break the spell near the finale, strong work from Guy Pearce and Like Crazy alum Felicity Jones draws us in at every moment.
Jones plays a young woman who seems both fragile and incredibly poised beyond her years, a lethal combination that's been the downfall of many a married man.
This romantic drama should be an obvious draw for upscale theatres. A lack of clear star power may hurt grosses some, although good reviews and a cast that also features Amy Ryan will cater to discriminating audiences who drove Like Crazy to $3.4m box office domestically.
In Breathe In, we meet upstate New York parents Keith (Pearce) and Megan (Ryan) and their teen daughter Lauren (Mackenzie Davis), who share a close, loving bond that would be the envy of most families. However, that closeness is unexpectedly threatened by the arrival of Sophie (Jones), a student from the UK who will be staying with them for a semester.
Though sweet and unassuming, Sophie begins to form an attachment with Keith based on their shared love of classic musical. (She's a magnificent pianist; he's a cellist who teaches music at Lauren's school to pay the bills.) Feeling a kinship for the arts that no one else in the family can appreciate, Keith and Sophie gingerly inch toward the possibility of a relationship, even though they fully recognise the dangers ahead.
Like Crazy focused on two characters whose tempestuous passion for one another was both blessing and curse, but while Breathe In also spotlights a perilous relationship, this new film is muted and bittersweet where Doremus' last movie was mercurial and hot-blooded. To be sure, the connection between Keith and Sophie isn't incredibly novel dramatically. (He sees in her a second chance at the life he could have had, while she is enchanted by his sophistication and approval.) But Doremus and co-writer Ben York Jones enliven the May-December romance through the specificity of their film's East Coast milieu and precise, flawed characters.
In Keith, Pearce has constructed one of his most touching performances, playing a man who is well aware of the happiness in his life and yet still stubbornly holding onto a probably nostalgic view of his younger years when he and Megan were first together and he was living in New York City pursuing his dream of becoming a musician. This is someone too stupid to throw away his whole world for a senseless fling, and yet Pearce makes Keith's uncertainty and pining palpable.
Meanwhile, Jones plays a young woman who seems both fragile and incredibly poised beyond her years, a lethal combination that's been the downfall of many a married man. To her credit, though, Jones never overplays any of Sophie's personality traits, whether it be her alluring beauty, unhappy childhood, or unresolved feelings about her prodigious musical talent. Rather than a clichéd temptress, Sophie is a complicated, sympathetic creature, which, of course, makes her all the more fetching.
Breathe In's gentle build-up of Sophie and Keith's feelings for one another is so nicely developed that it's a shame that the movie is less skilful in its depiction of Keith's wife and daughter. Ryan is reduced to playing a slightly better version of the typical scorned-wife character, while Davis is thanklessly dumped into an uninspired, forced subplot involving a love interest who takes an interest in Sophie. Even more regrettably, this subplot becomes increasingly important to the main story, throwing in artificial drama when none is needed.
Production company: Indian Paintbrush, Super Crispy Entertainment
International sales: United Talent Agency, www.unitedtalent.com
Producers: Jonathon Schwartz, Andrea Sperling, Steven M. Rales, Mark Roybal
Screenplay: Drake Doremus & Ben York Jones
Cinematography: John Guleserian
Production designer: Katie Byron
Editor: Jonathan Alberts
Music: Dustin O'Halloran
Main cast: Guy Pearce, Felicity Jones, Amy Ryan, Mackenzie Davis