Dir/scr: Karl Marcovics. Austria. 2011. 93mins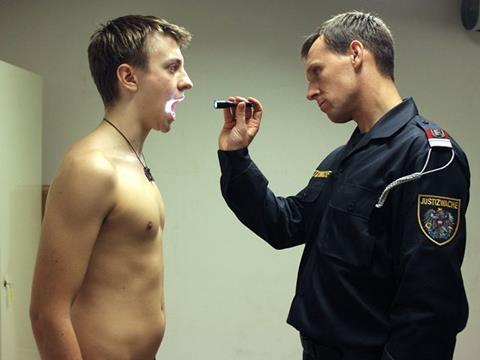 Karl Marcovic, the actor who played the lead in Austria's Oscar-winning The Counterfeiters, moves behind the camera for his directorial debut Breathing (Atmen), and judging by the results he may have a brand new and most promising career in store for him.
Marcovics maintains a keen, sometimes sarcastic and yet compassionate eye.
A clean, precise and extremely well fashioned rites-of-passage drama focusing on a 19 year-old who can't get along with the living and prefers to deal instead with the dead, Marcovics' film shows him in control of every aspect, from script through acting to superb cinematography and should be not only a festival favorite but a potential crossover item for a respectable theatrical career. The film screened at the Sarajevo Film Festival.
Roman Kogler (Thomas Schubert) has lived all his life in institutions. Brought up in an orphanage after his mother abandoned him, at 14 he accidentally kills a boy of his own age in a brawl and is sent to a Juvenile Detention Centre, until the courts will decide, once he is 18, either to keep him locked up further or release him into the free world.
From the film's very first moments, through clever visuals and almost no dialogue, Roman is introduced not only as a solitary boy with no friends around him, but also a rebellious character who hates taking orders and resents human company. But when threatened with life behind bars unless he finds himself a job and sticks to it, he picks up the most unlikely assignment of them all, working for the city mortuary.
It takes hours to get from the detention center to the mortuary and hours to get back and everybody reminds him he has to be on time. He is assigned to join a team of three veterans who aren't particularly welcoming and after a few days of watching the others handle corpses with a complete lack of emotion, he is expected to join in, lift the bodies and touch them just like his teammates.
At that point, Roman's impassible, grim, expression, gradually starts to break down, with glimpses here and there penetrating from behind the mask he attempts to preserve at all time. One day, the naked body of a dead woman named Kogler, freshly cut up in autopsy, has to be carried out of the morgue and Roman suspects it might be his mother.
She isn't, but this triggers his obsessive search for the woman who has abandoned him. He eventually finds her and even reaches out tentatively, only to realise that she can't offer him the warmth he misses, though he would never concede it.
In a strange process, which leads his protagonist away from the living to the dead in order to find his way back to the living, Marcovics maintains a keen, sometimes sarcastic and yet compassionate eye; a perfectly cool pace that never hurries, and directs a cast playing with minimalistic accuracy, conveying much more than they actually show. This goes particularly for the very young Thomas Schubert, who is practically never off-screen. With remarkable confidence, Martin Gschlacht's wide-screen images never crowd any character, the background is always present, the movements are hardly perceptible. Definitely a pleasant surprise in a debut picture, even if it is signed by a seasoned film and stage actor.
Production company: EPO Filmproduktion
Producers: Dieter Pochlarko, Nikolaus Wisiak
International Sales: Films Distribution, www.filmsdistribution.com
Cinematography: Martin Gschlacht
Editor: Alarich Lenz
Music: Herbert Tucmandl
Main cast: Thomas Schubert, Karin Lischka, Gerhard Liebmann, Georg Friedrich, Stefan Matousch, Georg Veitl, Klaus Rott, Luna Mijovic