Universal's comedy wedded to top spot after grossing £3.4m on debut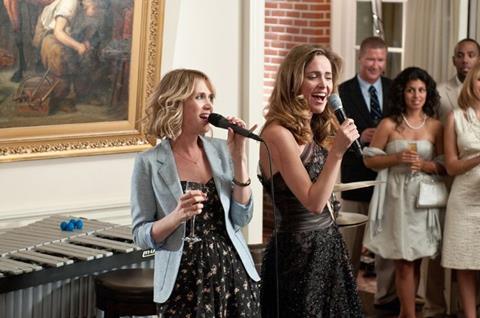 Universal's Bridesmaids secured top spot in the UK after debuting on £3.4m from 482 screens at a week-high average of £7,148. £1m of the film's total came from 449 previews.
There will inevitably be comparisons to last year's summer counterprogramming hit Sex And The City 2 and despite grossing half that film's opening take, for an original idea featuring no big box office names in a market crammed with franchise money-spinners, the box office result is a very positive one for Universal.
Paul Feig's breakout directorial feature stars Kristen Wiig, Wendi McLendon-Covey, Ellie Kemper, Melissa McCarthy, Rose Byrne, Jon Hamm and Chris O'Dowd.
Second-placed animation-comedy Kung Fu Panda 2 continued to do decent business in its third week, grossing a further £1.5m from a week-high 543 screens at an average of £2,987.
However, Paramount's sequel is £2.5m down on Kung Fu Panda in its equivalent week, despite playing on 77 more screens.
Warner Bros' third-placed Green Lantern continued to underwhelm on its holdover weekend, posting £1.1m from 479 screens and a 55% decline in week-on-week box office - the biggest drop off among the top ten films.
The resilient performance of fourth placed comedy Bad Teacher, which also took £1.1m for Sony, meant two bona fide counterprogrammers made the top five.
Documentary Senna continued to impress in its fourth week making a further £264,484 in eighth position. Universal's biopic is playing in a staggering 338 screens - nearly double its third week number - and posted the week's lowest decline in week-on-week box office at -30%.
The film now stands at seventh on the UK documentary chart, having overtaken Justin Bieber: Never Say Never (£2.3m) and Deep Sea 3D last weekend. Senna should overtake Touching The Void (£2.6m) this weekend but is unlikely to reach fifth-placed March Of The Penguins (£3.3m).
Reliance's tenth-placed Bollywood comedy Double Dhamaal was the week's only other new entry in the top ten, making £117,285 from only 31 screens at an average of £3,783.
Indra Kumar's sequel to popular 2007 comedy Dhamaal catches up with that film's quartet of good-for-nothings who are still dreaming of an easy life when they encounter their arch-enemy: the corrupt Inspector Kabir.
Revolver's rock doc Talihina Sky: The Story of Kings Of Leon came in in 12th, grossing £82,464 on 130 screens on only one evening while Trinity's Oscar nominated Incendies opened in 14th on £27,550 in 21 screens.
This week sees saturation releases for Paramount's third instalment in the lucrative Transformers franchise and more starry counterprogramming in the shape of Optimum's Larry Crowne starring Tom Hanks and Julia Roberts. Artificial Eye's Golden Bear winner Nader and Simin: A Separation gets a limited release.