Ealing Studios' latest project marks a return to feature film-making for US director John Landis.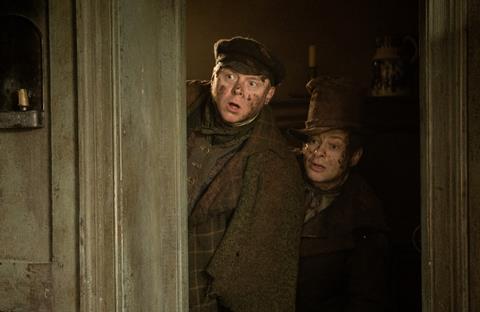 A black comedy about two real-life murderers who set up a lucrative business providing bodies to the medical profession in Edinburgh in 1828, Burke & Hare marks the return to features of veteran US director John Landis, whose credits include An American Werewolf In London and Michael Jackson's iconic Thriller video.
Produced by the UK's Ealing Studios, the $14m (£9m) film wraps this weekend (March 20th) after an eight week shoot which included a week in Edinburgh, some interior scenes in Ealing and various locations across the UK.
The idea for the film originated with Piers Ashworth and Nick Moorcroft, who penned the script and showed it to Ealing Studio's co-owner and regular producer Barnaby Thompson, with whom they had worked with on both of Ealing's St Trinian's films.
"It was very much in the spirit of the old Ealing movies like The Ladykillers and Kind Hearts And Coronets, which is a particular kind of comedy that appeals to me," says Thompson. "And it was just a very funny idea."
At the same time, Landis had expressed his interest in the idea of making a film in the UK to a mutual friend, British film director Gurinder Chadha, who suggested that he pay Thompson a visit.
"We sat down and he knew all the old Ealing movies and he talked about how much he loved them and it just struck me that he would be right for this kind of material," says Thompson, whose credits include Dorian Gray and Easy Virtue.
"In some ways it is not dissimilar from the balance of horror and comedy that he pulled off so magnificently in An American Werewolf In London," he adds.
Landis, whose last feature was Susan's Plan in 1998, has concentrated on TV projects for the last 10 years, including the Emmy award-winning documentary Mr. Warmth: The Don Rickles Project. So what attracted him to Burke And Hare?
"It was a very unusual and witty screenplay and the chance to make something different. And it offered me the chance to work in England again with some wonderful actors," he says.
"[John] was a bit burnt out by his last films for the studios. In a funny way he is more appreciated internationally than he is in America," adds Thompson.
Burke & Hare stars Simon Pegg and Andy Serkis as the two partners in crime, although Serkis' part was originally meant to be played by Doctor Who star David Tennant, who pulled out after signing up for a pilot in LA.
"That was the choice he made, which I think was the wrong one," laughs Thompson.
"But we are very happy with Andy. What is nice about this role is that it gives him the chance to be seen as much more a version of himself and to play a lead in the traditional sense," he adds.
The supporting cast includes a string of big British names including Tim Curry, Hugh Bonneville, Tom Wilkinson, Sir Christopher Lee and Jenny Agutter. Isla Fisher also stars as Burke's love interest.
The film has been partly funded by Ealing Studios, together with Nigel Green's Entertainment Film Distribution which has picked up the film for UK distribution and boarded as a partner on the film.
"It means that Entertainment put up more than just the minimum guarantee for the UK and that we are working with them right the way through the process so that we produce the film that they are expecting to see," explains Ealing Studios CEO James Spring.
This is the third time the two companies have adopted this partnership arrangement following the two St Trinian's films. "It's on a film by film basis, but so far it's worked very well," he adds.
Meanwhile the studio's sales arm has secured pre sales in France (La Fabrique Du Film), Canada (Maple Films), Greece (Odeon), Middle East (Prime Pictures), Australia (Transmission) and Cinesky for airlines.
The rest of the financing comes from the UK's Prescience, which has provided debt and some gap financing through film fund Aegis, and from Quickfire which put up a sales advance to cover further distribution deals.
The film will be launched at Cannes with a short promo to woo more potential buyers. "The balance for us was making enough pre-sales to demonstrate the viability of the film, but leaving enough unsold that there would be a good return out of those territories," says Spring.
And the Ealing team are more than happy with Landis' work. "There have been lots of comments from people both in front of and behind the camera about his skills as a director," says Spring. "That's when you realise that you are working with someone who has had huge success in the past."