Dir: Jody Shapiro. Canada. 2013. 88mins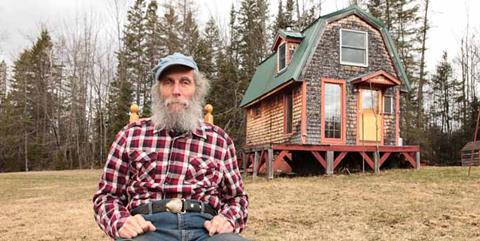 Burt's Buzz visits and travels with the bearded hermit Burt Shavitz, a photographer turned beekeeper whose honey was transformed into beauty elixirs. Now the walking logo for a corporate-owned factory-made brand, Burt sends mixed messages about marketing "earth-friendly" authenticity.
Shapiro's approach is to slow the narrative down to Burt's pace of watch–the-grass-grow meditation, which runs contrary to anything technological.
Burt's Bees, the firm that sells the image of a quirky man making green goods, has millions of customers and was sold to the industrial bleach Clorox in 2007 for $900 million. The tale of Burt's back-to-land journey and his role in the rise of a character-driven commodity should travel to festivals and eventually television outlets wherever those products are sold.
A long shot for theatrical release beyond a few art houses, Burt's Buzz could broaden its reach into the huge audience for reality shows about backwoods eccentrics. Director Jody Shapiro, is a producer of Green Porno, a series of short films for the Sundance Channel on the mating habits of insects and sea creatures.
Burt, born in the Long Island suburb of Great Neck, went back to the land in the 1970's. Shapiro (maker of the 2010 doc How To Start Your Own Country) follows him from rural Maine to Taiwan, the fastest growing market for the Burt's Bees product line.
As the gnarled old man reacts quizzically to armies of Taiwanese fans (many of them star-struck teenaged girls) the doc weaves in the history of Burt's early collaboration with a pretty hitchhiker who co-founded the company, moved it away from Maine, and sold it to investors after it connected with the greening zeitgeist. Burt never talks to his ex (whom we see in archival clips), yet Clorox pays him to promote the brand.
Long and repetitive – like conversations with the quietly stubborn Burt – Shapiro's doc targets a case history of a firm that outgrew its founder, yet still relies on the improbable beauty-care icon.
Shapiro's approach is to slow the narrative down to Burt's pace of watch–the-grass-grow meditation, which runs contrary to anything technological. It's an effective tool for observing a character, but it makes you wish there were a fast forward button.
Burt's visit to Taiwan, a fish-out-of water cultural clash, is a comic but ultimately troubling look at the exploitation of a plain-spoken stoic rebel whose vocation was founded on the rejection of the corporate world. It's a freak show in bright colours as young consumers (some in bee costumes) try to hug the man who could have been a dog or bear cub on a honey jar, but the burlesque goes on much longer than its laughs do.
Plodding as Burt's Buzz can be, Burt Shavitz has a face that could have been a medieval engraving of The Man of Constant Sorrow. It can sustain the longest of close-ups, and still remain inscrutable. Yet Burt's sad eyes beneath the beard suggest that being a living logo is less satisfying than consuming one.
Production company: Everyday Pictures Inc.
International Sales: The Film Sales Company, contact@filmsalescorp.com
Producer: Jody Shapiro
Executive producers: Jean du Toit, Phyllis Laing, Isabella Rossellini
Cinematography: Brian Jackson
Editor: Stacy Foster
Music: Howie Beck