Nine years in the making, Mozez Singh's feature directorial debut is the story of a young man who escapes his humble roots in Punjab to become a big shot in the corporate world in both Delhi and Dubai.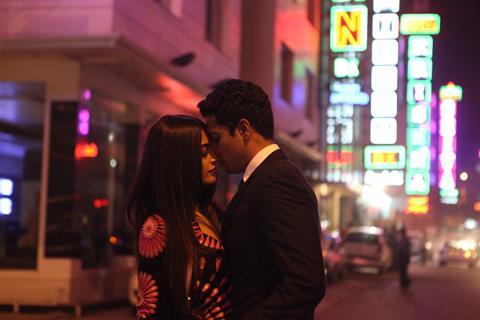 Brought up in a world steeped in Sikhism and music, he loses his connection to both as ambition takes hold, but slowly rediscovers his faith after meeting a talented young singer.
Singh, who previously wrote and produced English-language indie White Noise, co-wrote Zubaan with Thani and Sumit Roy.
He also produced the film through his Metamozez Entertainment with Sikhya Entertainment's Guneet Monga and Shaan Vyas.
The cast is headed by Vicky Kaushal, who appeared in Cannes' Un Certain Regard title Masaan, along with Sarah Jane Dias (Angry Indian Goddesses), Manish Chaudhary, Meghna Malik and Raaghav Chanana.
Zubaan received its world premiere as the opening film of the Busan International Film Festival (Oct 1-10).
Q: Is this a mainstream Bollywood film?
Zubaan is most definitely a mainstream Bollywood film, but without trying to sound too lofty, I hope its a 'new age' mainstream film that is a bit removed from the usual Bollywood tropes and yet at the same time has everything in it that should reach out to as wide an audience as possible.
This is what mainstream Bollywood means these days. I grew up watching commercial Hindi films and some of my favorite films are the most quintessential commercial Hindi films. But as I grew older and travelled the world and lived in America for nine years, my tastes changed. I was introduced to world cinema, indie cinema and all these combined influences informed my personal cinematic palette. So my wish is that when people watch Zubaan they will see something new in it – mainstream Bollywood married to the spirit of indie and world cinema.
Q: Can you talk about the music in the film? Which musical styles and genres have you used?
Since Zubaan is a film about music, doing something really interesting and exciting with the music, the songs, was of primary importance. In Zubaan, the music stiches the story together. When I was writing the script with my co-writers, we made sure that not only did each song push the narrative forward, but also that it had a deep emotional resonance with the heart of the story. Often times in Bollywood films, songs are a part of the film for more flimsy reasons, but in Zubaan, the songs are the arteries of the story.
Since my own personal musical tastes are far-reaching and eclectic, I wanted the soundtrack of Zubaan to include as many musical styles as possible. We have trip hop meets Sufi, French house meets 80's disco, a love ballad set against Japanese string instruments, a Punjabi rock anthem with roots in ancient Indian folk poetry, a R&B qawaali, old Punjabi folk songs set against minimal electronica and Sikh religious hymns set against modern compositions.
The music is another testimony to Zubaan being a new age mainstream Bollywood film, because the music director, Ashu Phatak, and I made sure that even though we were using such global and international influences, the music would always be within the realms of relatable Indian commercial cinema.
Q: Which financiers and distributors are involved in the film?
My producers, Sikhya Entertainment, and I independently raised the funds for the film. In India the biggest independent distributor, Anil Thadani, who has been a pillar of support, is distributing the film. We are in talks with various parties for international distribution but haven't locked anything yet. With the film now opening Busan, we hope new doors will open for Zubaan as far as Asian and non-diaspora distribution is concerned. We are also very keen to explore digital distribution for Zubaan and are working on all these tracks simultaneously.
Q: How did you meet Guneet Monga and start working together? Do you have a similar vision for Indian cinema?
Guneet and I have known each for many years now. We have a long-standing personal and professional relationship, as I am also a co-producer on two other films that she has previously produced, Peddlers and Haraamkhor. I owe Guneet a lot – she believed in me and stepped up to the plate when I was a looking for a producer for Zubaan and gave me her unconditional support. She is a compassionate and fearless producer.
Through her I also met my other producer, Shaan Vyas, who works with Sikhya and who Guneet appointed to Zubaan. I've met my alter ego in Shaan, who has been the best support system and voice of reason. It also helps that all of us have the same voice and vision and going forward we have planned many films together.
Q: Vicky Kaushal already stands out as an interesting actor after just a few films. Is there a lot of new talent like him coming through in India – or it difficult to find good actors?
I found Vicky after auditioning 400 boys over eight months. It was the toughest thing to find the right boy for the part and I remember being so frustrated because this was taking forever. Until then Vicky had been an AD on Gangs Of Wasseypur with a secret but burning desire to act, but I don't think he was on anyone's radar as an actor.
Both my casting director and Guneet suggested his name to me and I still remember the feeling after he did his first audition. He was so perfect that I actually got scared at having found the right guy, because I felt he was too good to be true. So I auditioned him continuously for a week because I wanted to be absolutely sure. People did discourage me saying he's not a star, he's too new. But I'm not a star either and I'm new too, so I felt I had nothing to lose. What gives me the right to judge anyone about anything except their talent, and Vicky has that in abundance.