A month after her appointment as co-director of Busan International Film Festival (BIFF), Kang Soo-youn was on stage in Seoul speaking with the press alongside her co-director colleague Lee Yong-kwan.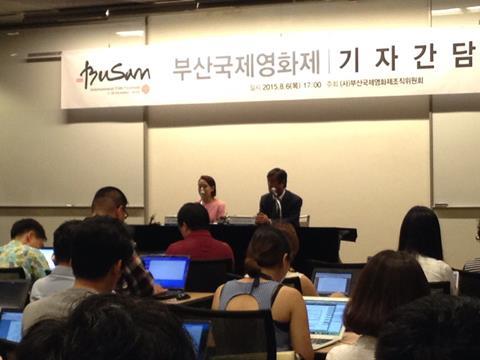 Putting to rest industry concerns over the censorship controversy that resulted in this new co-directorship, the iconic Korean actress voiced a categorical determination to keep BIFF's programming independent of censorship.
Having been on the BIFF executive committee since 1998, Kang said: "The Busan film festival from its first edition has been experiencing events like that.
"There have been filmmakers who had to go into exile because of their own country's politics and there are filmmakers that had their films banned.
"Whether they were affected by politics, economics, distribution or censorship, the Busan film festival showed these directors' films regardless, and this is how the festival has gotten to its 20th edition.
"It is no longer just a Korean film festival. It is the largest film festival in Asia and one that the world pays attention to. We keep showing films regardless of any sort of political censorship or other country's legal actions. This is something we've done every year, and will continue to do.
"Last year, we had a more serious and extreme situation than ever before, but we have always been able to get through that sort of thing and always will."
Is it over?
Lee said that in his talks with mayor Seo Byeong-soo and at a dinner with film industry professionals, it was understood that the power struggle between City Hall and the festival it helps to fund has been put behind them.
"It's not just fortunate that director Kang Soo-youn has joined us. I feel like we've gained 1,000 troops and 10,000 horses," he said.
"I am thankful to her for accepting the position and to everyone who has been concerned and interested in our situation. Perhaps this was a coming-of-age ceremony that we had to go through before having our 20th anniversary."
Moving forward
Kang referred to the festival's current difficulties with a reduced budget and said: "The only solution is to conclude the film festival without any incident and at high quality.
"We must be recognized to have carried it out well and to have showcased good filmmakers - that is our only solution. It's always been a tremendously great festival, but this year, we have a lot of special plans."
She outlined a retrospective on hidden gems of the 1960s heyday of Korean cinema, the first 10 in a selection of 100 great Asian films, and "the world's first entertainment intellectual property market, which will be very significantly held in Busan."
Kang also emphasized the importance of discover-showcase-and-nurture programmes like the Asian Cinema Fund (ACF) and the Asian Film Academy (AFA), mentioning filmmakers such as Aditya Assarat (Wonderful Town), Yang Ik-june (Breathless), O Muel (Jiseul) and Edwin (Postcards from the Zoo), who started at Busan and have had their films screened at festivals around the world including Berlin, Sundance and Rotterdam.
"In future, Busan has to keep discovering good films and showcasing them, and discovering good auteurs and supporting them in making their films, but one more step we have to take is creating Asian filmmaker support policies and finding ways to help them network and create an Asian hub," she added.