Dir/scr: Josephine Decker. US. 2013. 72mins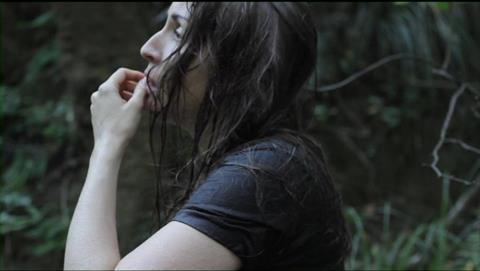 Like her follow-up feature Thou Wast Mild And Lovely (also featured in the Berlinale Forum section), Josephine Decker's first fiction outing Butter On The Latch could loosely be categorised as art-house meta-horror in an elegantly lo-fi indie vein. It's an intriguing hybrid, an improvised psychological drama with elements of rural Gothic, social comedy and even documentary - and it's therefore not surprising that the film never quite finds its feet. Its looseness focused considerably by two female leads with commanding and likeable presences, the film nevertheless struggles to find its dramatic shape in its commitment to fragmentation, alienation and at times, wilfully enigmatic oddness.
The film is notable for its singularity rather than, finally, its capacity to touch a nerve.
A pre-credits sequence seems designed to throw us from the start, as a woman named Sarah (Small) emerges from a New York performance show and receives a distress call from a friend who's apparently in mortal jeopardy - to which Sarah reacts by having a wild night at a club, herself waking up the next morning in seemingly perilous straits.
We join up again with Sarah somewhere in a forest - in Mendocino, California, in fact - where she's meeting her friend Isolde (Chae-Lawrence). They've come for, of all things, a Balkan folk festival, where among the tambourine workshops and Bulgarian choir singing, Isolde hopes to get over a broken relationship. The film gets onto an even keel for a while with some relaxed intimate talk between the two women (all the dialogue is improvised), whose ease with each other is palpable and very affecting.
But Decker's love of fractured editing sends the film deep into disorienting terrain: after a drunken night lost in the woods, the two women become mysteriously estranged, and while Sarah hits it off with a hunky young banjo player, Steph (Hewson), some kind of Old World spirit seems to be taking its effect on Isolde.
What's apparently at work here is a drama about two urban women attempting to escape from city tensions into a fantasy of a romantic rural Other - only to get entangled both with their own psyches and (possibly) with something darker. That something is evoked, knowingly and playfully, by the film as a kind of Blair Witch woodland weirdness, equated with some eerie vision of female potency (shades of von Trier's Antichrist!). Unsettling flurries of jump cuts and jagged inserts evoke white-haired women, weird scenes in woods and fields, and general malign forces - which may betoken one character's mental collapse.
Meanwhile, the overall strangeness is intriguingly sitauted against a vividly unlikely backdrop - a real-life Mendocino folk fest, complete with its population of variously folksy and arts-and-craft patrons. The film is notable for its singularity rather than, finally, its capacity to touch a nerve, but director-writer-editor Decker and cinematographer Ashley Connor at least establish a restlessly impressionistic style that bodes well for future collaborations - and that has already evolved persuasively in their second film.
Production company: Third Room Productions
International sales: Paradigm Agency, moliver@paradigmagency.com
Producers: Josephine Decker, Laura Heberton
Cinematography: Ashley Connor
Production designer: CJ Dockery
Editor: Josephine Decker
Main cast: Sarah Small, Isolde Chae-Lawrence, Charlie Hewson