Dir/scr: Duane Hopkins. UK 2014.103mins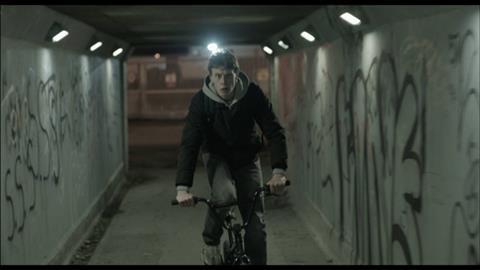 The sense that in today's Britain certain places and whole generations are simply bypassed, painted out of the picture, presumably explains the title of Duane Hopkins' follow-up to his well-received Cannes-screened debut Better Things. Set in a post-industrial corner of north-eastern England that comes across as a no-hope wasteland of broken families where the only available jobs are menial and petty crime is rife, Hopkins' second feature is marred by the director's decision to throw every indie style trick in the book at what is, deep down, a fairly conventional story of a minnow in the local crime pond who finds himself out of his depth while trying not to lose his family, partner and health.
It's a film whose overweening ambition to sum up the state of England in a feature-length drama ends up making for a disjointed viewing experience.
It's this edgy, just-about-holding-it-together tension – cemented by a raw performance by Sunshine On Leith star George MacKay as fragile chancer Tim – that is the best thing about a film whose plot mines any number of recent Brit gangster dramas without bringing much that's new to the table. Another small virtue is the connections the writer-director's draws between depressed former manufacturing towns and a crisis of maleness: in this film, it's the women who are the strongest, most self-assured characters.
Given that this is clearly Tim's story it's a strange decision to dedicate the first quarter of an hour to his older brother Greg (Dilloway), a tough, street-shrewd hard man who has been in and out of prison since a promising soccer career was ended by injury. When he goes back inside, it's left to the more sensitive, none too bright Tim to look after rebellious, angry younger sister Helen (Peake), who has barely gone to school since the siblings' mother died.
Tim works as a fence, selling stolen goods for a local small-time boss with a Cockney accent straight outa Snatch (odd given the Gateshead setting); he has a young girlfriend Lilly (Spencer) who is fiercely loyal to her man, and a grandfather, now in a care home, a former manufacturing worker who represents, a shade too obviously, a lost England of steady work, united families, community spirit and nights down the pub. Meanwhile the bailiffs are at the door, Lilly discovers she's pregnant, and to cap it all, Tim has a medical condition that needs urgent treatment.
As the Emperor Joseph said to Mozart in Amadeus, there are a few too many notes in this composition. It's a film whose overweening ambition to sum up the state of England in a feature-length drama ends up making for a disjointed viewing experience as Hopkins pulls a ghost mother, free-floating dialogue, nostalgic flashbacks, obtrusive sound design, frantic handheld footchase camerawork, sudden unexplained white-screen backgrounds and even a glimpse of a startled fox out of his auteurish bag of tricks (can we please call a ten-year moratorium on magical realist animals?). The result is a film that strives to connect emotionally through its mess of poses, and risks narrative incoherence at times (we never really work out who's who when outside forces launch a hostile bid for the local patch covered by Tim's boss).
This said, there are moments of grace, particularly in the Lilly and Helen scenes (both actresses are excellent – in fact there's no faulting any of the performances). And the sickness that Tim gradually succumbs to while trying to do the right thing by his girl, his sister and his criminal taskmasters is the one big metaphor that really comes off in the film, standing in for the diseased body politic of a whole generation of lost, dispossessed British youth while effectively ratcheting up the tension. There's a lot to chew on here; one only hopes that in his next outing, the clearly talented Hopkins will move out of the way a little so we can actually see the film.
Production companies: Third Films, Platform Produktion, Severn Screen
International sales: The Match Factory, info@matchfactory.de
Producer: Samm Haillay
Executive producers: Keith Griffiths, Christopher Collins, Keith Potter, Ed Talfan
Cinematography: David Procter
Editor: Chris Barwell
Production designer: Stephane Collonge
Music: Saunder Jurrians, Danny Bensi
Main cast: George MacKay, Charlotte Spencer, Benjamin Dilloway, Matt Cross, Lara Peake