Dir: Neil Jordan. Ireland-UK. 2012. 118mins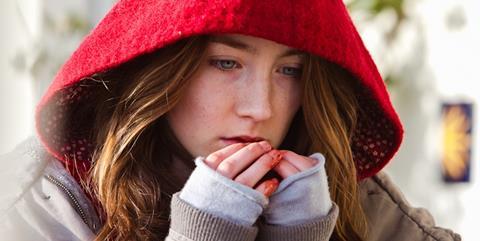 A lush and atmospheric vampire tale that may be short on fangs but rich in moody menace, Neil Jordan's latest delve into gothic genre drama – after Interview With The Vampire 17 years ago – provides a fine platform for striking performances from Saoirse Ronan and Gemma Arterton, though may lack the sheer gore quota to draw in horror fans.
When it works well, Byzantium is classy and intriguing.
Jordan packs the film with beautifully shot sequences – blood-drenched waterfalls, strange occult crypts and striking coastlines – as well as dwelling on the bountiful sex-appeal of Gemma Arterton, but despite an intriguing premise (mother and daughter vampires struggling to survive) the film lacks a consistent tone and misses a real dramatic tension, which is surprising given the subject matter.
When it works well, Byzantium is classy and intriguing, but some melodramatic lapses hamper the film's momentum as it tries to layer in period and contemporary storylines, sex and violence and even the now obligatory vampire brotherhood (rather like the Twilight films) in pursuit of the two vampires. But there is no denying the haunted charm of Saoirse Ronan, who plays troubled adolescents better than most actresses.
Busty and sensual sex worker/lap dancer Clara (Arterton) and her 'sister' Eleanor (Ronan) have to flee the city after they are tracked down by a mysterious man, and end up hitchhiking to a run-down coastal resort, where Clara soon sets about making some money by turning tricks at a fair. She meets shy and lonely Noel (Daniel Mays) and soon convinces him to let her and Eleanor stay at his seedy and rundown guesthouse Byzantium.
Clara turns the guesthouse into a pop-up brothel while Eleanor wanders around looking wistfully out to sea and recalling when they were last in the town, some 200 years earlier. It was the place she was born, where her mother (who naturally turns out to be Clara) was corrupted and where the two of them were turned into vampires.
While Clara – who favours tight leather trousers, stiletto heels and wispy tops that emphasise her generous figure – does what she does best (she has long worked in brothels and it is essentially all she knows), Eleanor, the eternal schoolgirl, enrols in a writing class (taught, in an unbilled performance, by Tom Hollander) and finds herself drawn to teenager Frank (Caleb Landry Jones), whose leukaemia is in remission but seems to sense something odd and special about this enigmatic girl.
Eleanor sets about writing her true story, finally wanting to reveal the truth about her life, and presents it to Frank. But this sets in motion a chain of events that sees the two women exposed and the black-suited Brotherhood – lead by Darvell (Sam Riley) descending on the town to track them down.
After a stuttering start – and a poorly judged chase scene with Arterton in fishnets stumbling away from a Brotherhood acolyte and falling through a skylight onto a bouncy castle – the film settles down when they reach the coastal town (largely shot in the British south coast town of Hastings) as the back story of the two women is finally revealed.
There are some striking images of the pagan site where vampiric transformation (and attendant bloody waterfall action) occurs, and the faded and seedy seaside town makes for a fine backdrop. There is not a fanged tooth to be seen (apart from a clip of an old horror film on TV) with these vampires sporting extending pointy fingernails to get at the veins, and while they can walk in daylight and are reflected in mirrors only Arterton's Clara seems to have any semblance of supernatural strength.
Aiming for mood and atmosphere is one thing, but the climactic action scene feels rather rushed and while the whole mother-daughter vampire dynamic is intriguing (both beautiful but now ancient) the chemistry feels forced and only works occasionally.
Production companies: Number 9 Films, Parallel Films, Irish Film Board, BFI, LipSync Productions
International sales: WestEnd Films, www.westendfilms.com
Producers: Stephen Woolley, Alan Moloney, Elizabeth Karlsen, Samuel Englebardt, William D. Johnson
Co-producer: Redmond Morris
Screenplay: Moira Buffini, based on her play A Vampire Story
Cinematography: Sean Bobbitt
Editor: Tony Lawson
Production designer: Simon Elliott
Music: Javier Navarrete
Main cast: Saoirse Ronan, Gemma Arterton, Sam Riley, Caleb Landry Jones, Daniel Mays, Kate Ashfield, Tom Hollander, Maria Doyle Kennedy, Jonny Lee Miller, Uri Gavriel, Thure Lindhardt