Dir: Sherief Elkatsha. Egypt. 2013. 77mins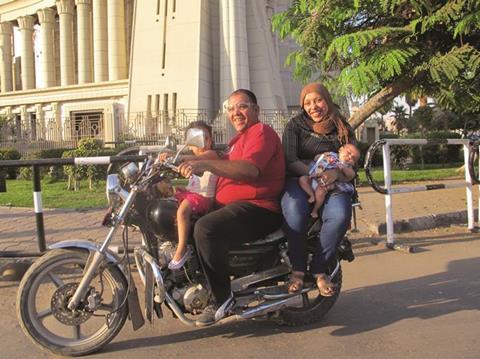 An enthralling, insightful and often rather funny look at the vibrant, complex and dramatic city of Cairo as seen through its teeming roads, director Sherief Elkatsha's film, shot over three years between 2009 and 2012 is a delightful portrait of a city as it goes through a period of massive change yet is still united through the people who drive its street.
It is an engaging alternative look at a city.
As a documentary concept Cairo Drive is a simple one. Elkatsha (also the cameraman) simply becomes one with the traffic of the city, observing from the passenger seat, talking to drivers and observing the hectic and often angry streets with a slightly amused point of view. The film should feature at other film festivals – it had its world premiere at the Abu Dhabi Film Festival – and would be a nice pick up for broadcasters looking for an alternate view of the Arab Spring.
The language and vibrancy of the city is transmitted through the drivers who weave the hectic streets – ranging from frustrated taxi drivers and those who clash with the police through to a pragmatic woman lost in city and a young woman trying to pass her driving test.
One taxi drivers comments that why should he need seatbelts when the traffic moves so slowly, while a vivacious young woman (sporting a t-shirt with the legend 'Single and Fabulous') manages to hit her driving instructor with her cart while practicing reversing the first she takes her test and then is given a license without even doing a test the next time round. Naturally she had driven herself to the exam, busily taking calls on her mobile while driving with one hand on the wheel.
Excitement the streets ranges from the sheer pleasure of Egypt's 1-0 win over Italy in a football match (cue babies being held aloft through sun roofs); the usually packed roads empty when Obama visits the city, and the passion and excitement about the possibility of change in the run up to the Arab Spring.
Perhaps most engaging and amusing is footage of young schoolchildren being taught the rules of the road – and singing "red means stop, green means go…" – with some of them dressed as traffic lights. It is an engaging alternative look at a city.
Production company/contact: Katsha Films, skatsha@earthlink.net
Producers: Pierre Haberer, Laila Muharreb, Samer Zureikat, Ayman Samir Ezzat
Cinematography: Sherief Elkatsha
Editors: Sherief Elkatsha, Pierre Haberer
Music: Sabrine El Hossamy, Hybrid Records
Website: www.cairodrivefilm.com