After 14 years in the works, four years in production and an estimated $250m, global audiences will finally see the first clips of James Cameron's science-fiction epic Avatar.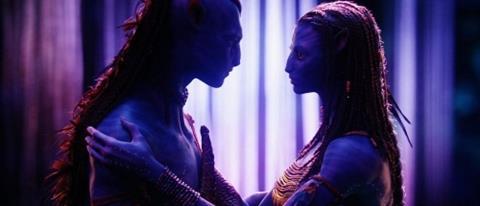 Heralded by Twentieth Century Fox as 'Avatar Day', August 21 sees the worldwide launch of the film's trailer in all formats and a special extended, 3D-only presentation at more than 130 Imax screens and selected theatres around the globe.

Given the veil of secrecy that has previously surrounded Avatar, it is a bold way to introduce the production to audiences and gives some indication of Fox's confidence in the film. There is no doubt Cameron has a tough act to follow — his last dramatic feature was the record-breaking Titanic, which made $1.8bn worldwide. That film, a historical love story with a hot young cast, is a sharp contrast to Avatar, a largely CGI sci-fi feature set in an alien world.

The story follows Jake (played by Sam Worthington), a disabled solider who travels to a rainforest-covered planet to look for an alien body to replace his own, as he becomes embroiled in defending the planet's indigenous Na'vi people.

While Cameron veteran Sigourney Weaver stars, the otherwise unknown cast lacks the pulling power that can drive an opening weekend box office, which means Fox is relying on strong word-of-mouth from previews to encourage cinema-goers.

Theatre-goers expecting a cinematic landmark are unlikely to be disappointed — Avatar was made to be seen in 3D and is expected to be the pinnacle of the current generation of such features, which is where the film could face stumbling blocks.

Screen Digest estimates there will be 4,000 3D screens in North America by the end of 2009, but that is only enough for a saturated release of one 3D film at a time. There are just 3,000 3D screens across the rest of the world. That said, Avatar is still expected to be the biggest worldwide 3D launch to date, going out on more screens than Pixar's Up or Disney's G-Force.

Cameron and Fox started their campaign to promote Avatar at June's Cinema Expo, where they unveiled 25 minutes of the film for the first time, and Cameron urged exhibitors to install more 3D screens by the film's December 18 worldwide release.

He hosted a five-hour session designed to spread the 3D gospel to North American exhibitors at Grauman's Chinese Theatre in Los Angeles, and then moved on to a second footage screening at Comic-Con in July. Following that, technology website Wired.com described Avatar as a "mind-expanding adventure".

It was at Comic-Con that Cameron also launched Avatar Day, which will see footage shown on more than 100 Imax screens in the US, and 30 Imax screens (plus an undisclosed number of other theatres) internationally. The free tickets were made available on the film's website on August 17 and many screenings are reported to have sold out within hours, with demand crashing the website.

Greg Foster, chairman and president of Film Entertainment at Imax Corporation, welcomes the Avatar Day strategy, describing it as a "presentation unlike any other". He added: "It's very congruent with what we're trying to do at Imax with the big tentpole releases."

With several months until ­ Avatar's official release, Fox and Cameron will be hoping the Avatar Day gamble will whet cinema-goers' appetites enough to ensure the time and money invested in this sci-fi epic equates to the kind of box-office returns scored by Cameron's previous features.
James Cameron: box-office hits
| Film (year) | Worldwide | North America | International |
| --- | --- | --- | --- |
| Titanic (1997) | $1.8bn | $600.8m | $1.2bn |
| True Lies (1994) | $378.9m | $146.3m | $232.6m |
| Terminator 2: Judgment Day (1991) | $519.8m | $204.8m | $315m |
| The Abyss (1989) | $90m | $54.5m | $35.5m |
| Aliens (1986) | $131.1m | $85.2m | $45.9m |
| The Terminator (1984) | $78.4m | $38.4m | $40m |
Source: Box Office Mojo