Dir/scr: Rafael Ouellet. Canada. 2012. 94mins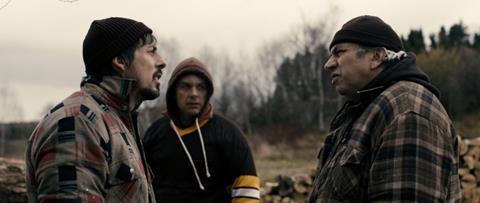 A subtle and gently moving drama about loss and family, Canadian film Camion may offer no great resolutions or moments of profound revelation, but instead it charts a steady and thoughtful course through the life of a family that finds communication difficult as they to face up the impacts of a dreadful accident.
The strength of Camion lies in the gentle and unobtrusive performances.
Elegantly shot and thoughtfully structured, Camion is a film defined by writer/director Rafael Ouellet's well-rounded characters, and as a story it is one that lingers rather than has an immediate impact.
Perhaps too low-key to breakout theatrically, it could work for French-speaking territories, while it will also appeal to festivals. The film had its world premiere in competition at the Karlovy Vary International Film Festival.
The title is French for 'truck', which is the vehicle 60 year-old widower Germain (Julien Poulin) is driving when he becomes involved in a fatal accident, that while it wasn't his fault leaves a woman dead and him depressed by the incident.
Concerned about his father, younger son Samuel (Patrice Dubois), a quiet and ordered man who works as a janitor in Montreal, tracks down his older brother Alain (Stephane Breton), a drifter who is currently busy charming women and telling tall stories in New Bunswick.
Together they head to their hometown to give support to their father, though to another degree their journey home is also one of self-discovery as both men seek to find a sense of direction in their own lives.
Their father is grumpily glad to see them, and as the younger men settle into old routines they also see that their father is weighed down by the woman's death – he refuses to have his truck repaired, mopes around the house and won't consider a new job. But they gradually wear him down, offering up options and lists of things he should do, with the threesome eventually bonding during a hunting trip that sees a poor dear shot, but a smile finally appears on Germain's face and his two sons are brought closer to their father.
This gently accessible French-Canadian film is impressive in the way it builds the characters and relationships of these ordinary people, with Dubois and Breton especially good as the brothers, apparently opposites on the surface but linked at a more profound level.
There are even some surreal moments of humour – as Samuel literally watches paint dry while at his janitor's job, or as he pulls a monumentally long piece of tissue from his nose after he has a nose bleed – but the strength of Camion lies in the gentle and unobtrusive performances, with Ouellet sensibly taking the film into a happy ending of sorts as each of the three men find peace in the direction life is taking them.
Production companies: K-Filmes Amerique, Coop Video de Montreal
International sales: Coop Video de Montreal, www.coopvideo.ca
Producer: Stephanie Morisette
Cinematography: Genevieve Perron
Editor: Rafael Ouellet
Production designer: Mario Hervieux
Music: Viviane Audet, Robin-Joel Cool
Main cast: Julien Poulin, Patrice Dubois, Stephane Breton