Dir/scr: John Carney. US. 2013. 101mins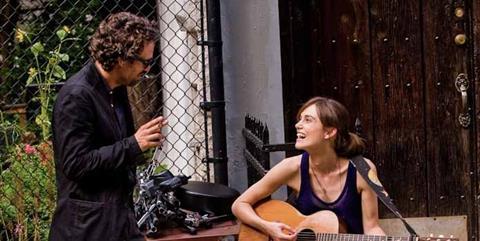 A tender and tuneful comedy-romance, John Carney's Can A Song Save Your Life? is a warm-hearted pleasure with a whole lot of soul, and effortlessly propelled forward by charming and compassionate performances by Keira Knightley and Mark Ruffalo. Its easy blend of music, romance, friendship and genial drama combine perfectly to come up with a real audience-pleaser and a film that will strike all of the right chords if marketed well.
It is a charming and compassionate film that celebrates music and friendship.
Not really a rom-com in the traditional sense, the film is really about friendship, redemption and forging your own path and having faith in your own ability in the face of heartache and frustration. It may well poke fun at the music business – though its soundtrack could ironically turn out to be a strong seller – but with its nicely drawn characters and elegantly used Big Apple backdrop Can A Song Save Your Life? turns out to be a film that makes you smile and leave the cinema with a bounce in your step.
Keira Knightly clearly relishes playing a spirited young woman blessed with a sharp sense of humour and real musical talent (and her singing voice is pretty darn good) and it is nice to see her not decked out in period costume and playing something of a girl-next-door. Plus her chemistry with Mark Ruffalo is delightful, with him delivering a grungily charming performance as a man given another chance at life.
The film opens with two lost and sad souls meeting through luck and perhaps fate. Veteran music A&R man Dan Mulligan (Ruffalo) hasn't signed a successful act in years; is separated from his wife Miriam (Catherine Keener) and daughter Violet (Hailee Steinfeld) and just been dumped by his long-time business partner Saul (Yasiin Bey aka Mos Def). He drunkenly stumbles into New York bar where shy performer Gretta (Knightley) is encouraged to sing. He is moved by her soul and authenticity, and drunkenly tries to sign her up.
The pair end up deciding to create an album of her music recorded live outdoors at various spots around New York, and pulling in favours he recruits street musicians, amateurs and even professionals – lent by hip-hop artist Troublegum (Cee Lo Green) who Dan discovered years before – they set about making something unique and special, both buoyed by the enthusiasm and support in the project.
The film smartly avoids the The Star Is Born clichés (Gretta even making a Judy Garland gag to reinforce that this film is going its own way) and while there is a vague hint at affection – and almost romance – between her and Dan, in truth these two are using their relationship to heal wounds rather than look for new options.
It is a film brimming with plenty of support characters, and most get a chance to really shine. Catherine Keener is a gem to light up any film, and while she only has a few scenes here, she makes a subtle impact. Hailee Steinfeld (from True Grit) is charming as the grumpy teen who grows as she gets to know her father again; Brit James Corden is a comedy delight as Gretta's busker best pal, and who clearly improvised much of the humour, and Maroon 5 frontman Adam Levine makes a nice transition to film as the musician who drops Gretta for another woman when his career takes off.
The challenge for John Carney (who made indie hit Once) is to allow all of these elements and performances come together and shine, and he succeeds admirably. Punctuated by lovely musical moments – not just Gretta's songs, but also a charming scene in which she and Dan wander New York at night playing each other their favourite tracks - it is a charming and compassionate film that celebrates music and friendship.
Production companies: Exclusive Media, Likely Story, Exclusive Media, Likely Story
International sales: Exclusive Media, www.exclusivemedia.com
Producers: Anthony Bregman, Tobin Armbrust
Executive producers: Judd Apatow, Tom Rice, Ben Nearn, Nigel Sinclair, Guy East, Sam Hoffman
Cinematography: Yaron Orbach
Editor: Andrew Marcus
Production designer: Chad Keith
Music: Gregg Alexander
Main cast: Keira Knightley, Mark Ruffalo, Hailee Steinfeld, James Corden, Adam Levine, Yasiin Bey, Cee Lo Green, Catherine Keener