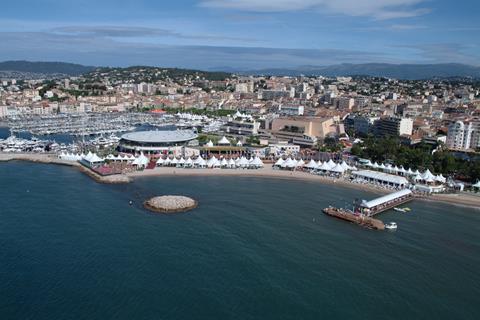 City of Cannes mayor David Lisnard has set his sights set on holding a physical Mipcom in October, following this year's successful edition of the Cannes Film Festival, which has unfolded July 6-17 against the backdrop of the pandemic.
"Mipcom will take place in October that is for certain. We recently caught up with [organisers] Reed Midem and there is already a good level of bookings," Lisnard told Screen.
"For now, the Americans aren't there for health reasons but there will be a Mipcom and we'll have a very beautiful edition of Canneseries to accompany it," he said, referring to the TV series festival that normally takes place in the spring alongside MipTV but was postponed this year due to rising Covid-19 cases in France at the time.
Lisnard said it was too early to say whether the same 48-hourly Covid-19 testing system in place for the film festival would be employed at the Mipcom content market.
"It will depend on the health situation at the time. All I can say is that the system put in place for the festival has worked really well, even if there were a few complaints at first. We're doing between 2,500 and 5,000 tests a day. Very, very few people are testing positive," he said.
The city's economy, which relies heavily on trade events and the film festival out of season and tourism in the summer, has been hit hard by the pandemic and the resulting cancellation of the 2020 Cannes Film Festival as well as events like MipTV, Mipcom, MIPIM and the Cannes Lions Festival of Creativity.
Lisnard added that it had been a difficult joint decision with Cannes delegate general Thierry Frémaux and president Pierre Lescure to decide to push on with the festival but he felt vindicated on the decision.
"The film festival has been a demonstration that we can and must organise events and get intense economic activity running again," he said. "It was difficult to decide whether to organise a festival in July but we have shown it can work. The red carpets look great, there are no clusters, and whenever we detect a case we deal with it quickly."
Drive to grow locations business
Lisnard was speaking to Screen on the fringes of an Alpes-Maritimes Côte d'Azur Film Commission press conference about filming activity in the region in 2020 against the backdrop of the pandemic.
The film and TV locations business is another important part of the city's economic strategy. A total of 264 French and international film and TV projects shot in the region in 2020, generating 879 shooting days (compared to 1,200 days in 2019) and a total direct spend of €31m.
International shoots touching down in the region last year included Italian TV series L'Alligatore and the UK's The Syndicate.