The biggest deals of this year's Cannes Marché du Film and how the Competition titles sold throughout the festival.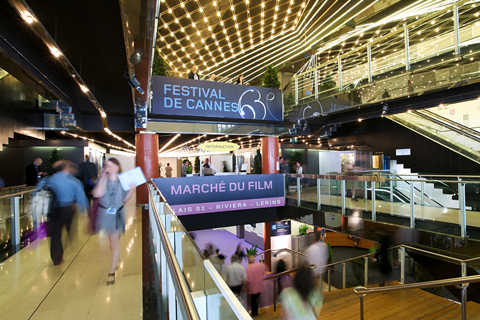 Behind the glamour of this year's Cannes Film Festival, business was booming at the Marché du Film (May 13-22), with representatives from 120 countries in attendance - up four on 2014.
A total 3,300 films were on offer this year, around 1,000 at the project stage, with an estimated 11,000 film professionals in attendance, in line with last year.
In the opening days, Marché chief Jérôme Paillard told Screen: "Acquisition agents are telling me that it's the first time in a number of years that there are so many big projects. I've been told there are around 50 high profile projects on offer."
North America
HOT PROJECTS
Universal Pictures and Focus Features took worldwide rights to Tom Ford's upcoming thriller Nocturnal Animals, starring Amy Adams and Jake Gyllenhaal, in a deal reportedly worth $20m. [Story]
Open Road paid around $4m for US rights to boxing drama Bleed For This, starring Miles Teller. [Story]
A further multi-territory deal was signed with Sony Pictures Worldwide Acquisitions. [Story]
IM Global's cyberthriller The Circle, starring Tom Hanks and Alicia Vikander, scored a strong list of deals. [Story]
Sony Pictures Classics paid a reported $6m for US rights to political thriller Truth, starring Robert Redford and Cate Blanchett. [Story]
eOne's Seville International announced key territories on Xavier Dolan's It's Only The End of the World (Juste la fin du monde), including deals with the UK, Italy and Japan. [Story]
Further deals were announced later in the market. [Story]
Vendian also emerged as a key partner with Wild Bunch's new LA outpost Insiders on Sean Penn drama Flag Day. [Story]
Lionsgate acquired US rights to Genius, starring Jude Law as author Thomas Wolfe and Colin Firth as editor Max Parkins. Cast also includes Nicole Kidman and Guy Pearce. [Story]
eOne scored a raft of deals, including a multi-territory agreement with Sony Pictures Worldwide Acquisitions, to investigative journalism drama Spotlight, starring Michael Keaton and Mark Ruffalo. [Story]
The Weinstein Company acquired US rights to boxing drama Hands Of Stone, starring Edgar Ramirez and Robert De Niro. [Story]
Carol director Todd Haynes set to direct an adaptation of Brian Selznick's children's book, Wonderstruck. [Story]
Good Universe introduced buyers to new Ellen Page, Allison Janney project Tallulah. [Story]
CANNES TITLES
Cohen Media Group acquired US rights from Elle Driver to Emmanuelle Bercot's Cannes Film Festival opener Standing Tall. [Story]
Search Engine Films acquired Canadian rights from Elle Driver to Emmanuelle Bercot's Cannes Film Festival opener Standing Tall (La Tête Haute). [Story]
Sundance Selects acquired US rights to Alice Winocour's Disorder (Maryland) (Un Certain Regard), starring Matthias Schoenaerts and Diane Kruger. [Story]
Alchemy picked up Gaspar Noe's Love for US. [Story]
A24 secured US rights to Trey Edward Shults' Krisha (Critics' Week) as well as his next film. [Story]
StudioCanal also acquired Krisha for the UK. [Story]
Magnolia Pictures acquired US rights to Arnaud Desplachin's My Golden Days (Directors' Fortnight opener). [Story]
IFC picked up US rights to A Perfect Day (Directors' Fortnight), starring Benecio del Toro and Tim Robbins. [Story]
Cohen Media Group took North American rights to Turkish feature Mustang (Directors' Fortnight). [Story]
Kino Lorber took US rights to Cannes Classics documentary Sembene!. [Story]
CANNES DEALS
Former Worldview CEO Christopher Woodrow flew into Cannes with new finance and production venture Vendian Entertainment, which had raised $100m in equity and got behind six of the biggest titles to hit the market: Oliver Stone's Snowden; The Free State Of Jones starring Matthew McConaughey; Black Mass starring Johnny Depp; Mel Gibson's Hacksaw Ridge; Tom Cruise-starrer Mena; and Nicolas Winding-Refn's The Neon Demon. [Story]
A24 picked up US distribution to Atom Egoyan's Remember and Bryan Bertino's There Are Monsters, starring Zoe Kazan. [Story]
Image acquired North American and UK rights to John Travolta thriller Criminal Activities from Diamond Pictures. [Story]
Legal thriller Beyond Deceit, starring Anthony Hopkins and Al Pacino, secured finance from Entertainment Industries Division. Sales agent Film Bridge was selling in Cannes. [Story]
Abel Ferrera shared details of his Jungian drama Siberia, starring Willem Dafoe. [Story]
Film Movement picked up North American rights to Shim Sung-Bo's South Korean thriller Haemoo and family drama The Automatic Hate. [Story]
Action-adventure Turbo Kid was sold to several territories including Lionsgate for the UK. [Story]
WWE Studios and Gene Simmons' Erebus Pictures joint venture struck a sales deal with Voltage Pictures, who were in Cannes talking up the pipeline. [Story]
Red Sea Media boarded sales of a reboot slate of 10 American International Pictures genre classics from the 1950s. [Story]
Official Pope biopic Francis: Pray For Us was sold to France, Italy and South Korea. [Story]
Marc Butan launched MadRiver Pictures to develop, finance and produce three to four films a year in the $15m to $50m range, including Liam Neeson's A Willing Patriot. [Story]
Alchemy acquired North American rights to post-apocalyptic thriller The Survivalist. [Story
Bill Block and John Friedberg sold out the world on Untitled Lucas/Moore Project starring Leslie Mann following a recent US deal with Paramount. [Story]
Magnolia licensed key territories on Sean Baker comedy Tangerine including the UK, France, Australia, South Korea, Taiwan and Portugal. [Story]
Cinema Libre acquired North American rights music doc Can't Stand Losing You: Surviving The Police. [Story]
Invisible Films picked up US rights to Craig Roberts' Just Jim; Gravitas Ventures took US/Canada rights to Gary Gardner's The Nymphets. [Story]
Hayden Christensen horror Untot sold to multiple territories including the UK, Germany and South Korea. [Story]
MPI/Dark Sky Films picked up US rights to horror anthology Mexico Barbaro. [Story]
Sierra/Affinity hailed the company's best market ever after completing key sales on Shot Caller, A Willing Patriot and Comancheria, among others. [Story]
Broad Green acquired The Infiltrator, starring Bryan Cranston, for the US. [Story]
Pure Flix scored a raft of sales on faith-based film Do You Believe? [Story]
Paramount Home Media Distribution (PHMD) snapped up all rights to Tribeca debut Ashby for multiple territories. [Story]
K5 International has struck a deal to finance and produce Se7en screenwriter Andrew Kevin Walker's upcoming thriller Psycho Killer. [Story]
Alchemy took werewolf thriller Howl for US. [Story]
UK
CANNES TITLES
Curzon Artificial Eye acquired Valley of Love, My Mother andLove for UK. [Story]
Curzon Artificial Eye acquired Mustang (Directors' Fortnight) and Haifaa Al-Mansour's A Storm In The Stars for UK. [Story]
Film4 took TV rights to Amy, Asif Kapadia's Amy Winehouse documentary. [Story]
CANNES DEALS
StudioCanal snapped up UK rights to the upcoming adaptation Swallows and Amazons from HanWay Films. [Story]
Johnny Flynn and George Mackay cast in The Kinks biopic. [Story]
David Puttnam returns to production with 'Arctic 30'. [Story]
eOne boarded Ricky Gervais' Life On The Road, featuring his David Brent character from The Office, and will distribute in the UK, Australia and New Zealand. [Story]
Ealing Studios Entertainment gets a new owner, Ben Latham-Jones, who launched a slate at Cannes. [Story]
Metrodome took Sundance title The Overnight for the UK/Eire. [Story]
Political satire Lost In Karastan, starring Matthew Macfadyen and co-written by Ida's Pawel Pawlikowski, picked up by Bulldog Films for a UK release. [Story]
StudioCanal took psychological horror Hellions for UK/Ireland. [Story]
Dark drama Bridgend picked up by Soda Pictures for UK. [Story]
Devilworks sells Black Mountain Side to 101 Films for UK. [Story]
Parkland Pictures sold war movie Allies to Asian market. [Story]
Metrodome picked up gangster docs Kray Twins - Kill Order and Decade for international sales and UK distribution. [Story]
Chinese outfit C2M Media Group boarded sci-fi feature Neuromancer with UK sales team GFM Films. [Story]
Europe
CANNES TITLES
Un Certain Regard winner Rams was herded to a raft of territories. [Story 1] [Story 2]
Gaspar Noe's sex drama, Love, sold to more than 35 territories. [Story]
Distrib Films acquired In The Shadow of Women (Directors' Fortnight) for US. [Story]
Cineart acquired An (Un Certain Regard), Amy (Midnight Screening), Love (Midnight Screening) and La Vie en Grand (Critics' Week) for Benelux [Story]
Edge Entertainment acquired Disorder (Maryland) (Un Certain Regard) for Scandinavia. [Story]
NonStop Entertainment picked up Nordic rights to doc Ingrid Bergman - In Her Own Words (Cannes Classics) and An (Un Certain Regard). Other acquisitions included Three Generations, James White, Our Last Tango and more. [Story]
Ingrid Bergman - In Her Own Words sold to a further five territories including Italy, France and Japan. [Story]
Pyramide Films took French rights to Nabil Ayouch's Much Loved (Directors' Fortnight). [Story]
Kung Fury (Directors' Fortnight) to be handled by VoD distributor Under the Milky Way. [Story]
CANNES DEALS
Macbeth director Justin Kurzel is to re-team with his brother, Jed Kurzel, on the latter's directorial debut Ivan Lendl Never Learnt to Volley. [Story]
Gaumont and Wild Bunch announced a raft of sales on Nicolas Winding Refn's The Neon Demon. [Story]
Brimstone, starring Mia Wasikowska and Guy Pearce, pre-sold to France and Germany. [Story]
Pre-sales of spy drama Lives In Secret, starring Kelly Reilly and Tim Roth. [Story]
Early deals secured for Bruno Dumont's dark comedy Slack Bay, starring Juliette Binoche. [Story]
Gaumont's The Visitors: Bastille Day, starring Jean Reno and Christian Clavier racked up buyers. [Story]
Deals for Tommy Wirkola's sci-fi feature What Happened to Monday?, starring Noomi Rapace and Glenn Close. [Story]
Valerio De Paolis acquired Italian rights for Sarah Gavron's Suffragette. [Story]
Mika Kaurismaki's costume epic The Girl King sold to US distributor Wolfe Releasing. [Story]
Edge Entertainment acquired documentary Palio for Scandinavia, Iceland and the Baltics. [Story]
Claudia Lorenz's What's Between Us (Unter der Haut) acquired for release in Germany and Austria. [Story]
Beta Cinema made sales of Ghosthunters: On Icy Trails, Sundance winner Umrika, Oliver Hirshbiegel's 13 Minutes, Radu Jude's Aferim!, Labyrinth of Lies and more. [Story]
Peter Greenaway's Eisenstein in Guanajuato sold to France, Italy, the US and more. [Story]
The Match Factory struck a three-film deal with Italian director Marco Bellocchio. [Story]
Catherine Hardwicke's Miss You Already scored sales to Germany, France and Asia. [Story]
Battle For Sevastopol sold to Japan, South Korea, Thailand and Bulgaria. [Story]
Germany's Hupe Films took remake rights to Spainish feature Pagafantas. [Story]
Kevin Williams Associates sold remastered Pedro Almodovar film Labyrinth Of Passion to France, Japan and Italy. [Story]
Pre-sales secured of film noir Luxembourg from Myroslav Slaboshpytskiy (The Tribe). [Story]
Our Last Tango sold to Taiwan, Greece. [Story] And Japan. [Story]
Asia
CANNES TITLES
Takashi Miike's Yakuza Apocalypse (Directors' Fortnight) sold to German-speaking territories, France and Benelux. [Story]
Punjabi-language The Fourth Direction (Un Certain Regard) sold to Canada. [Story]
CANNES DEALS
Hong Kong-based Golden Network Asia picked up international rights to Jackie Chan's next project, $50m action comedy Railroad Tigers, to be directed by Ding Sheng. [Story]
Hong Kong filmmaker Peter Ho-sun Chan will produce and direct a biopic of Chinese tennis player Li Na, based on her best-selling autobiography Li Na: My Life. Chan's We Distribution launched sales at Cannes. [Story]
China's Wanda Pictures sold a string of Asian territories on Wuershan's The Ghouls. [Story]
Korea's Showbox/Mediaplex signed a string of pre-sales on Choi Dong-hoon's Assassination, including North American rights. [Story]
IM Global picked up international rights outside the US and SE Asia to Chinese action comedy Hollywood Adventures, produced by Justin Lin. [Story]
India's Arka Mediaworks revealed plans for an international cut of its $40m action epic Bahubali, directed by S.S. Rajamouli. [Story]
Korea's Mirovision picked up international rights to romantic comedy My New Sassy Girl, the sequel to 2001 hit My Sassy Girl. [Story]
Korea's Finecut pre-sold Min Kyu-dong's erotic period drama The Treacherous, to France. [Story]
Korea's Contents Panda signed a raft of deals on Lee Byeong-heon's Twenty, including the sale of Japanese rights to NBC Universal Japan. [Story]
Indonesian martial arts drama The Golden Cane Warrior was sold to Well Go USA for North America. [Story]
Korea's M-Line Distribution sold North American rights to Kang Hyo-jin's comedy Wonderful Nightmare to Asia Releasing, along with a string of other territories. [Story]
Bangkok-based Five Star Production picked up international rights to biopic F.Hilaire, about a French priest who wrote a famous Thai language textbook. [Story]
Korea's 9ers Entertainment picked up international rights to Kim Hwi's creature horror The Chosen: Forbidden Cave (working title) and Kang Sang-jin's comedy Three Summer Nights. [Story]
China's Fundamental Films is extending its output deal with Luc Besson's EuropaCorp and will invest up to $50m into Besson's Valerian, starring Dane DeHaan and Cara Delevingne. [Story]
Stray Dogs sold Partho Sen-Gupta's Sunrise to Germany, plus other deals. [Story]
Latin America
Disney took rights in Latin America and Spain to thriller Koblic, starring Ricardo Darin. [Story]
Colombian producer Cristina Gallego, in Cannes with Embrace of the Serpent (Directors' Fortnight) revealed details of her upcoming projects including Sister Of Mine and Bird of Passage. [Story]
Middle East
CANNES TITLE: Ida Panahandeh's debut feature Nahid (Un Certain Regard) picked up across Europe and Latin America. [Story]
Ali Mostafa teams with US producers for The Worthy. [Story]
Israeli creature horror Jeruzalem sold to territories including the UK, Germany and Japan. [Story]
Egypt's Zawya Cinema and Misr International Films are joining forces to launch arthouse distributor Zawya Distribution. [Story]
Palestinian director Annemarie Jacir revealed details of her next feature Wajib. [Story]
Cannes Competition film deals
The Assassin (Tai-China)
Dir Hou Hsiao-Hsien
Wild Bunch
Well Go USA took rights to the Best Director winner for North America [Story]
Dheepan (Fr)
Dir Jacques Audiard
Celluloid Dreams, Wild Bunch
Palme d'Or winner was sold to more than 20 territories ahead of its victory. [Story]
The Lobster (Ire-Gre-Fra-Neth-UK)
Dir Yorgos Lanthimos
Protagonist Pictures
Alchemy took US distribution rights. [Story]
Picturehouse Entertainment and Element Distribution are to jointly distribute in the UK and Ireland. [Story]
Marguerite And Julien (Fr)
Dir Valérie Donzelli
Wild Bunch
Cineart acquired for Benelux [Story]
The Measure Of A Man (Fr)
Dir Stéphane Brizé
MK2
Drama that won best actor for Vincent Lindon sold to 20+ territories [Story]
Mon Roi (Fr)
Dir Maïwenn
StudioCanal
Cineart acquired for Benelux [Story]
My Mother (Mia Madre) (It-Fr)
Dir Nanni Moretti
Films Distribution
Alchemy acquired US rights [Story]
Curzon Artificial Eye UK/Eire rights. [Story]
Cineart acquired for Benelux [Story]
Our Little Sister (Jap)
Dir Hirokazu Kore-eda
Gaga Corporation; Wild Bunch
Sony Pictures Classics acquired North American rights. [Story]
The Sea Of Trees (US)
Dir Gus Van Sant
Bloom
Roadside and Lionsgate acquired US rights. [Story]
Sicario (US)
Dir Denis Villeneuve
Lionsgate International
Drug cartel thriller secures global distributor network [Story]
Son Of Saul (Hung)
Dir Laszlo Nemes
Films Distribution
Worldwide sides were made for the Grand Prize winning Holocaust drama, including the US [Story]
Curzon Artificial Eye acquired for UK. [Story]
Valley Of Love (Fr)
Dir Guillaume Nicloux
Le Pacte
Curzon Artificial Eye acquired UK rights. [Story]
Concorde picked up all German-speaking territories. [Story]
Edge Entertainment acquired for the Nordic market [Story]
Youth (It-Switz-Fr-UK)
Dir Paolo Sorrentino
Pathé International
Fox Searchlight acquired North America rights. [Story]